Queensland Places - Sweers Island
By JOL Admin | 29 September 2014
Sweers Island is located to the east of Bentinck Island in the Gulf of Carpentaria. The island was named in 1802 by Matthew Flinders during his voyage of circumnavigation, in honour of Cornelius Sweers, one of the councillors of Batavia, who had originally authorised Abel Tasman's journey of 1644. Tasman had been sent by the Dutch government to determine whether a strait existed between New Guinea and the Great Southland, later to be known as Australia, however, his voyage encountered many difficulties and obstacles. Tasman was however, in all likelihood, the first European to have seen Sweers Island. Flinders also sailed through the area and saw the island, naming its high land Inspection Hill, noting "its obvious nature as a vantage point.
The nearby Bentinck Island was also named by Matthew Flinders, after Lord William Bentinck, who had been the Governor of Madras, India.
In the mid-1860s, the little town of Carnarvon was established on the island as an alternative to Burketown, to support shipping and communication through the area. Sweers Island also drew settlers away from Burketown during a major outbreak of fever in 1868. The wreck of the paddle steamer Pioneer, which came to grief in 1870, is a visible remnant of the former town of Carnarvon. The Pioneer had mainly been involved in the shipping of wool, tallow and hides from the mainland to Sweers Island, but the thirty metre vessel was wrecked in 1870 on the island's south-western tip during cyclonic weather. During the late nineteenth century, Carnarvon was the administrative centre for the Gulf of Carpentaria region with a customs house, bond store, hotel as well as police facilities.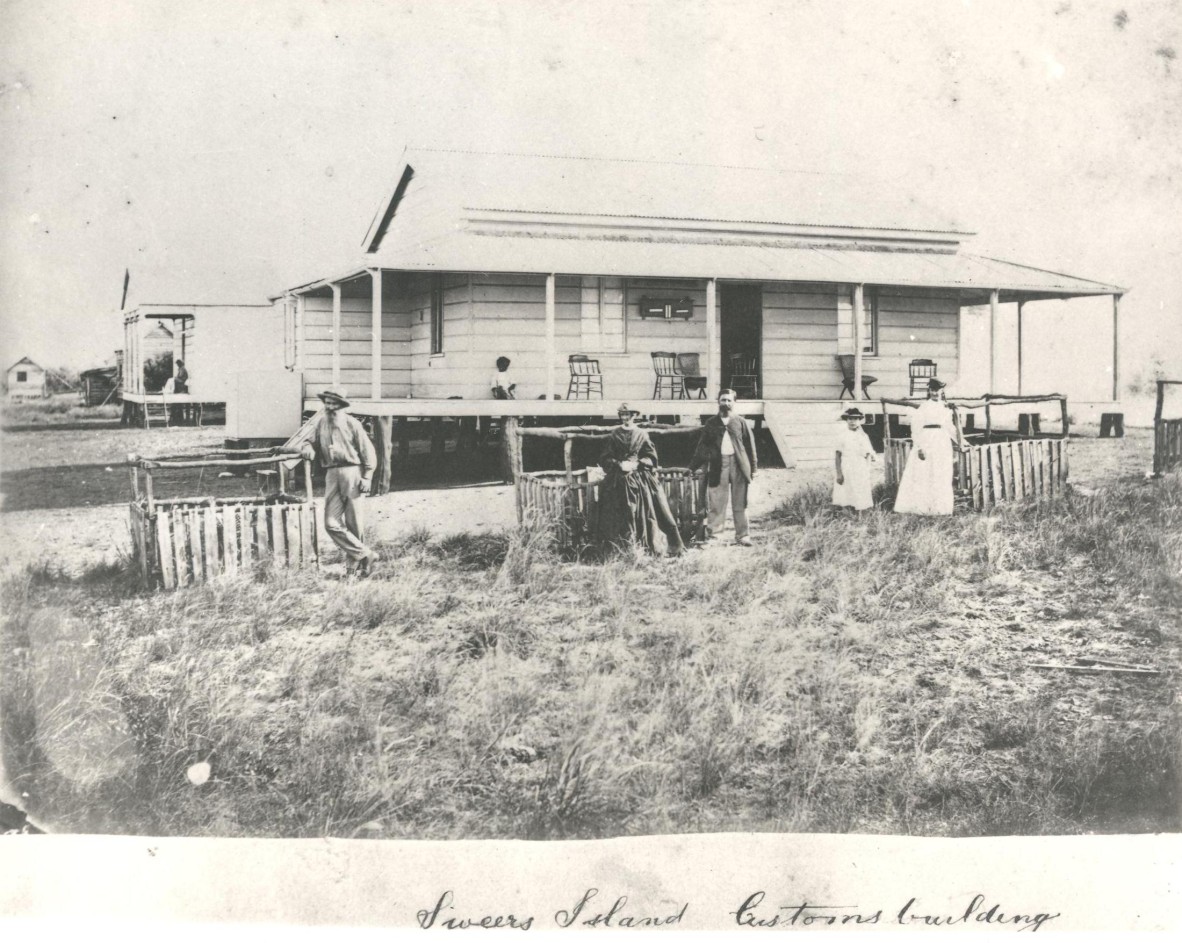 Sweers Island Customs House, 1871, State Library of Queensland Neg. No. 67337
This image, dating from 1871, shows the Sweers Island Customs House, not long after the facility was first established. The people standing at the front of the building are probably the customs official and family members. Other buildings at the settlement can be seen to the rear of the customs building.
Brian Randall, Queensland Places Coordinator, State Library of Queensland
Comments
Your email address will not be published.
We welcome relevant, respectful comments.