Queensland Places - St. Saviour's Anglican Church, Boigu
By JOL Admin | 11 November 2013
St. Saviour's Church on the Torres Strait island of Boigu, is said to be the most northerly church in Queensland, being originally constructed in 1917. This is the natural consequence of Boigu being the most northerly inhabited island of Queensland as well as Australia, with the island's area being approximately nine square kilometres. Although St Saviour's church dates from around 1917, the history of the Anglican Church on the island predates this by nearly forty years, with early missionaries arriving soon after the establishment of a mission on nearby Saibai, in 1871.
As with many church buildings on other islands throughout the Torres Strait, St. Saviour's was built by the local community using mostly local materials. It is believed that the initial cost of construction was in the vicinity of ₤11, with this amount being provided by the local community. Using mangrove timber for the frame of the church building with nipa palm for the walls and roof, it was a strong and impressive building. As well, the church's internal fittings and some of the furniture were carved from the wood of local Wongai trees. The members of the first church council were Abia Ingur, Isaac Abai, Sailor Auda and Jacob Matthew.
The island, and its church, were initially visited by the priest from Mabuiag, but later, priests were appointed directly to the Boigu community with these including Father Sagi Amber, Masepa Bami and John Peter. The site of the church also links it with the island's traditional history and culture, being located adjacent to the tree known locally as the Tree of Skulls. This large wild almond tree was used by the island's warriors over a long period of time.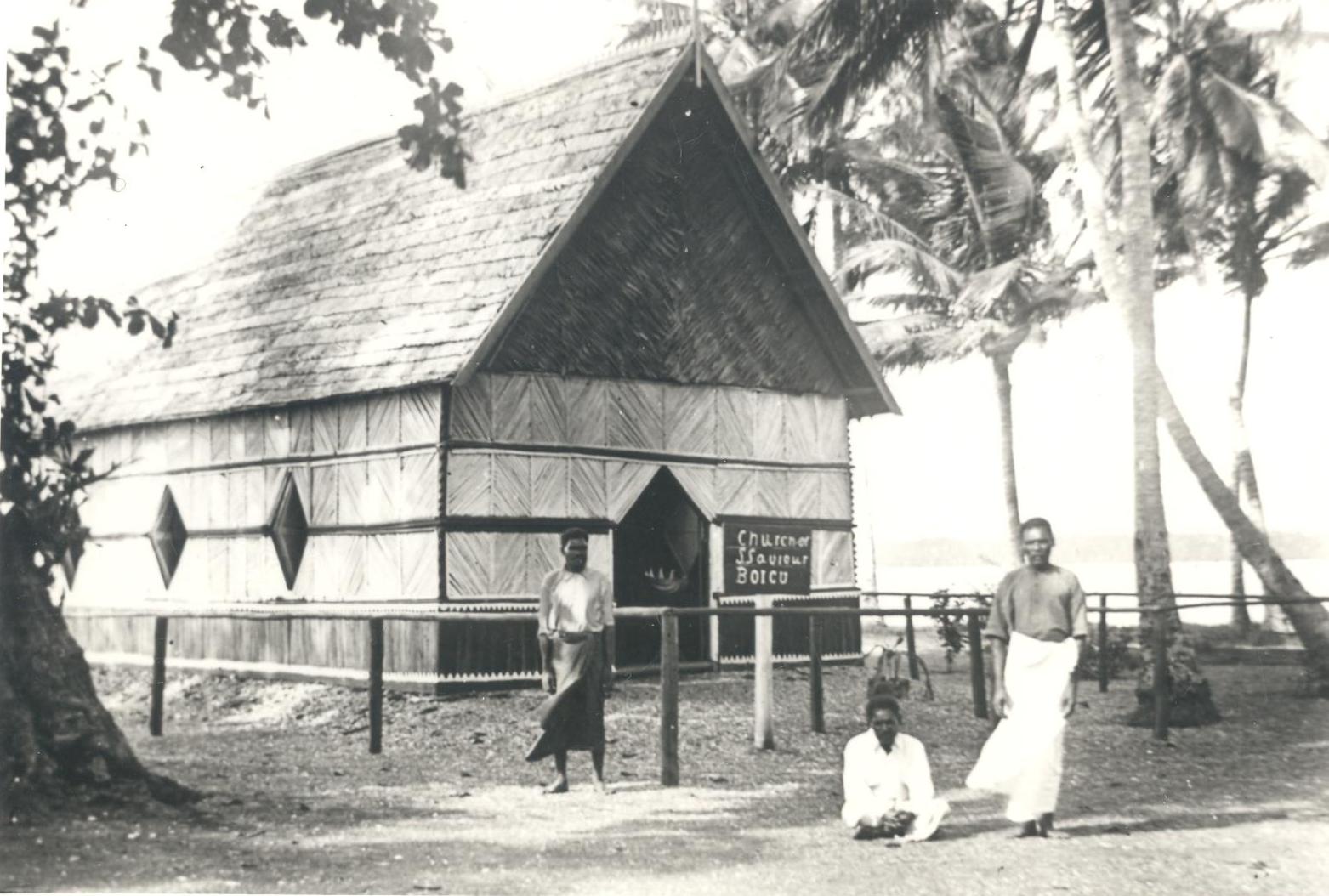 St Saviours Church, Boigu
This photograph shows the church as it was originally constructed, with its neat lines and hand painted sign, indicating the personal pride that the church community members felt for their new church. This building was used for many years and would have been an important focus for church activities in the area. Photographs such as this are important in that they provide a record of important people, events, places or buildings such as St. Saviour's, which have been so important in our society's past, as well as in the present.
Brian Randall - Queensland Places Coordinator, State Library of Queensland
Comments
Your email address will not be published.
We welcome relevant, respectful comments.