Queensland Places - Our Lady of the Sacred Heart Church, Thursday Island
By JOL Admin | 8 July 2014
Our Lady of the Sacred Heart Church was built by the priests of the Mission of Our Lady of the Sacred Heart soon after they arrived on the island in late 1884. It is likely that the first church building they built forms part of the existing church, although this is not certain. However, by the early 1900s, Our Lady of the Sacred Heart Church had taken on its present form and appearance.
The church had come about as the Sacred Heart fathers wished to establish a mission in New Guinea to act as a base or foothold in the region. In view of this, a mission in the Torres Strait would serve as a convenient mid point and connection between the society's churches in Australia and those proposed for New Guinea. The first priests arrived on 24 October 1884 with the early masses being held at McNulty's Hotel, which later became the Federal Hotel.
The land upon which the church and residence were to be built was purchased in January 1885, with the first small Sacred Heart church being erected over the next year. By the end of 1886 the mission had expanded to several buildings including a small convent and presbytery. A small school house was erected in around 1900. The murals inside the church building were painted by a local islander, David Sing in 1935. David Sing, born in 1911, had become a lay preacher by around the age of seventeen and used his artistic skills tp paint murals in this church as well as others in Port Moresby and Tully, Queensland. He also painted a range of other works during his life.
The Sacred Heart church and school have undergone various changes over the years including the way in which, and by whom they are administered. For instance, after 1967, the parish was no longer staffed by Sacred Heart priests but by priests of the general Cairns diocese. Some of the various renovations and changes that have been made to the church since its original construction include the replacement of the spire in 1983 by a fibreglass replica of the original iron sheet spire. The church also underwent substantial centenary restoration in the later 1980s/early 1990s and now survives as an important reminder of the place of the Sacred Heart Mission in Thursday Island's history.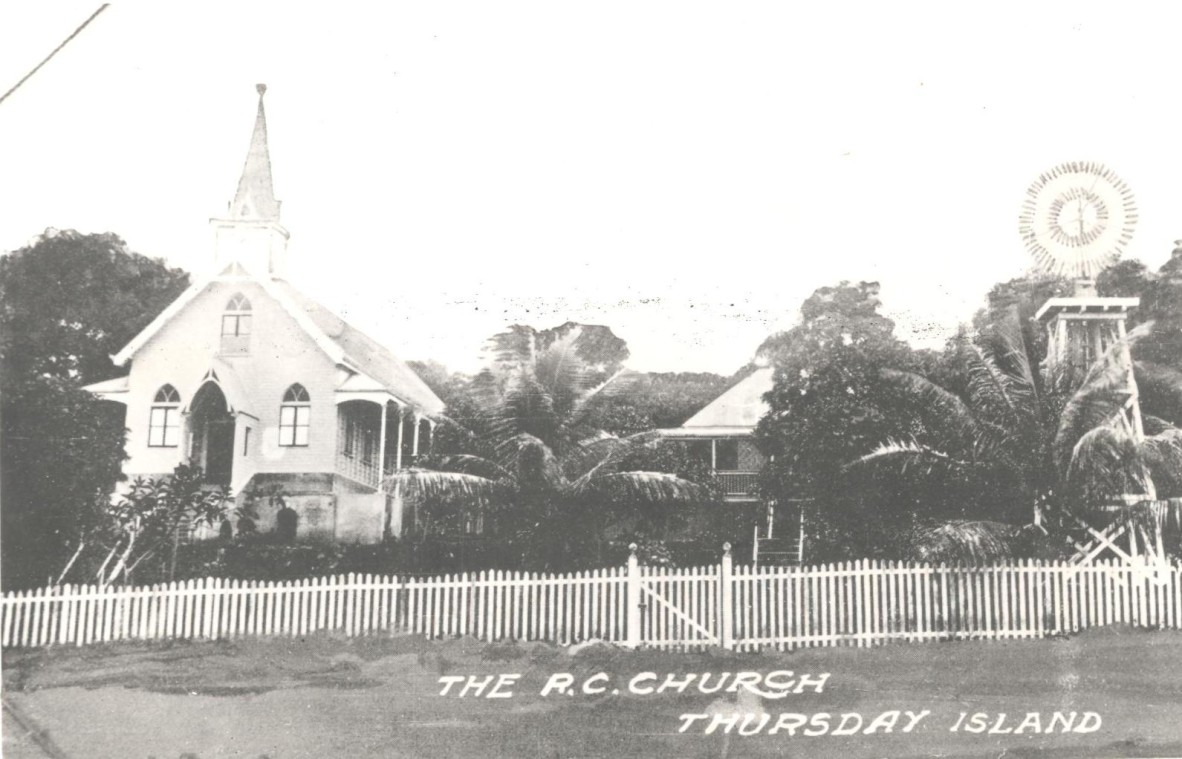 Sacred Heart Catholic Church, Thursday Island ca. 1905
Comments
Your email address will not be published.
We welcome relevant, respectful comments.