Queensland Places - Normanton - Normanton State School
By JOL Admin | 4 December 2014
The history of the Normanton State School began with a public meeting of local residents on 14 February 1879, called to promote the establishment of a school for the area. Government approval was eventually given, subject to the local community providing a fifth of the total cost to construct the school buildings.
After some delays and difficulties in raising the funds required, the goal was reached, land was allocated and construction commenced. The school was opened on 28 August 1882, with an initial enrolment of twenty-eight students. The first head teacher was Mr. John McKeague. Reflecting the area's growth during the 1880s, the school grew quickly, with enrolments rising to around 160 students by 1890.
The original school building remained in use until 1965, when it was replaced by a number of new school buildings. Unlike other schools in the surrounding mining districts, Normanton State School has remained open almost continuously since 1882. The only exceptions are three short closures for specific reasons beyond the school's control. The first of these short closures was in April 1897, as a consequence of an outbreak of dengue fever. The second closure was from January to March 1942, as the result of war precautions. The third of these short closures was in 1974, as a result of severe flooding.
The Normanton School has generally grown and prospered during its more than 140 years of operation, with students and teacher numbers continuing to grow. In 1976, a secondary school was added with Mrs. Annette Peach being the first secondary teacher appointed.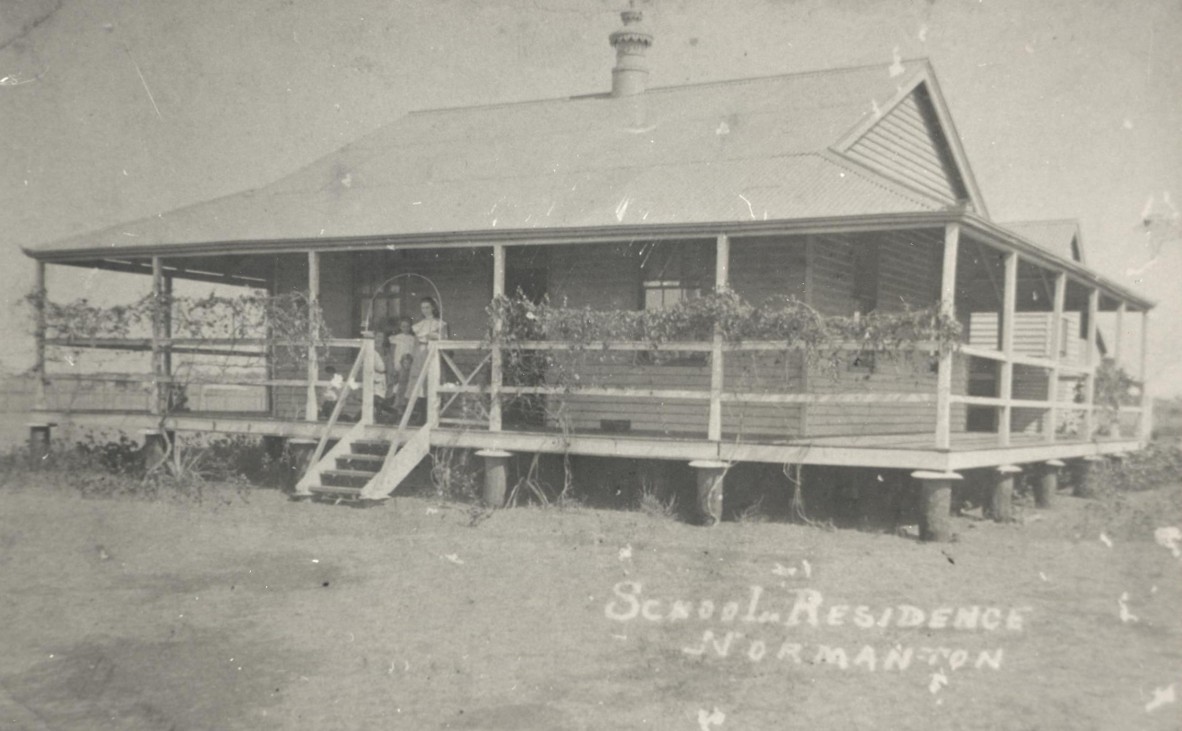 Normanton State School - Residence, ca. 1900, State Library of Queensland Neg. No. 89135
This image, dating to around 1900, shows the Normanton State School residence. We can speculate that the children standing on the veranda are family members of the teacher as well as students of the school. By the time this photograph was taken, the school was well established. The pride in the school and its appearance can be seen through this well cared for residence, with its neat appearance enhanced by flowering vines along the veranda rails.
Brian Randall, Queensland Places Coordinator, State Library of Queensland
Comments
Your email address will not be published.
We welcome relevant, respectful comments.