Queensland Places - Morven, Shorncliffe
By JOL Admin | 8 January 2014
The construction of the former grand residence Morven at Shorncliffe can be dated to around 1866, being built as a seaside residence by John McConnel, a prominent pastoralist. It is a large two storeyed building with wide balconies on both levels to catch the sea breezes as well as large bay windows on both levels. It is now part of St. Patrick's College, Shorncliffe and remains largely the same as when first constructed.
In the mid 1880's, the residence was purchased by Mr David Brown of the well-known Brisbane firm of Thomas Brown and Sons. It was Brown who named the building Morven in honour of his home town in Scotland. During this period, when Morven was owned by the Brown family, it was periodically occupied by Sir Henry Wylie Norman, the Governor of Queensland.
Morven Lounge Room, ca. 1890, State Library of Queensland Neg. No. 77045
This image shows the lounge room of Morven during this period, probably in around 1890. The room is cluttered with ornaments and furniture in the style of the time with favourite paintings and photographs proudly displayed on the walls. It is interesting to note, in the left of the image, a carefully posed baby crocodile, apparently taxidermied for display purposes.
Morven later passed to Mr E. G. Blume, whose sister-in-law operated it as a guest house.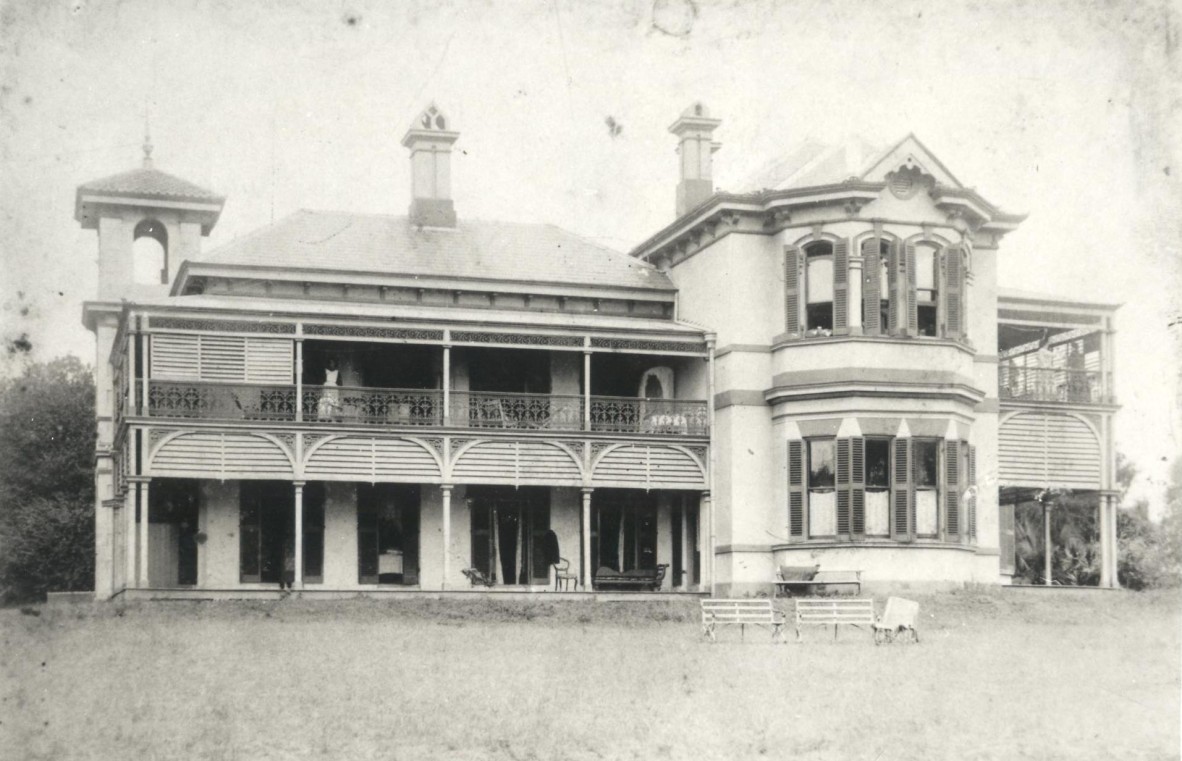 Morven ca. 1912, State Library of Queensland Neg. No. 122956
This image shows Morven at the time it was owned by the Blumes. We can speculate that the person standing on the balcony to the left of the image is a servant of the Blumes. It can also be assumed that the two people standing on the upper balcony to the right of the image are members of the Blume family.
In 1951, Morven was purchased by the Catholic Church, with Father O'Rourke, the local parish priest, playing a leadership role. The Church purchased Morven as the site of St. Patrick's College for boys. When the college opened for the first time, there were 172 students enrolled. Today, the school is host to over one thousand students across grades five to twelve. The college recognises and values its history and Morven remains an important part of the school's heritage and is thought of with pride.
Nowadays, Morven is used as the school's administration building and as such, is still an important part of the site – the college being built around it, with Morven in the centre.
Lachlan Randall, Student, St Patrick's College.
Comments
Your email address will not be published.
We welcome relevant, respectful comments.