Queensland Places - Maytown
By JOL Admin | 13 July 2016
The town of Maytown was once the "capital" of the Palmer River goldfield and was at its most prominent and populous in the late 1870s. Maytown began as an rough bush camp for the original gold miners but rapidly grew with the influx of large numbers of miners. Originally called Butcher's Gully, it later became known as Edwardstown after the local butcher Jack Edwards. The settlement was formally surveyed in 1875 by A.C. MacMillan and named Maytown in honour of his daughter.
As with similar gold rush settlements, Maytown's growth was rapid and by 1876 there were twelve hotels, six stores, three bakers, three tobacconists as well as banks and a post office. In 1877 a newspaper, the Golden Age was established, later to be replaced by the Palmer Chronicle. The first crushing mill was established here in 1876, on the Wardens Reserve, marking the end of the early alluvial gold seeking period and the beginning of the deep reef mining period.
Maytown's early growth steadied in the 1880s and 1890s, however the town was still a prominent centre in the Palmer River area. This early period of growth and relative stability is shown by the establishment of a branch of the Government Savings Bank, a state school, courthouse, school of arts, hospital, police barracks as well as a miners' institute. By 1900, the population was around 700. However, Maytown's growth declined after this time, hastened by the diminishing gold yields and by the 1950s the town was virtually deserted.
The residents of Maytown, particularly during its early period, saw their town as the administrative centre of the area and believed its future was assured. The presence of stone kerbing and channelling, rare in such towns, confirms this and is evidence of the residents' belief that Maytown would remain an important centre.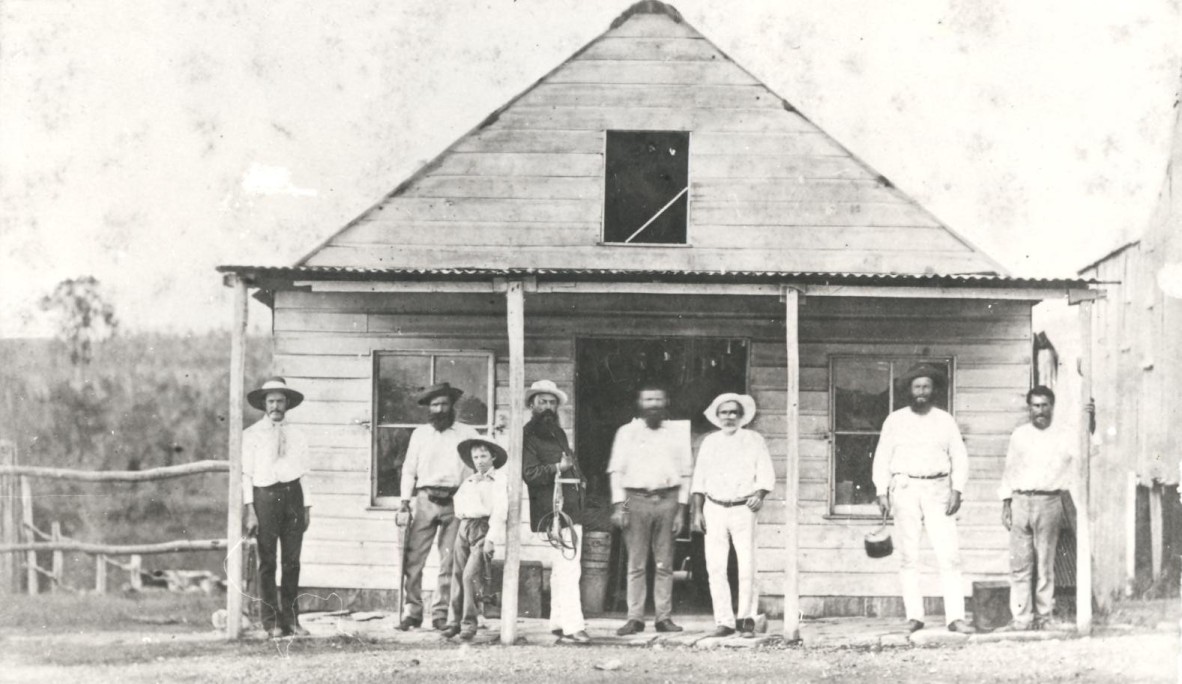 Maytown General Store, 1880s, State Library of Queensland Neg. No. 23746
Maytown General Store, 1880s, State Library of Queensland Neg. No. 23746
This photograph, dating from the 1880s shows one of the town's main stores with some of the residents posed along its front. From left to right are John Hamilton, Senior Constable; John Riley; J.W. Gibson, Journalist; T.Q. Jones; John Davis, Hotel Keeper; Andrew Irvine, Carpenter and John Riley. The child shown third from the left is unidentified.
Today, little remains from Maytown's glory days, with the only physical remnants being the remains of the baker's oven, some stone kerbing and channelling as well as the town cemetery. However, in acknowledgement of Maytown's importance in the history of Queensland, these remnants are listed on the Queensland Heritage Register.
Brian Randall - Queensland Places Coordinator, State Library of Queensland.
Comments
Your email address will not be published.
We welcome relevant, respectful comments.