Queensland Places - Laura to Maytown Coach Road
By JOL Admin | 26 August 2013
The Laura to Maytown coach road, which was part of the longer access road from Cooktown on the coast, was developed to facilitate access to the Palmer River goldfield, following its discovery and development in the early 1870s. The Palmer River field itself was always very isolated and access was difficult, which was reflected in the high cost of transporting goods and equipment, as high as 200 pounds per ton in the early years of the road's existence.
Initially the road followed a winding route north of the Conglomerate Range to Palmerville, with Maytown, the eventual centre of Gulf reefing, not even on the road until 1877. This winding route was progressively lessened, with the costs of transport reduced, however there were many on-going challenges. Erosion caused by the prevailing climatic conditions, especially high rainfall, was a problem and the constant wheeled traffic cut through the soft sandstone, particularly around the descent from the Conglomerate Range. These conditions, in combination, resulted in the road becoming increasingly dangerous. Over time, various efforts were made to improve the road's condition and reduce the dangers for travellers, for instance Mr. A.C. Macmillan undertook early works to reduce gradients at various points as well as constructing retaining walls which were aimed at strengthening the road edges and improving drainage.
The road is perhaps most well known for its close association with Cobb & Co. coach line which began regular services along it in 1880. As well, various historical sites and remnants of these earlier days remain along the road, including the sites of Chalmer's, Patrick's and Ned's hotels, remnants of gold workings and batteries, staging posts and a number of sites which once contained Chinese market gardens.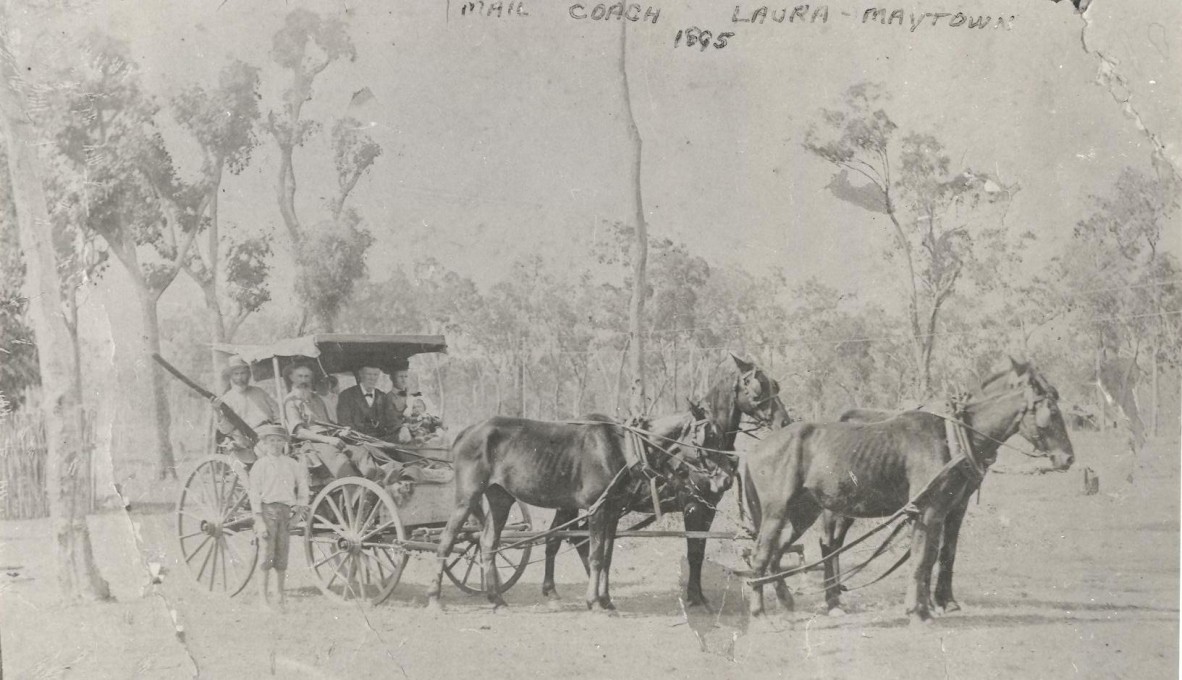 Laura to Maytown coach, 1895, John Oxley Library, State Library of Queensland Neg 31701
This photograph, taken in 1895, shows the mail coach at an unidentified location along the Laura – Maytown Road, but probably outside one of the staging posts along the way.
In acknowledgement of the historic importance of this early Cape York roadway, it has been listed on the Queensland Heritage Register.
Brian Randall - Queensland Places Coordinator, State Library of Queensland.
Comments
Your email address will not be published.
We welcome relevant, respectful comments.