Queensland Places - Gulf of Carpentaria - Commonwealth Lightship Carpentaria
By JOL Admin | 10 December 2017
Lightships were used in various locations in Queensland as an effective means to protect shipping from the dangers of reefs or shoals, or as general navigational aids. They were to prove an effective and cheaper alternative to lighthouses or beacons especially where these were not able to be built. As part of the Commonwealth's responsibility for safety at sea, four lightships were built between 1916 and 1917, with these being designed by D. and C. Stevens of Edinburgh and built at Cockatoo Island dockyard in Sydney. The vessels were used in pairs, while one was on station the other was in port under maintenance, with their replacement occurring when they became unseaworthy for whatever reason.
There were in fact two lightships named Carpentaria, one stationed in the northern waters of the Gulf of Carpentaria, with the second anchored off Sandy Cape on the northern tip of Fraser Island.
In 1936, a report in the Cairns Post provided details about the then new lightship Carpentaria. This vessel was to be towed to Thursday Island by the Commonwealth Lightship Steamer Leuwin for the purpose of replacing the previous lightship Carpentaria which was being decommissioned, then onward to its destination in the northern Gulf. Further newspaper reports detailed that the former Carpentaria had broken its moorings several times and drifted off, on one occasion as far as Goode Island. This was to be a common occurrence with both lightships breaking their moorings at various times. The Carpentaria spent a significant part of its life marking the Merkara Shoals, ensuring greater safety for shipping in Gulf waters.
These lightships, maintained or replaced at various times, remained in operation until the mid 1980s. Two of these lightships are now on public display, one at the Australian National Maritime Museum in Sydney and the other at the Queensland Maritime Museum.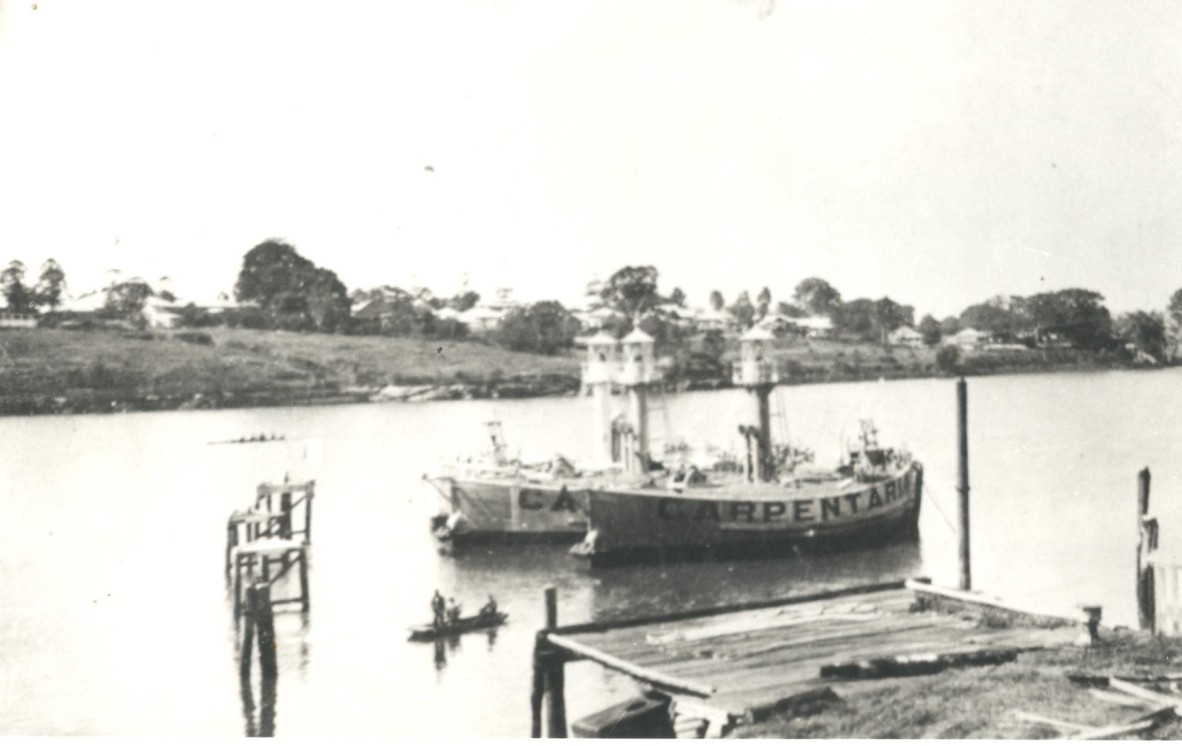 Commonwealth Lightship Carpentaria. John Oxley Library, State Library of Queensland Neg 129656
Commonwealth Lightship Carpentaria. John Oxley Library, State Library of Queensland Neg 129656
This image shows two of the lightships Carpentaria at anchor in the Brisbane River in 1924, where they were undergoing maintenance before being towed to replace those lightships at their respective stations.
Brian Randall - Specialist Librarian, John Oxley Library, State Library of Queensland
Comments
Your email address will not be published.
We welcome relevant, respectful comments.