Queensland Places - Cape York and the Voyage of the Duyfken
By JOL Admin | 30 April 2013
Cape York Peninsula will always have an important place in Australia's history, as the site of the first authenticated landing by Europeans on the Australian continent.
This landing and the associated brief explorations and observations took place in the early 17th century, by Dutch traders and navigators. The impetus for this early contact with the Australian mainland was trade, with Dutch traders in Java and the so called Spice Islands, interested to know what opportunities might lie to the south. Consequently, Willem Janszoon received orders from the Dutch East India Company to undertake such a voyage of exploration to investigate trade possibilities. Commanding the Duyfken, meaning Little Dove, Janszoon sailed in March 1606 across what was later to become known as the Torres Strait.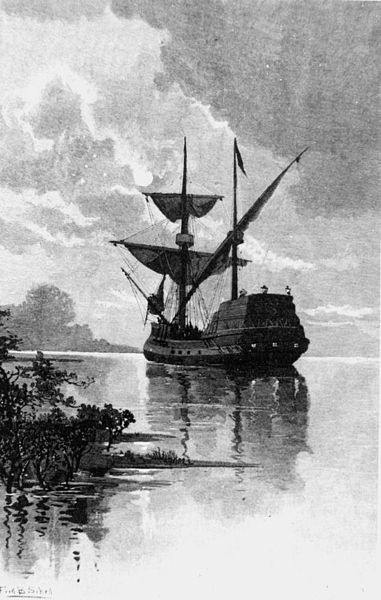 The Duyfken in the Gulf of Carpentaria.
Becoming somewhat confused as to precisely where they were, Janszoon and his crew sailed for some two hundred miles along an unknown and uncharted coastline in their small vessel, which weighed only about fifty tonnes. Brief landings were made during which, in a prelude of later conflict, these Dutch visitors clashed with the local Aborigines, with some on the Dutch side being killed. We are also able to speculate that there may have been similar loss of life on the Aboriginal side. Continuing their voyage along this unknown coast, they noted a prominent land projection which Janszoon named Cape Keer-Weer (Turn-Again or Turn-Around), perhaps influenced by the recent conflict and loss of life.
Later, one of the Dutch East India Company's agents, John Saris, reported on the Duyfken's voyage and its outcomes. Saris reported that there were limited opportunities in this newly discovered and apparently dangerous location, saying "in sending their men on shore to entreate of trade, there were nine of them killed…so they were constrained to return, finding no good to be done there". Over the next few decades, other Dutch ships would sail along the west coast of Cape York Peninsula. However, with no gold, spices or other trade opportunities to exploit, the Dutch were apparently not interested in undertaking any further detailed or focused exploration.
Cape York Peninsula, as the place where these first European contacts took place, will always be important in the history of Australia.
Brian Randall - Queensland Places Coordinator, State Library of Queensland
Comments
Your email address will not be published.
We welcome relevant, respectful comments.