Queensland Places - Booval
By Brian Randall - Queensland Places Coordinator, State Library of Queensland | 3 January 2013
Booval is a busy, growing suburb located on both of the main Brisbane to Ipswich transport arteries, rail and road. But Booval wasn't always as busy as the present day, originally being settled as a farming district, with a wide variety of produce being grown for both local markets as well as for Brisbane.
Change came with the development of the coal mining industry, with workers moving into areas such as Booval, in growing numbers. To meet the needs of this growing population, residential land was progressively developed and a railway passenger platform was built in 1876.
A strong cultural thread is represented by the Blackstone-Cambrian Choir, which had its beginnings in the vicinity. The present day Cambrian Centre Hall, on Station Road, was formerly known as the National Hall. It was purchased by the Queensland Collieries Employees Union in 1917, only a few years after its construction, for use as a dance hall and picture theatre. The hall was acquired by the Blackstone-Cambrian Choir in 1983.
Farming was still a strong part of Booval throughout this period, with a prominent Booval landmark being the Queensland Farmers' Cooperative's dairy factory, which only closed in 1964.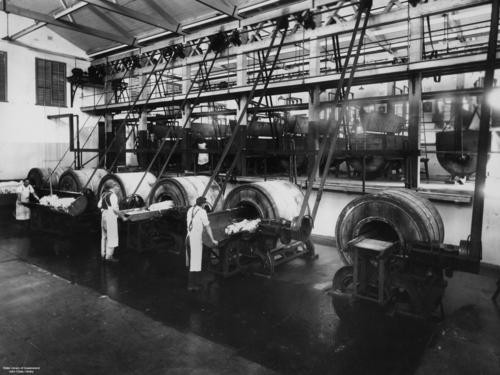 Interior of dairy factory at Booval ca. 1950s. State Library of Queensland Negative No 59983
Another prominent landmark is the historic Booval House, dating from the 1850s and built for George Faircloth, the manager of the Ipswich branch of the Bank of Australasia. This residence survives and is listed on the Queensland Heritage Register.
Booval, once a quiet stopover on the Cobb and Co coach route to Ipswich, is now one of the city's busiest centres.
Brian Randall - Queensland Places Coordinator, State Library of Queensland
Comments
Your email address will not be published.
We welcome relevant, respectful comments.