Queensland Places - Alpha
By JOL Admin | 10 December 2012
The town of Alpha is situated approximately 400 kilometres to the west of Rockhampton with the name being derived from Alpha Pastoral Station, established in 1863. This was a very large station, dominating the area and growing to more than 1,600 square kilometres by the 1890s.
The area was originally visited and partly explored by the New South Wales Surveyor-General, Thomas Mitchell in 1846 and it was his reports that were to encourage settlement, particularly from the 1860s. The major coastal centre of Rockhampton was keen to take full advantage of the inland pastoral wealth and pushed for a central railway line with construction commencing in 1867. The central railway line reached Emerald in 1879 and extended to Alpha in 1884.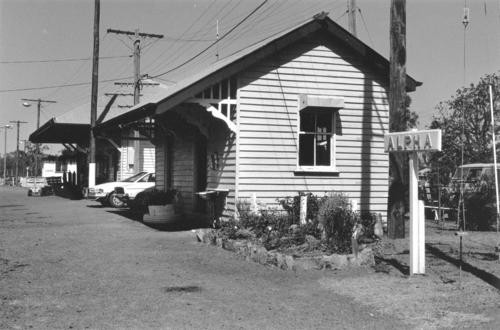 Alpha Railway Station, 1989. State Library of Queensland Negative No. 189648
Shakespeare Street, Alpha 1989. State Library of Queensland Negative No. 189650
Jericho Shire, which included the town, was incorporated in 1917, with the main shire offices and council facilities located in the town of Jericho. The on-going development of Alpha is demonstrated by the establishment of a range of community facilities including hotels, a new community hall (1957), a golf club (1964), a secondary school department (1967), a show society and jockey club (1967) as well as a swimming pool (1980)
Criterion Hotel Alpha 1989. State Library of Queensland Negative No. 189647
Comments
Your email address will not be published.
We welcome relevant, respectful comments.