Queensland Place Histories: Westbrook, Toowoomba
By JOL Admin | 23 July 2012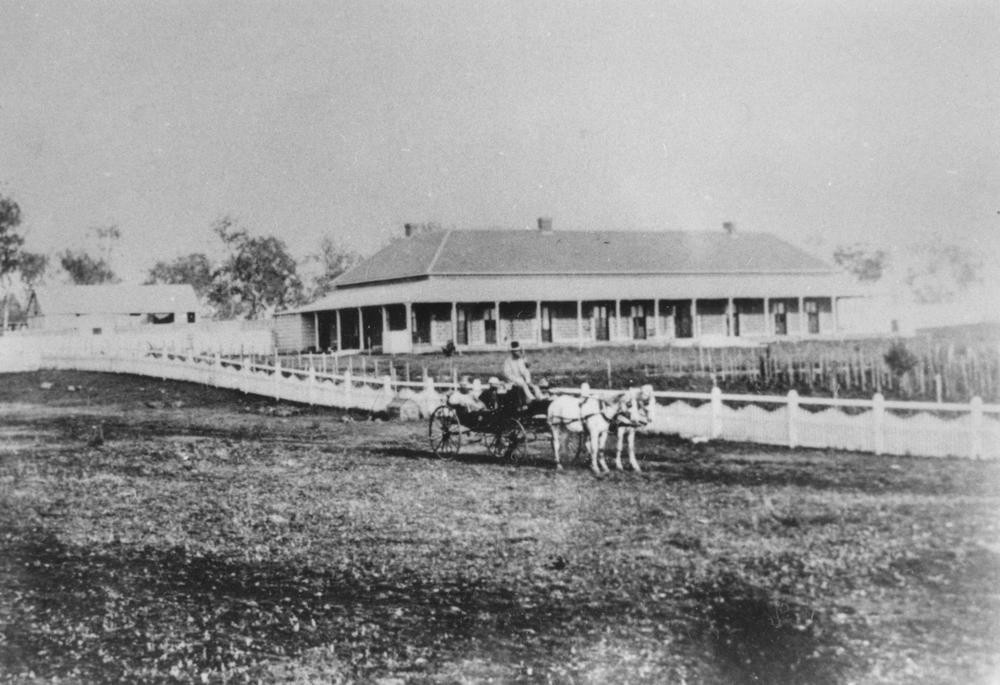 Open carriage outside the Westbrook Station homestead, ca. 1877. State Library of Queensland. Negative number: 177011
Westbrook was once a small rural town, but is now an outlying suburb of Toowoomba, having been overtaken by the progressive growth of the city and the increased need for residential land. Westbrook is located on the Toowoomba-Pittsworth Road, approximately six kilometres south-west of the city.
The original Westbrook pastoral run was taken up by John (Tinker) Cambell in 1841, with this nickname referring to his previous trade as a Sydney street vendor. The surviving stone residence, Westbrook Homestead, was built by later owners, in 1867, and is listed on the Queensland Heritage Register. The Westbrook pastoral run originally comprised some 44,500 hectares of land, but was progressively reduced in size as the pressures for closer settlement of the land increased. Cambell leased the property only for a relatively short period, experiencing poor seasons soon after he first arrived, followed by the failure of a number of his commercial ventures. One of these was the establishment of a "boiling down works" in Brisbane, which operated in Kangaroo Point. Cambell eventually sold Westbrook to John Stevens in 1843 with the property being progressively on-sold to various owners, including John Donald McLean. It was McLean who built the existing substantial stone residence using stone quarried on the property as well as at Toowoomba.
Hon. John Donald McLean, 1866. State Library of Queensland. Negative number: 166895
Also listed on The Queensland Heritage Register is the Westbrook War Memorial, which was built at some stage prior to 1922. The memorial was designed by Bruce Brothers of Toowoomba and erected by the town's residents to commemorate those who served and fell during the First World War. The memorial is located adjacent to the Westbrook Public Hall.
Westbrook War Memorial on the Toowoomba Millmerran Road, Westbrook. State Library of Queensland. Negative number: 11415
Westbrook State School, 1930. State Library of Queensland. Negative number: 110949
Comments
Your email address will not be published.
We welcome relevant, respectful comments.