Queensland Place Histories - Red Hill
By JOL Admin | 16 May 2008
The inner northern Brisbane suburb of Red Hill was the subject of the State Library of Queensland's first segment on Channel Seven's Great South East program, going to air on 20 April 2008. Although a lot of information was included in the brief segment that went to air, this post provides further information about the suburb.
The steep hill/s, the red rock and soil of the area combined to give "Red Hill" its name as well as presenting a problem for building. The use of stumps enabled houses to be built on the steep slopes.
The history of Red Hill begins long before European settlement. For many generations it has been part of Turrbal country and a important place for the Aboriginal people who lived there. Although white settlement pushed First Nations people further and further out as the city expanded in the 1800s, Red Hill was the location in which a Aboriginal camp was set up. Elders such as Billy Moffat, Catchpenny, and Kerwallie (King Sandy) lived in this camp in the late 1800s and early 1900s.
View of Red Hill, ca. 1929. Image No. 58735
Some early businesses included:
Chinese market gardeners had vegetable patches along Ithaca Creek (along the line of Waterworks Road).
Whitehouse Brothers Organ Builders – Musgrave Road, Red Hill. This building is now uded as the premises of the Red Hill Gallery.
Mrs. Gentle's Store (ca. 1900), originally located in Enoggera Terrace.
W. Woodcock, Butcher (ca. 1900), originally located at the corner of Waterworks Road and Eva Street.
Arthur Robinson's grocery store on Musgrave Road (1892).
The Fulcher family's tannery ca.1898. Fulcher Street, Red Hill is named in honour of the family.
The Crown bakery (1902), originally operated by the Walker family.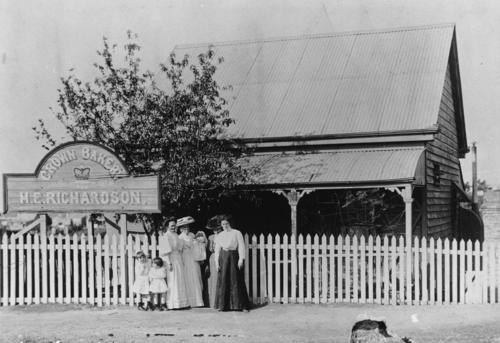 Crown Bakery, ca. 1907 Image N0. 40956
Denham's Storage building (1945) – this was used to house US Army troops during WW2
Development of the area for residential housing:
By 1865 the process of residential subdivision was well underway with early housing estates including:
Lincoln Estate (1860s). It is likely that Federal Street, Confederate Street and Harriet Street, as names, were influenced by the US Civil War.
Bristol Estate (1870s), located near Waterworks Road
Red Hill Estate (1880), subdivided by E. Hooker & Son
Dillon's Hill Estate (1880), located adjacent to Arthur Terrace with allotments selling for ten to twenty pounds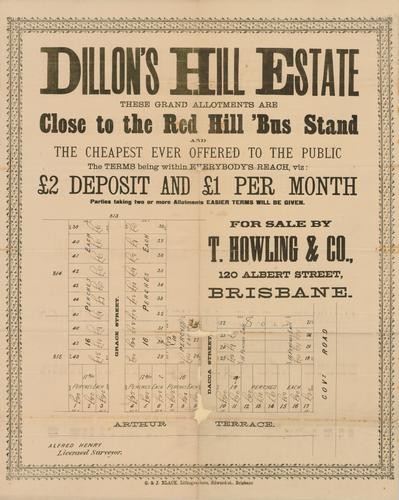 Estate Map for Dillon's Hill Estate Image No. 758594
Sites and buildings
Normanby Hotel (1890) - Built for publican Elizabeth Sophia Burton. The Burton family owned the hotel until 1944.
St. Brigid's Catholic Church (1882) - The original church was built in 1882 and replaced by the present church in 1914 being built to accommodate up to 1,000 people. The building's high position and imposing appearance ensures it remains a landmark in Red Hill.
Ithaca Fire Station (1918-19) - Enoggera Terrace, Red Hill. The building was constructed in 1918-19 as the headquarters for the Ithaca Fire Brigade. A first floor was added in 1928 to provide accommodation for the officer in charge. During WW2 the building became a base for the Wartime Auxiliary Fire Service
Ithaca Fire Station, ca. 1942. Image No. 73407
Red Hill Skate Arena – built in 1920
Presbyterian Church Hall (1885) - Enoggera Terrace. The land was purchased in 1883 by the Presbyterian Church for £120 with the building being completed in December 1885.
Ebenezer Baptist Church (1874) – Waterworks Road. The original building was replaced by a more permanent building in 1888
Find more photographs of Red Hill in State Library's collection.
Comments
Your email address will not be published.
We welcome relevant, respectful comments.