Queensland Place Histories - Kelvin Grove
By JOL Admin | 23 May 2008
This inner northern Brisbane suburb's name derives from the 1868 purchase by Joseph Bancroft of land in the area and on which he built a residence called "Kelvin Grove Park." It is believed that he named the property after Kelvin Grove Park in Glasgow. Dr. Bancroft was a renowned botanist and scientist and a prominent member of the community.
But the history of the area spans many generations before European settlement. As part of the country that makes up Turrbal land, the area that is now Kelvin Grove was once an important place for First Nations people. Because of a Billabong situated in what is now McCaskie Park, and the Enoggera Creek a short distance away, The area was a great place for fresh water and hunting. This area was a place of significant cultural importance for clans across the South-East, with Barrambin (Victoria Park) a staging ground for huge corroborees, fires, feasts, and story telling traditions that go back many thousands of years.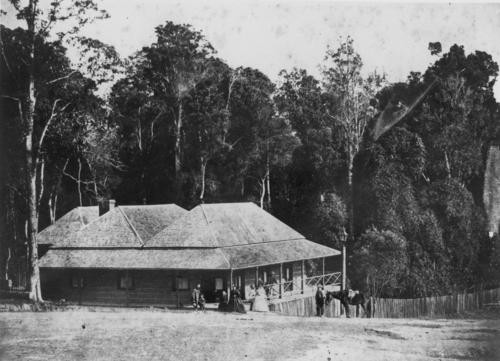 Bancroft home at Kelvin Grove, ca. 1868.  John Oxley Library image no. 6713
Booth's Bakery in Kelvin Grove, 1937, John Oxley Library image no. 185376.
Buildings
There are, or have been a number of significant buildings and sites in the area now encompassed by the suburb of Kelvin Grove, including:
the remnants of a World War 2 air raid shelter which survived as a bus shelter on Kelvin Grove Road, near the corner of Prospect Terrace. This is a good example of one of the many air raid shelters built around the city during World War 2.
the proposed Government House. When the old Government House, in the grounds of what is now the Queensland University of Technology, Gardens Point, became unsuitable as the residence of Queensland's Governors, a portion of Victoria Park in Kelvin Grove was proposed as a suitable site for the construction of a new Government House and approximately £6,000 was spent on foundations. However, the site was abandoned when "Fernberg" in the nearby suburb of Paddington became available and which remains the residence of the Governor.
Hunstanton House situated in L'Estrange Terrace was built in 1914 by William L'Estrange, a surveyor who became manager of the Brisbane Electric Supply Company.
Queensland University of Technology (QUT), Kelvin Grove Campus. A brief timeline of the use of this site and the development of the present university campus follows:

1942 – Teachers' Training College (or sometimes Queensland Teachers' Training College)
1944 – Senior Teachers' Training College
1950 – Queensland Teachers' College
1961 – Kelvin Grove Teachers College
1974 – Kelvin Grove College of Teacher Education
1976 – Kelvin Grove College of Advanced Education
1982 – Kelvin Grove Campus of the Brisbane College of Advanced Education
1990 – QUT
Timeline
Some important dates in the suburb's history and development are:
1864 – Army Barracks established. These later became the Gona Army Barracks.
1875 – Kelvin Grove State School opened.
1897 – The railway line passes through Kelvin Grove.
1901 – The tramline passes through Kelvin Grove.
1961 – Kelvin Grove State High School opened.
Subdivisions
As the population grew, various housing subdivisions were developed, some of which included:
Lilley's Hill Estate – 1888 - 67 allotments
The Long Hill estate – 1911 – Park Street area
Bancroft Park Estate – 1914 – Bancroft Street area
Streets
As the suburb continued to develop, the names of many early settlers or prominent residents were commemorated in the names of Kelvin Grove's streets:
Bancroft Street – named for Dr. Joseph Bancroft
L'Estrange Terrace – named for William L'Estrange
Herston Road – named for Robert Herbert (first Premier) and John Bramston (lawyer and attorney-general)
More information
Find more photographs of Kelvin Grove in the State Library's collection.
Comments
Your email address will not be published.
We welcome relevant, respectful comments.