Queensland Place Histories - Kedron
By JOL Admin | 10 June 2008
Kedron is another suburb to be featured on Channel Seven's Great South East program, with the recently filmed segment to be broadcast during June 2008.
The suburb's name derives from the name of the watercourse that runs through the area, Kedron Brook. The name Kedron appears to have first been used by early missionaries who had settled in the Nundah area. These early missionaries called the creek which traversed their land Kedron Brook, basing the name on a Biblical reference.
Bridge over Kedron Brook, ca. 1925. Image No: 57690
Justice Alfred Lutwyche, Queensland's first judge was one of the area's early residents, naming his residence Kedron Lodge, taking the word Kedron from the already named creek.
Kedron Lodge, ca. 1937. Image No: 69664
The official usage of the name appears to have been started by local shopkeeper and postman, John King who adopted the name Kedron for the locality in the early 1890s.
Early settlers and residents in the area have included:
Missionaries who settled in the Nundah area in 1838. The missionaries were granted approximately five hundred acres of land along Kedron Brook.
Alexander Barron and family (1856)
Judge Alfred Lutwyche purchased 50 acres and built his residence, naming it Kedron Lodge (1862)
Henry Craig who settled on land now occupied by Lutwyche Cemetery (1864/5)
Paul Maggs and family (1860s)
William Shaw and family (1865). The family's residence, Shaw's Villa, overlooked Kedron Brook
Gallagher family
Scriven family
Robinson family
Edinburgh Castle Hotel built by George Orr (1868). The hotel was originally situated on the opposite side of Edinburgh Castle Road.
Edinburgh Castle Hotel, ca. 1929 Image No: 1866
Kedron Tannery (1887 – Michael Gallagher). This tannery was very successful and became known Australia wide for the quality of its products.
Edinburgh Tannery – (1889 – Paul Maggs). This tannery was situated alongside Kedron Creek at the end of Nundah Street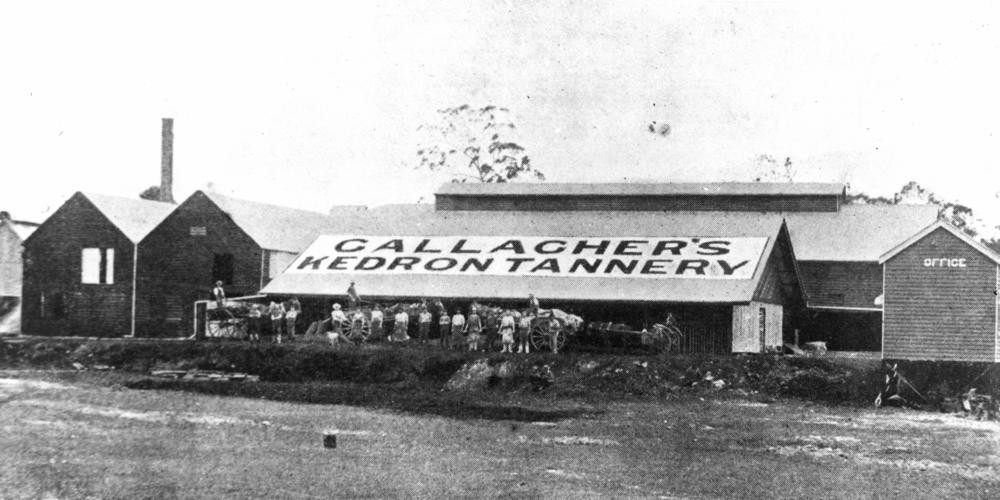 Gallagher's Tannery, 1902 Image No: 6530
John and Abigail King's general store (1891) on the present site of the Commonwealth Bank (Gympie Road)
Peter Smith's newsagency (1892)
James Barron, blacksmith on the corner of Gympie and Stafford Roads
Jack Taylor's "Shoeing, General Smith, Coachbuilders, Motor Body Builders and Painting"
Hart and Neilan, blacksmiths
Claude Barron, blacksmith
Jack Landers screened films at the Kedron Park Raceway
Wintergarden Theatre (1923)
Lutwyche Cemetery, on land originally owned by Henry Craig. The cemetery dates from 1878 and was originally known as Kedron Brook Cemetery. The name of the cemetery was later changed to Lutwyche Cemetery to commemorate Judge Lutwyche.
Kedron Park Racecource, once situated adjacent to the Kedron Park Hotel.
Kedron Park Racecourse, 1922 Image No: 6813-0001-0001
Significant dates in the history and development of Kedron:
1866 – 30 Nov. – Church of England (St. Andrew's) established.
1886 – The enactment of anti-pollution regulations began to counteract various noxious industries that had been established in the area.
1904 – Part of Kedron, with Lutwyche and Wooloowin incorporated into the Town of Windsor.
1913 – Presbyterian Church established, commencing with a Sunday School but gaining full church status in 1945.
1923 – Catholic Church established in the area.
1925 – Methodist Church established with the first services held in the Wintergarden Theatre.
1926 – 2 Oct. – Kedron State School (staff – James Lennon - headmaster, Florence Hawkins, Ruth Pilkington, Roy Bayliss and Marcella Fitzgerald).
1930 – 29 Jan. – St Anthony's established.
1934 – Kedron Bowls Club established.
1955 – Kedron Park resumed for educational building purposes – Kedron Park Teachers College, then Queensland University of Technology and now the site of Queensland Emergency Services.
1956 – Padua College established.
1956 – Mount Alvernia established.
1956 – Kedron State High School established.
Comments
Your email address will not be published.
We welcome relevant, respectful comments.