Queensland Place Histories - Jindalee, Brisbane
By JOL Admin | 18 June 2012
The Brisbane suburb of Jindalee was predominantly developed from land originally owned by the Sinnamon family, who were early settlers and pioneers. Subsequently, with the spread of Brisbane's suburbs and the need for residential land, this area became part of the large Centenary Estates Development from which six new suburbs were developed. In addition to Jindalee, these new suburbs were Jamboree Heights, Mount Ommaney, Westlake, River Hills and Middle Park and together they were known as the Centenary suburbs. The actual name Jindalee is said to be based on an Aboriginal word meaning "Bare Hills", with the suburb being formally named Jindalee in 1964.
The area that is now Jindalee is connected to both Jagera and Turrball aboriginal groups, and Indigenous use of the area had existed for generations before European settlement.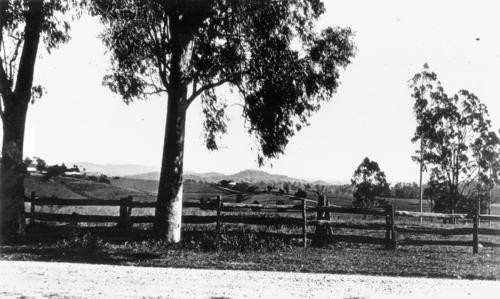 Jindalee prior to residential development, looking west from Gogg's Road. State Library of Queensland. Negative number: 32127
The adjacent suburb Jamboree Heights gained its name as a consequence of the 8th Australian Pan-Pacific Scout Jamboree being held in the vicinity from December 1967 to January 1968. As with other locations in the general area, it was originally used for agriculture with farming and dairying prominent.
The first school in the vicinity was the Seventeen Mile Rocks Provisional School, opened in 1870. A high school opened at Indooroopilly in 1954 followed by the Jindalee State School in 1966. A high school, the Centenary State High School, opened in 1999, is located in the suburb.
The building of the Centenary Bridge, opened in 1964, dramatically improved access through and around the suburb, with the bridge being duplicated in 1987. The Jindalee Golf Club and the Jindall Bowls Club both opened in 1967.
The suburb, due to its close proximity to the Brisbane River, has received substantial damage during Brisbane's major recent floods, as well as during past floods. In spite of this, Jindalee is one of Brisbane's most popular residential locations.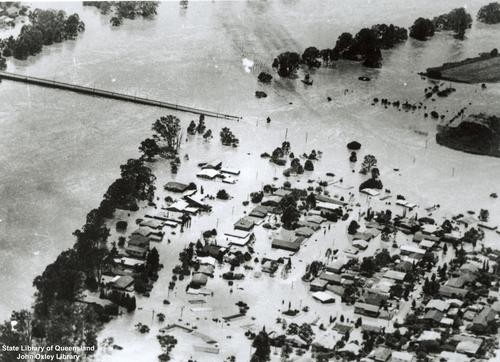 Flood damage at Jindalee caused by the 1974 Brisbane Flood. State Library of Queensland. Negative number: 110133
Jindalee Sports Stadium inundated by floodwaters, Brisbane, 1974. State Library of Queensland. Image number: lbp00078
Comments
Your email address will not be published.
We welcome relevant, respectful comments.