Queensland Place Histories - Eimeo, Mackay
By JOL Admin | 28 August 2012
Eimeo is an outer suburb of Mackay, located approximately 11 kilometres north of the city. The area covered by the suburb extends from the Mackay-Bucasia Road to the high land at the entrance to Eimeo Creek. Adjacent to the headland is a small sandy beach.
The history of the Mackay region spans much earlier than colonial settlement. For thousands of years this area has been Yuwibara, Wiri, Biria, Jangga, Barna and Barada land, each clan living in different areas of the region. food was gathered in the wetlands that make up much of Eimeo, and evidence of human activity has been found that dates back hundred of years. From the 1860s and onwards, Mackay was a place of significant violence during what is now known as the Frontier Wars. The first nations peoples of the area fought back against colonisation and many were killed by native police and settler alike. For more information on Indigenous Queensland history, check out our interactive map here.
Day out at Eimeo Beach, Mackay. Image courtesy of Mackay Regional Council Libraries. Image number: qmc01912
The suburb's name is said to derive from the birthplace of Eimeo pioneer, Jeremiah Downs Armitage, Eimeo Island in Tahiti. Jeremiah Armitage came to Mackay in the early 1870s and soon took up land, initially operating as a timber merchant but later moving into fruit growing. In addition to the growing of fruit, Armitage developed the area to cater for tourists in the Mackay area. He opened a boarding house on Eimeo Hill, which also intermittedly traded as a hotel.
Armitage's lasting legacy to the area is the avenue of mango trees he planted, probably in the 1880s, to delineate the track leading from the main Mackay access road, through his property, to his boarding house/hotel. These trees survive to the present day and are listed on the Queensland Heritage Register. Palm Avenue is also a significant and well known feature of the suburb.
Palm Avenue, Eimeo, Mackay, Qld. Image courtesy of Mackay Regional Council Libraries. Image number: qmc05507
The present day Pacific Hotel, often still referred to as the Eimeo Pub, is the successor to Armitage's earlier boarding house/hotel. During the Second World War, the Eimeo Hotel was used as a place of rest and recreation by American servicemen, many of whom had fought in various locations in the Pacific campaign. The present Pacific Hotel on the site dates from 1954.
Pacific Hotel, Eimeo, Mackay. Image courtesy of Mackay Regional Libraries. Image number: qmc01614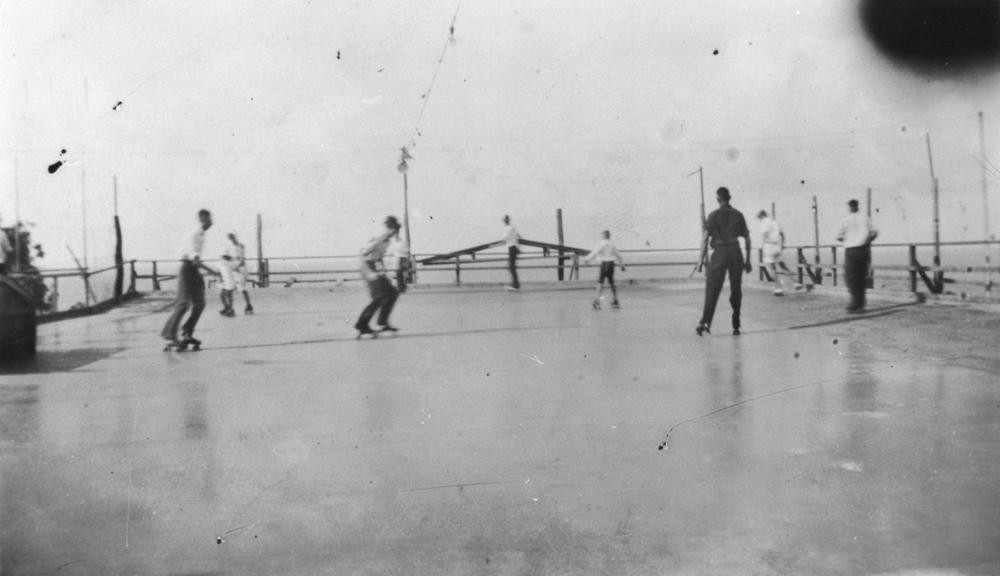 Eimeo skating rink, Queensland, 1939. State Library of Queensland. Negative number: 45983
Seven lads in a boat at Eimeo Creek, Mackay region. Courtesy of Mackay Regional Council Libraries. Image number: qmc01843
Comments
Your email address will not be published.
We welcome relevant, respectful comments.