Queensland Memory Awards commemorate the state's past, present and future
By JOL Admin | 31 May 2013
State Library of Queensland has announced the winners of the 2013 Queensland Memory Awards, including Brisbane author Matthew Condon.
State Librarian Janette Wright said that the Queensland Memory Awards, supported by Queensland Library Foundation, are presented annually by State Library of Queensland, to recognise new contributions to the state's history and documentary heritage.
The 2013 Awards, including the John Oxley Library Fellowship, John Oxley Library Award, and John Oxley Library Community History Award, were announced tonight at an Awards Ceremony at State Library.
The prestigious $20,000 John Oxley Library Fellowship was awarded jointly to researchers Kathleen Fallon and Matthew Nagas for their proposed project A Commemorative Pilgrimage of Significant Sites: Australian South Sea Islanders from Tweed Heads to Torres Strait.
2013 John Oxley Library Fellows: Kathleen Fallon and Matthew Nagas
"Kathleen and Matthew's application caught the panel's attention as their project coincides with commemorations of 150 years since the first South Sea Islanders were brought to Australia," Ms Wright said.
"Kathleen and Matthew will research, document, compile, and photograph historic sites significant to Australian South Sea Islanders, with an aim to publishing a series of heritage tourism guides.
"In addition to the cash component, Queensland Library Foundation also provides the Fellows with a dedicated work space within the John Oxley Library to use the Library's collections in the completion of their project."
The previous Fellow, architect Don Watson, has been using the collections of the John Oxley Library to create a biographical dictionary of pioneering Queensland architects over the past century.
The recipients of the John Oxley Library Award and John Oxley Library Community History Award were also announced at the ceremony last night.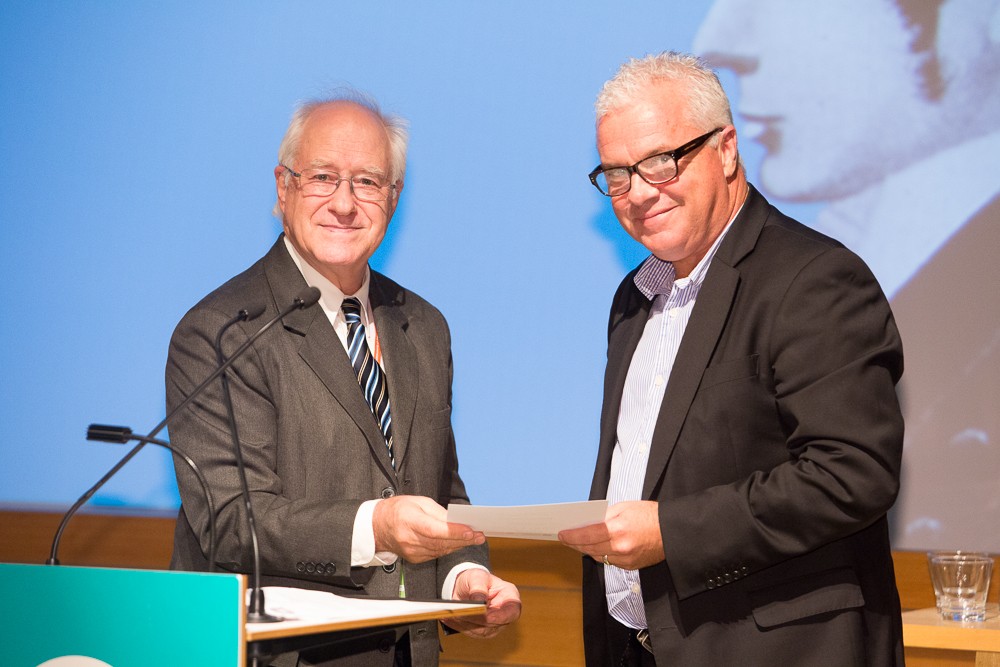 Matthew Condon, recipient of the John Oxley Library Award 2013 (right) with Professor Emeritus Roland (Roly) Sussex OAM, chairperson of the Library Board of Queensland
Louise Denoon, Executive Manager Queensland Memory said that "Award winning journalist Matthew Condon is the recipient of this year's John Oxley Library Award, for his ongoing contributions to the telling of Queensland stories both past and present, and his commitment to bringing pertinent issues to the forefront of our state's social consciousness."
"Earlier this year, Matthew released an investigative work Three Crooked Kings, an in-depth examination of corruption in the era of former Police Commissioner Terry Lewis.
"In his investigation Matthew had unprecedented access to Terry Lewis' official police diaries and personal papers.
"The result is a compelling work that brings new meaning to a pivotal and transformative era in Queensland's history."
The 2013 John Oxley Library Community History Award has been granted to Brisbane Open House, an annual event belonging to the Open House Worldwide family.
Michelle Lee and Stewart Armstrong - Brisbane Open House
Ms Denoon said that since its inception in 2010, Brisbane Open House has unlocked more than 50 of Brisbane's architecturally significant buildings to the public for guided tours and self-exploration, with buildings as diverse as the Masonic Memorial Temple, Old Government House, Riverside Centre, and State Library of Queensland itself.
"In this way, Brisbane Open House plays a crucial role in encouraging Queensland's residents and tourists to engage actively with Brisbane's history, and will continue to do so for years to come," Ms Denoon said.
Comments
Your email address will not be published.
We welcome relevant, respectful comments.