Queensland 100 years ago - Cairns to Kuranda Landslide
By JOL Admin | 31 January 2011
Cyclones and floods were a problem in Queensland in 1911 as they are today 100 years on. On 11 January 1911 a tropical cyclone passed from the Gulf of Carpentaria inland and caused severe destruction at Marburg in South West Queensland with areas suffering gale force winds. On 10 February crops and buildings were damaged at Port Douglas. On 16 March Port Douglas was left with only 7 out of 57 houses standing. Mossman and Cairns were also hit. On 23 March a cyclone sank SS Yongalaopen_in_new east of Townsville with 120 lives lost.
Floods were severe across the state from Cairns, Townsville and Palmerville in the North to the Balonne River at St. George in the south which reached 12 feet on 3 February. Prior to this in January 600 sheep were drowned near Warwick owing to the rapid rise in Emu Creek. Streets flooded at Laidley.
Flooding of a serious nature occurred on the Fitzroy, Burnett and Mary Rivers but Brisbane escaped owing to a deflection of the storm track away from the south-east coast.
A common result of heavy rains and floods is the phenomenon of landslides...
The Cairns-Kuranda railway has a spectacular history of dislocation by landslides, the earliest of which was recorded during its construction in 1891. The most disruptive incident however, occured on the 15th December 1910 when a landslide, after a period of intense rainfall, partly closed the Kuranda end of the no 10 tunnel for more than 2 months.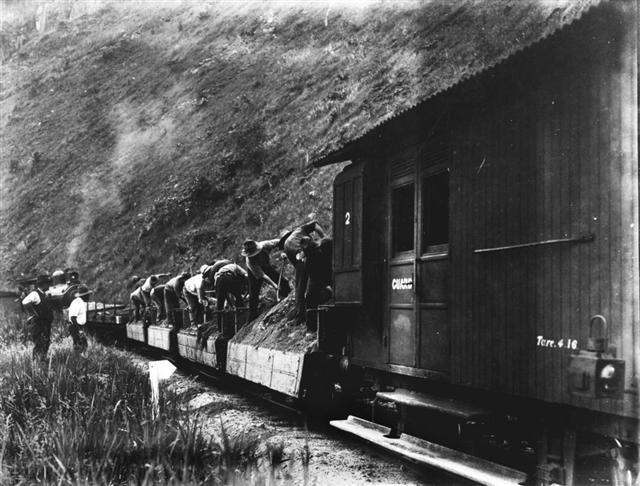 Repairing a landslide on the Cairns Railway, 1911. Image number 187928.
Trains could only travel as far as the tunnel and passengers had to de-train and walk around the outside of the tunnel to another train to continue their journey. Because the railway was the main freight connection between inland towns and the port at Cairns, the blockage was very disruptive. Over 300 men were used to clear the damage and stabilise the slide. It was not until 6 March 1911 that the line was cleared and reopened to all traffic.
According to the Cairns Post of 10 January 1911, "Mr J. A. Fraser, District Engineer, oversaw the repairs against "insurmountable difficulties" to allow supplies and passengers to once again reach their destination."
For more information on historic Australian landslides see the Australian Government's Geosciences Australia website.
Comments
Your email address will not be published.
We welcome relevant, respectful comments.