Queen Elizabeth II - History in Pictures
By Simon Miller, Library Technician, State Library of Queensland | 8 September 2015
On Wednesday 9 September 2015 Queen Elizabeth II becomes the longest serving monarch in British history, surpassing the record of Queen Victoria, who reigned for 63 years, 7 months and 2 days. Elizabeth was proclaimed Sovereign on February 6 1952, following the death of her father King George the Sixth. Queen Elizabeth's coronation took place on 2nd June 1953 with great pomp and ceremony at Westminster Abbey. The event was celebrated with somewhat less pomp in a Coronation Ball in the RSL Hall in Charleville.
Coronation Ball which took place in the RSL Club Hall, Charleville, 1953
Queen Elizabeth is the only reigning monarch to have set foot on Australian soil. She first came to Australia, and to Queensland in 1954. The royal visit was a cause of great excitement. There were extensive preparations in Brisbane and also in Bundaberg, Toowoomba, Townsville, Cairns, Mackay and Rockhampton.
Construction of a ceremonial arch on the route that Queen Elizabeth II drove, March 1954, Mackay
Her Majesty started and finished her visit to Queensland in Brisbane.
Presenting flowers to The Queen outside Brisbane City Hall in March 1954
Queen Elizabeth II accompanied by the Governor, Sir John Lavarack, Brisbane, 1954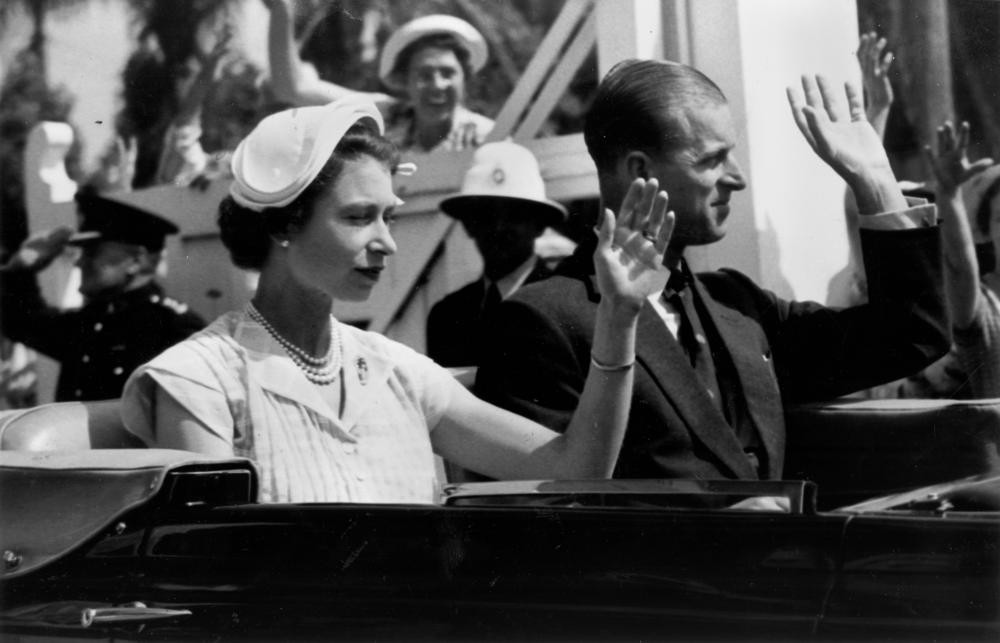 Queen Elizabeth II and Prince Philip en route to Eagle Farm Airport, Brisbane, Queensland, 1954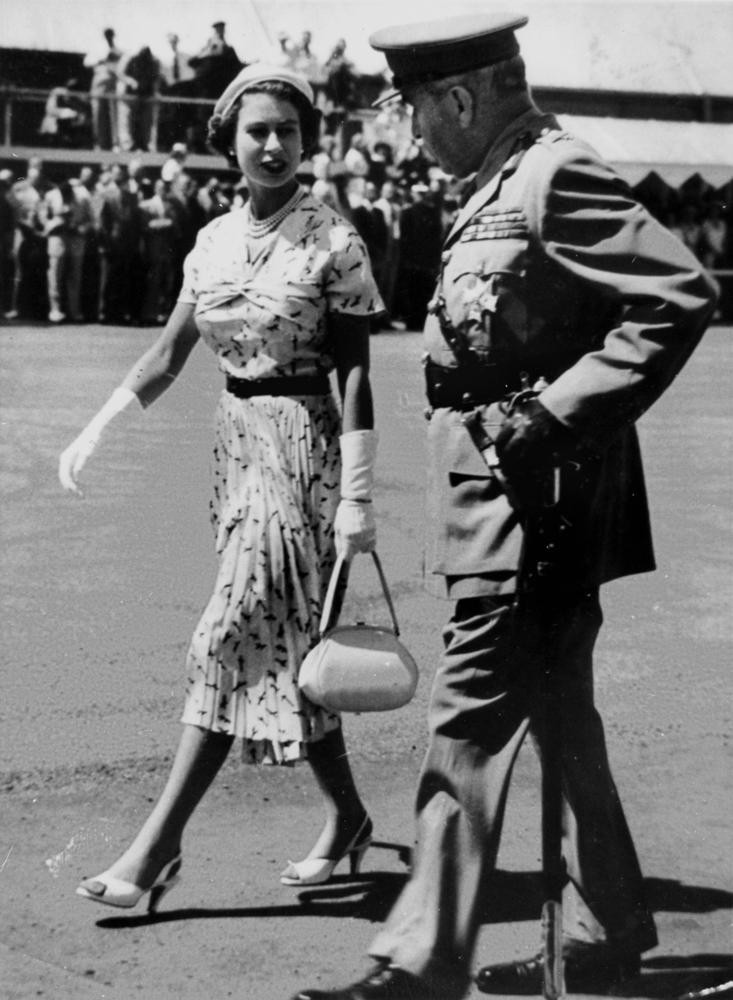 Queensland's Governor says good-bye to Queen Elizabeth II after her visit in March 1954
In between these visits to Brisbane the Queen went to several regional centres in Queensland including Cairns and Mackay.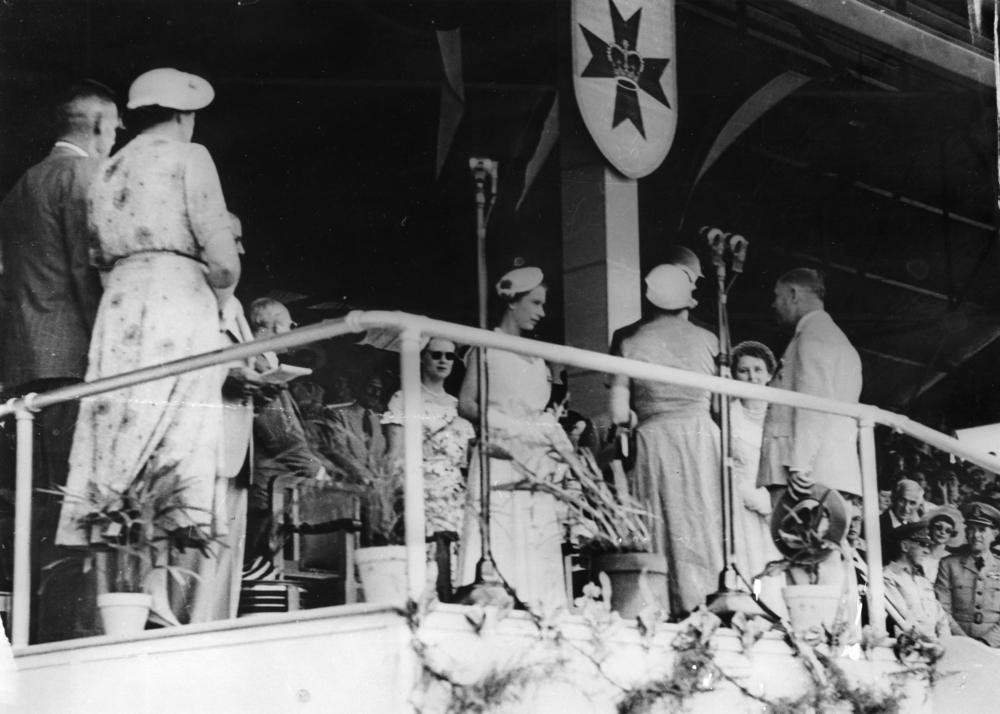 Queen Elizabeth visiting Cairns, Queensland, 1954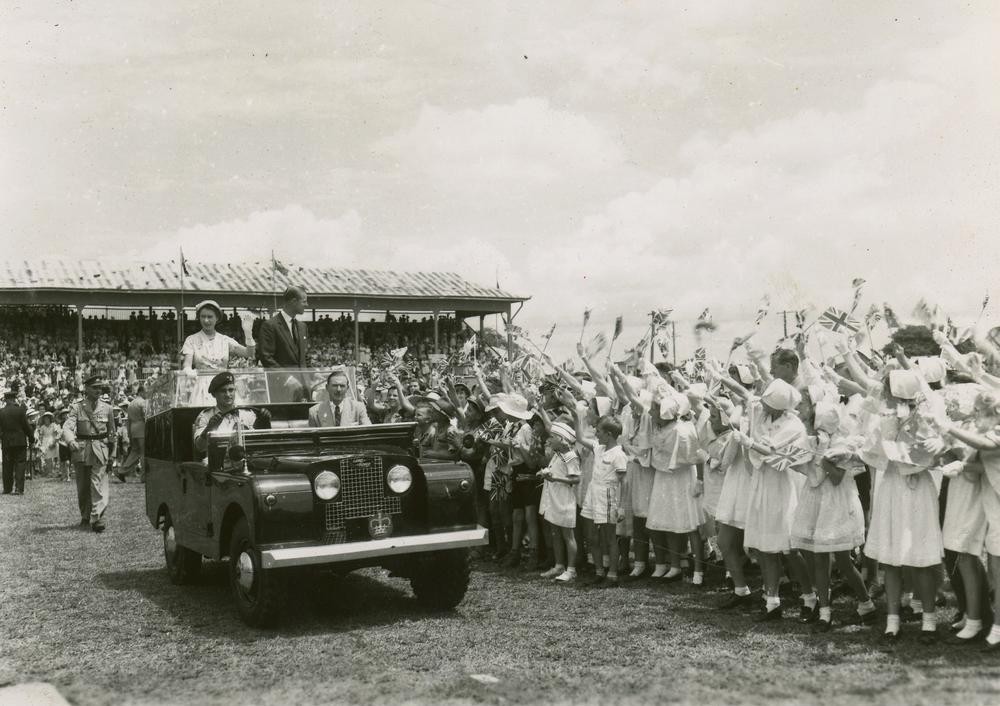 Queen Elizabeth II and Prince Philip in a Land Rover in Mackay, Queensland, 1954
Queen Elizabeth returned to Queensland in 1963 with the Queensland leg of her trip confined to Brisbane and the Gold Coast with visits to Lone Pine Koala Sanctuary and the Gold Coast surf carnival at Coolangatta.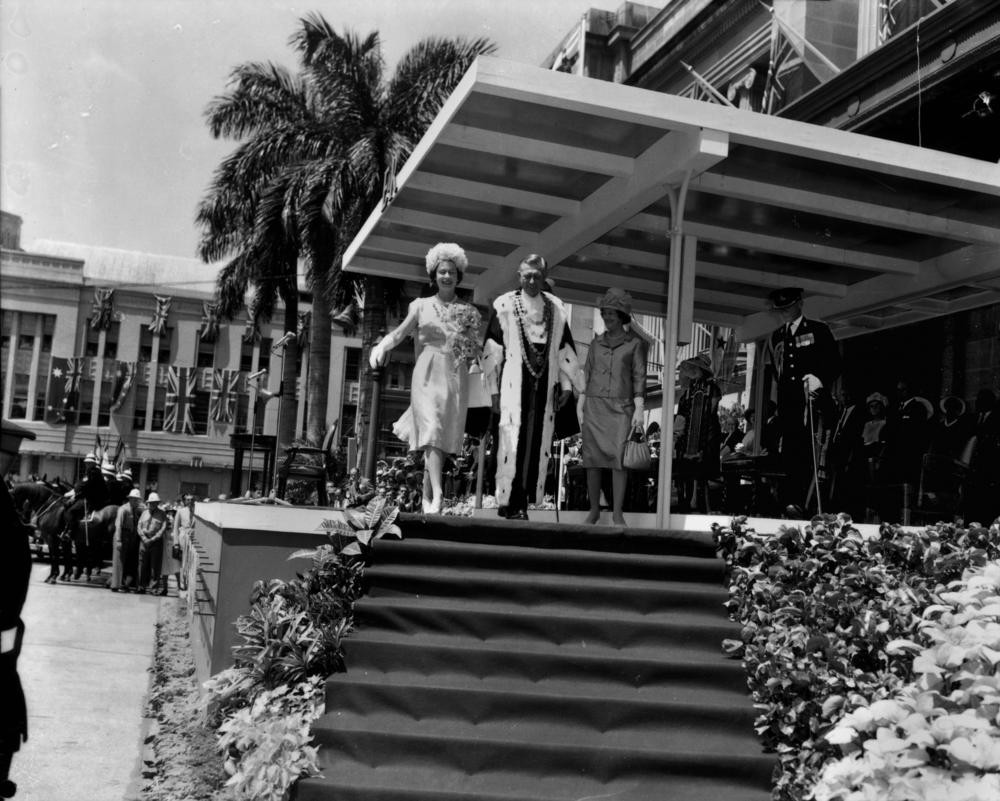 The Queen leaves the dais with the Lord Mayor of Brisbane, after the civic welcome on Wednesday, 6 March 1963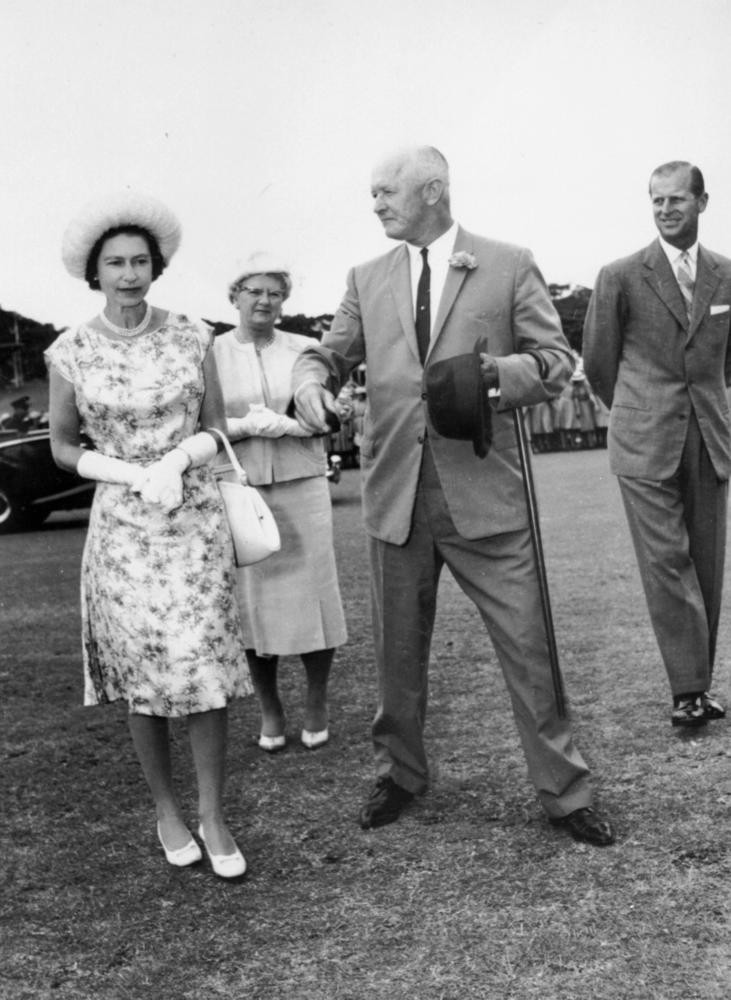 Sir Thomas Alfred Hiley with Queen Elizabeth II, Brisbane Cricket Ground, 1963
In 1970 the Queen visited Queensland on the occasion of the Captain Cook Bi-Centenary celebrations.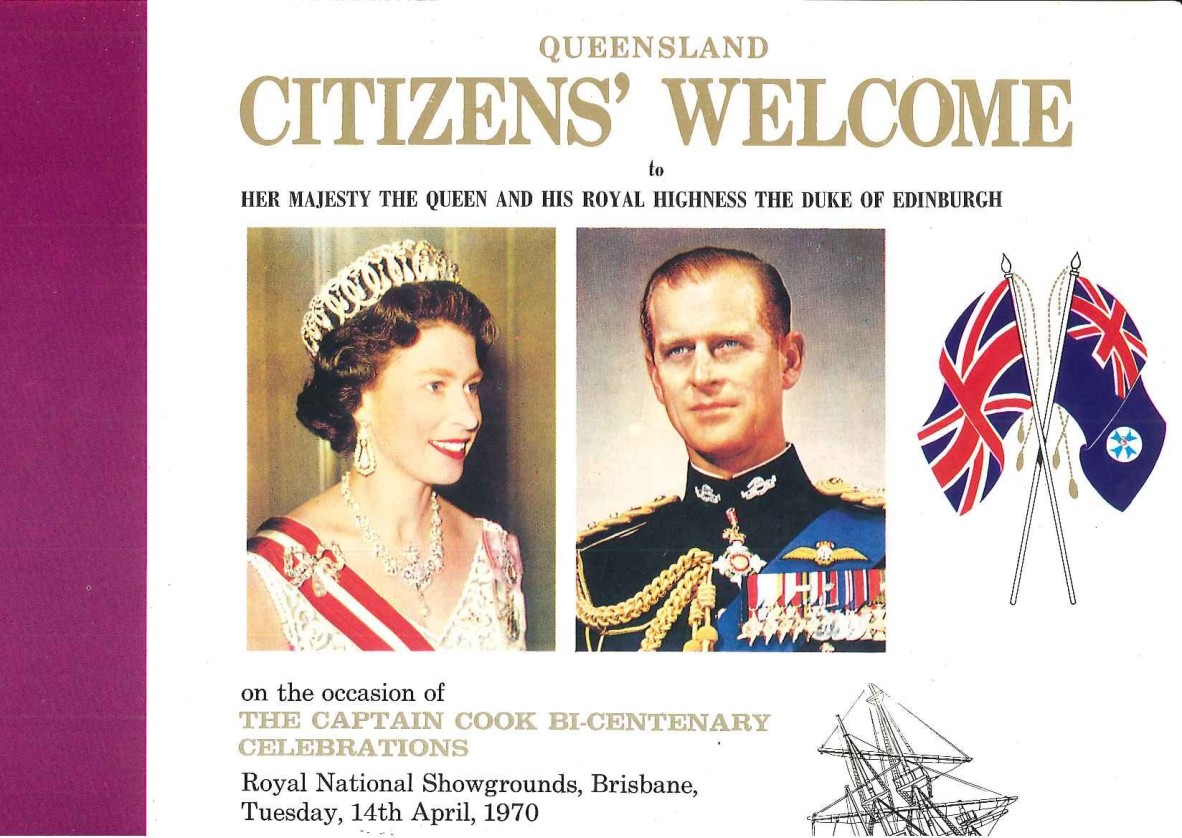 Queensland citizens welcome to Her Majesty the Queen and His Royal Highness the Duke of Edinburgh, 1970
In 1988 she returned to Australia for the Bicentennial celebrations and came to Brisbane to open Expo '88.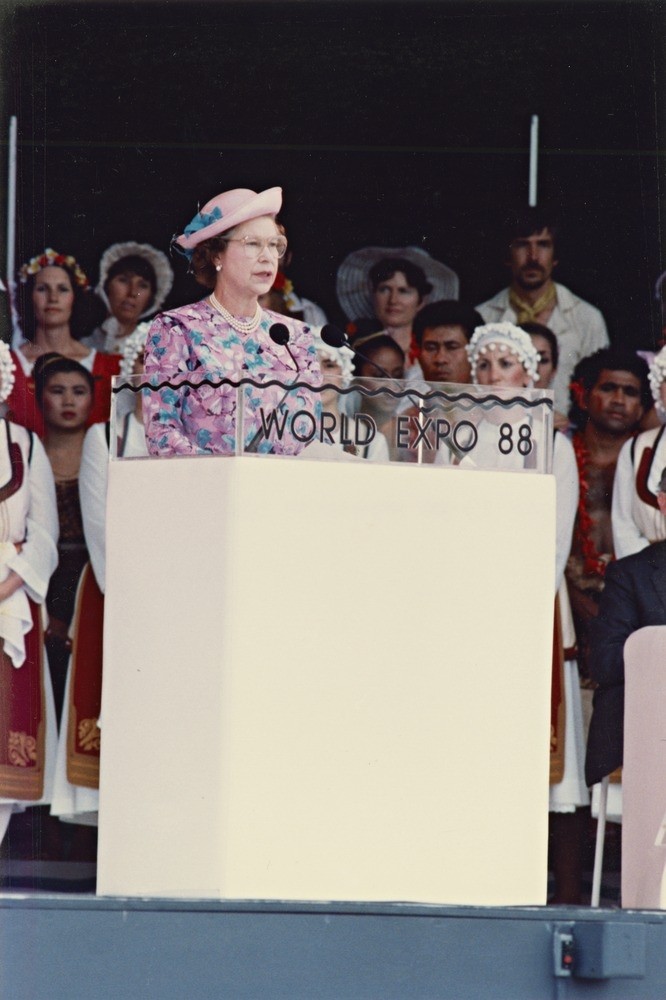 Queen Elizabeth II speaking at the opening of Expo '88 in South Bank, Queensland, 1988
Queen Elizabeth II watching the opening performace at the River Stage at Expo '88 in South Bank, Queensland, 1988
Queen Elizabeth most recently visited Australia in 2011 when she visited Canberra, Melbourne and Perth as well as Brisbane.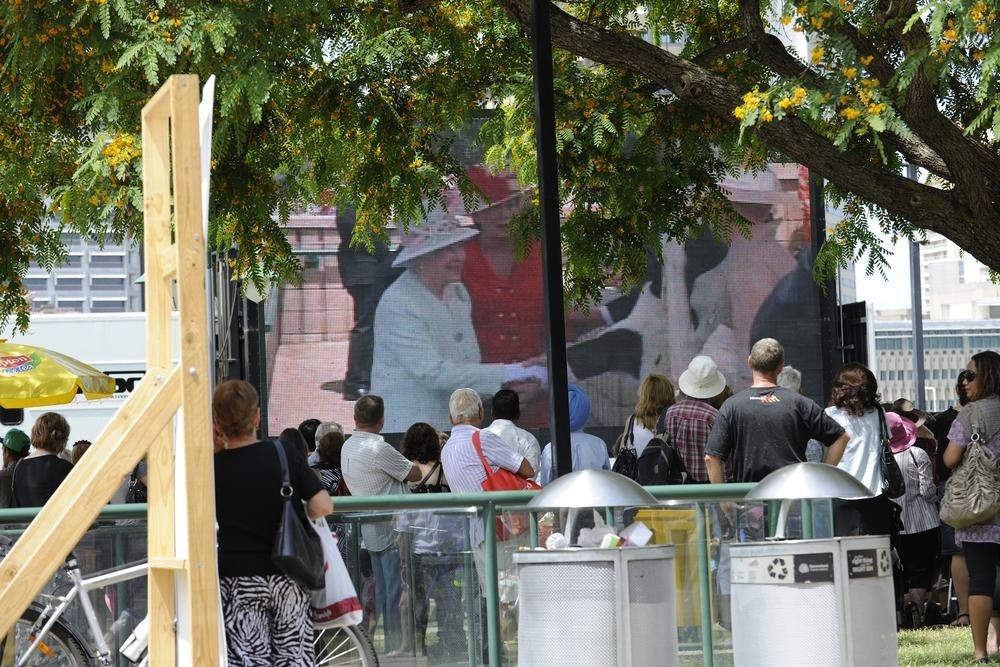 Crowds at Southbank watch the arrival of the Queen on a big screen, 24 October, 2011
Simon Miller - Library Technician, State Library of Queensland
Comments
Your email address will not be published.
We welcome relevant, respectful comments.