Queen Elizabeth and the Governor's wife
By Myles Sinnamon, Project Coordinator, State Library of Queensland | 4 February 2014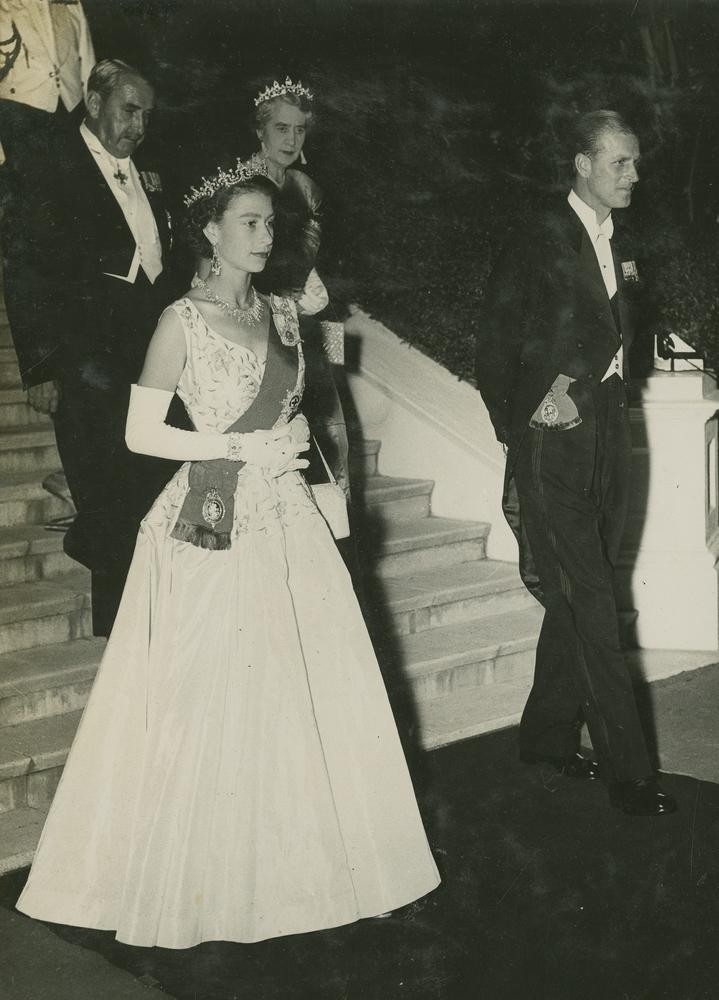 Queen Elizabeth on the stairs of Government House Brisbane 1954. 7571 Lavarack Family Album. John Oxley Library, State Library of Queensland. Image number: 7571-0001-0229
On March 9, 1954, a young Queen Elizabeth II - the first reigning monarch to set foot in the state of Queensland - and her husband Prince Philip, Duke of Edinburgh, arrived in Brisbane.
With an itinerary including Bundaberg, Toowoomba, Townsville, Cairns, Mackay and Rockhampton, the royal duo received a rapturous welcome in each city with media capturing and reporting their every move. The royal couple spent several days in Brisbane, staying at Government House in inner-west Paddington with Queensland Governor Sir John Lavarack and his wife, Lady Lavarack.
Queen Elizabeth II accompanied by the Governor Sir John Lavarack Brisbane 1954
An album compiled by the wife of the Queensland Governor, Lady Lavarack (a digital copy can be viewed online) contains several photographs of their special guests, as well as a two-page account of their time at Government House, providing an intimate and personal portrait of the young Queen. "We found them charming and easy in every way", wrote Lady Lavarack, describing the Queen as "witty, vivacious, in fact, sparkling and full of fun".
Queen Elizabeth in a rolls royce during her visit to Brisbane 1954. John Oxley Library, State Library of Queensland. Image number: 7032-0001-0048
Her Majesty dined with the Lavaracks several times and made quite an impression - "She is a very clever mimic and very often kept the whole table convulsed with laughter when she recounted some funny episode that had occurred, and always with appropriate actions". Lady Lavarack also recorded that the Queen had a dual persona - behind closed doors she was "natural and full of fun", and when on duty "serious, thoughtful, dignified and queenly and also has the gift of a quick and right thinking brain".
Lady Lavarack even goes as far as describing the Queen's eating habits during her stay at Government House.
"We had been told The Queen ate very little was very impatient with long formal dinners and many courses, so we decided to have only three courses - entree, choice of main course and then sweets and dessert. This was a tremendous success and she ate heartily at every meal. We were very amused one night, when she walked into the drawing room, after specially enjoying her dinner, remarking, "Well, that was a lovely dinner!". Then she threw back her head and laughed (such a pretty musical sound!), saying, "I wish the Press could see me downing everything that's put before me - they always write me up as daintily picking my food and with little appetite."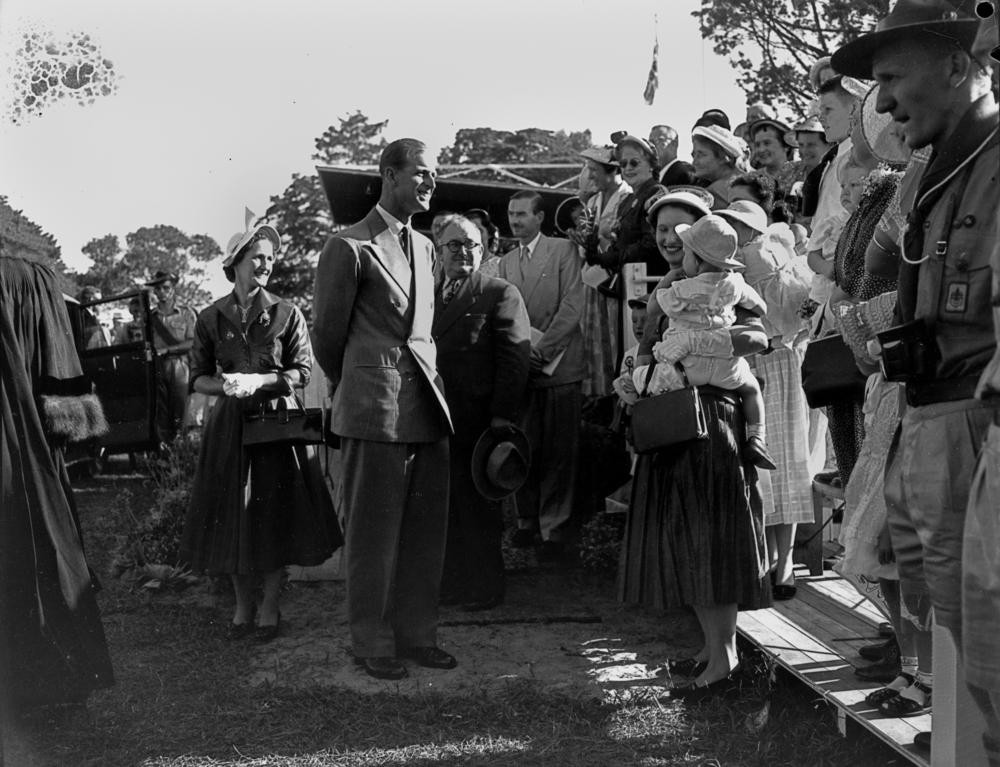 Prince Philip meets the people during his tour in 1954. John Oxley Library, State Library of Queensland. Negative number: 105613
The Royal couple did have one day of rest at Government House during their stay. They were able to stroll around the grounds of Government House and according to Lady Lavarack, they "had on view some Australian animals and Topsy, the Talking Pony". The Courier-Mail reported that Lady Lavarack was the inspiration behind the animal display.
According to an article published in the Melbourne Argus, Topsy was asked by the Duke how many buttons were on the front of Lady Pamela Mountbatten's dress. Topsy pawed the ground with his right hoof eight times, which was correct.
Lady Lavarack ended her account thus: "They are just two young, natural and charming people and it was very often difficult to keep oneself restrained and to remember that she was the Queen".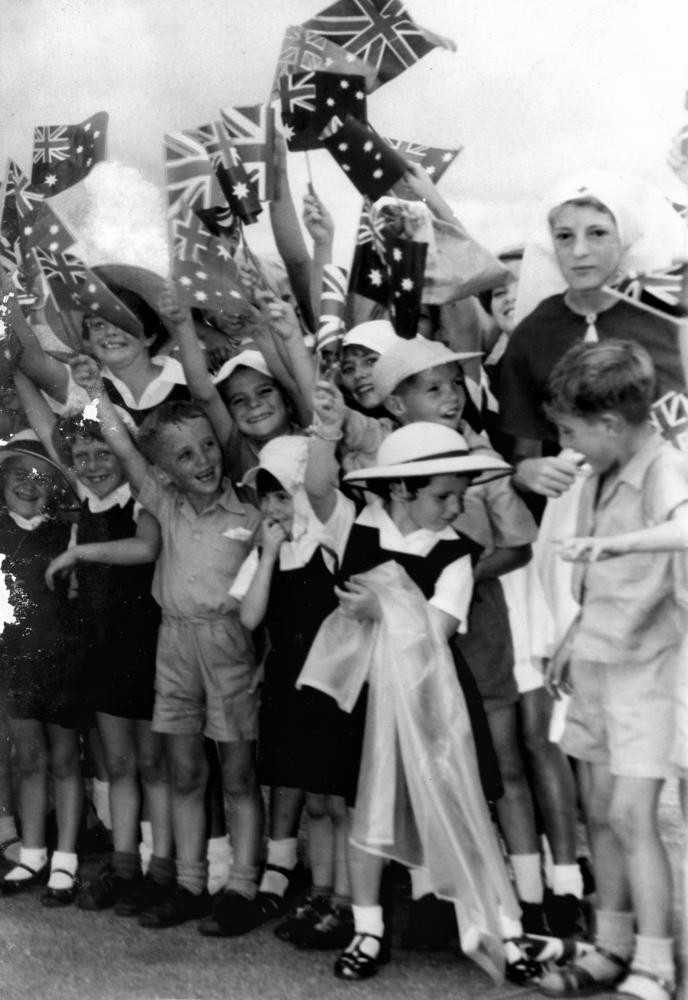 Flag-waving schoolchildren line the route that Queen Elizabeth II and Prince Philip will travel Brisbane 1954. John Oxley Library, State Library of Queensland. Negative number: 193609
Comments
Your email address will not be published.
We welcome relevant, respectful comments.