Pugh's Almanac in the John Oxley Library
By JOL Admin | 19 March 2009
John Oxley Library's microfilm copy of Pugh's Almanac has been a popular tool for Queensland historical research for many years. A new copy of the microfilm has recently been acquired for use in the microfilm area on level 3 of State Library, replacing the old copy which had been damaged by years of frequent usage.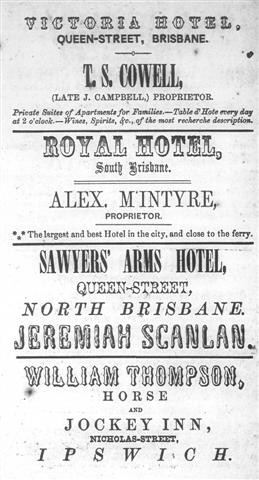 An 1860 advertisement from Pugh's Almanac
Pugh's Almanac was published by Theophilus P. Pugh in Brisbane from 1859 until 1927. Some of the topics covered in the almanac include:
information about eclipses; tides; phases of the moon; rainfall in past years; gardening; hints to agriculturists; sailing directions for Moreton Bay; a history of the Moreton Bay settlement; Moreton Bay exports and imports; an article about the arrival and reception of His Excellency, Sir G.F. Bowen, first governor of Queensland; motor vehicle regulations; officers in public departments; public institutions; pastoral directory;
As well as...
legal directory; directories of surveyors, architects, medical practitioners, chemists, dentists, banks, newspapers, Masonic lodges, Friendly societies, Brisbane trades, local authorities; ecclesiastical directories; and Country directories which listed Queensland towns, their locations and business people.
Comments
Your email address will not be published.
We welcome relevant, respectful comments.