Proclamation of Port Douglas
By JOL Admin | 13 December 2017
Guest blogger: Bill Wilkie - Douglas Libraries, Douglas Shire Council.
On 1 December 2017 Port Douglas in Far North Queensland celebrated its 140 year anniversary of settlement. Cr Mayor Julia Leu and Douglas Shire Historical Society Executive Committee Member Noel Weare unveiled signage at Teamsters Park, Craiglie to mark the occasion.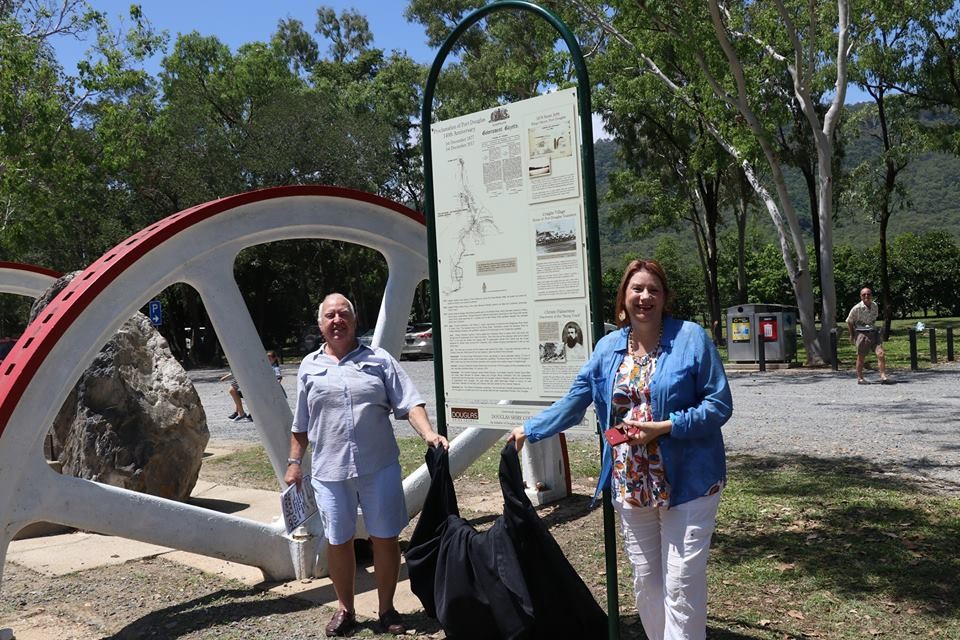 Signage details the Proclamation of Port Douglas, an official port of entry for the levy of dutiable goods December 1, 1877. Photo by Tom Volling, Douglas Shire Council, December 2017.
The port emerged when a route over the Great Dividing Range was discovered at nearby Mowbray. This allowed easier access to the inland gold fields than the previous routes crossing the range from Cairns, 70 kms to the south.
The new access attracted merchants and prospectors and the little port – variously known as Island Point and Port Owen – quickly grew.
Even the Darling Downs Gazette and General Advertiser (Toowoomba, Qld.: 1858 – 1880) reported 27 town lots for sale by auction in September 1879.
Land sales at Port Douglas advertised 20 August, 1879.
Government offices and banks transferred from Cairns to Port Douglas, and Cairns slipped into decline.
The flurry of land sales continued throughout 1879. The Brisbane Courier advertised 42 town lots for sale in November and an 80 acre extension of reserve land for a police paddock at the junction of Spring Ck and Mowbray River.
A decade later in 1887 the train line was built over the range from Cairns, and the town of Port Douglas suffered.
In the 140 years since Port Douglas was proclaimed, the area survived mainly as a port for the sugar industry, then as a small fishing village, before gaining a resurgence as a major tourist destination in the 1980s.
Douglas Shire Historical Society celebrate the official anniversary with Cr Mayor Julia Leu, 1 December 2017. Photo by Tom Volling, Douglas Shire Council, December 2017.
At the unveiling Cr Mayor Leu commented on the unique and rich history of the Shire - "Craiglie was a centre for wagon-load transfer, with hundreds of bullocks and horses based there...the area played a pivotal role in driving the Port Douglas economy in the early settlement era."
Port Douglas continues to flourish today, having an international tourism reputation as the gateway to the Great Barrier Reef and the rainforests of the Daintree.
References:
More information:
Read Public Libraries blog story on The Daintree blockade: The Battle for Australia's Tropical Rainforests by author Bill Wilkie. Bill lives with his family in Mossman, north Queensland.
Anne Scheu - Engagement Officer, State Library of Queensland
Comments
Your email address will not be published.
We welcome relevant, respectful comments.