Princess Alexandra : royal visit 1959 : History in pictures
By Simon Miller, Library Technician, State Library of Queensland | 9 September 2016
1959 was the centenary of Queensland and representing Queen Elizabeth II at the celebrations was her first cousin Princess Alexandra. Queen Elizabeth had visited Queensland with Prince Philip in 1954 after her coronation and would return in 1963 but in 1959 the royal duties were delegated to Princess Alexandra who was a very popular young member of the royal family. Her Royal Highness Princess Alexandra of Kent, as she was then known was the daughter of Prince George, fourth son of King George V and was then sixth in line to the throne.
Princess Alexandra of Kent with a koala at Cloudland Ballroom, 1959
Princess Alexandra arrived in Brisbane on 18 August 1959 and the State Reception at the Cloudland Ballroom took place that night. She stayed in Brisbane until the 22 August when she began a tour of regional Queensland, returning to Brisbane on 4 September before departing for Sydney on 9 September.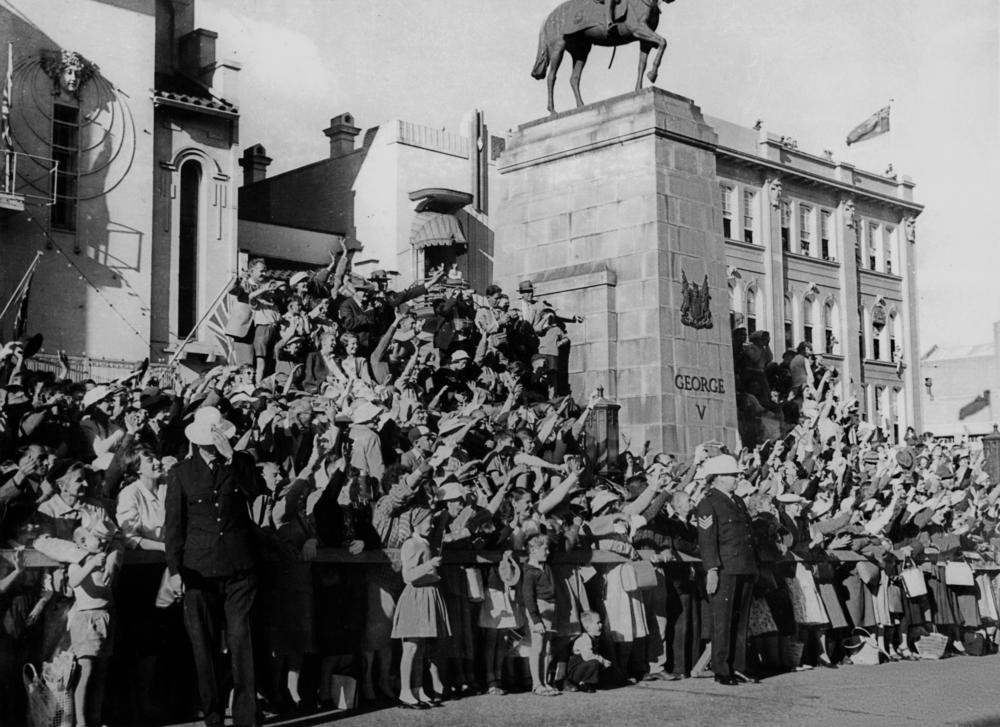 Crowds gather to greet the Princess under the statue of her grandfather, George V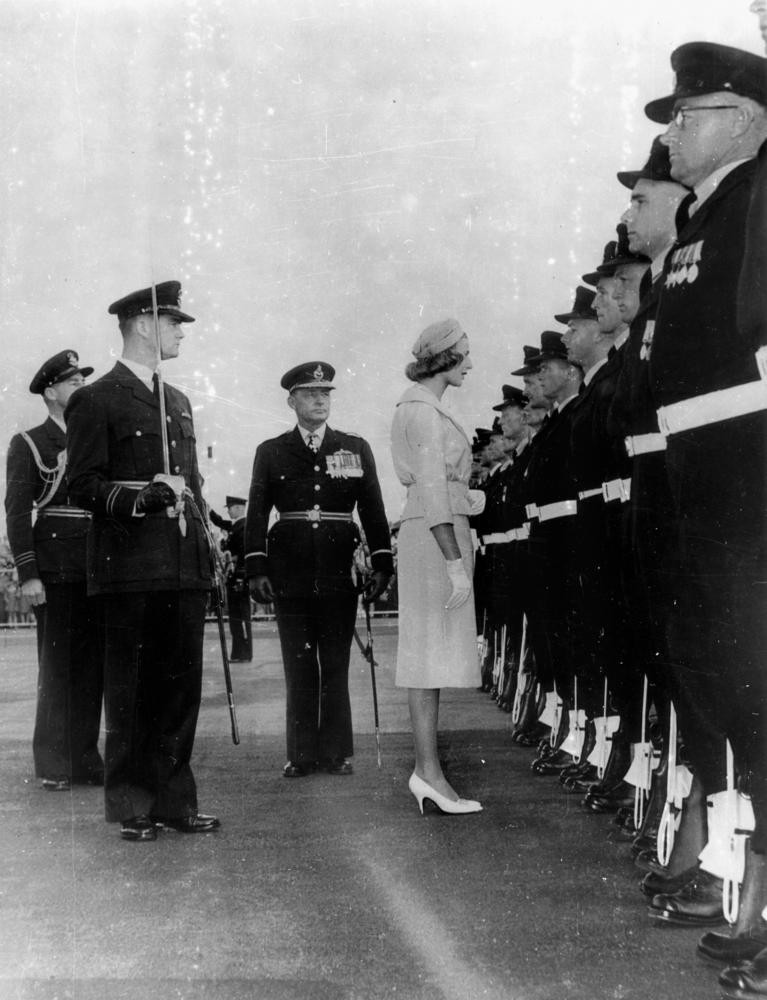 Princess Alexandra inspects the RAAF guard on arrival at the airport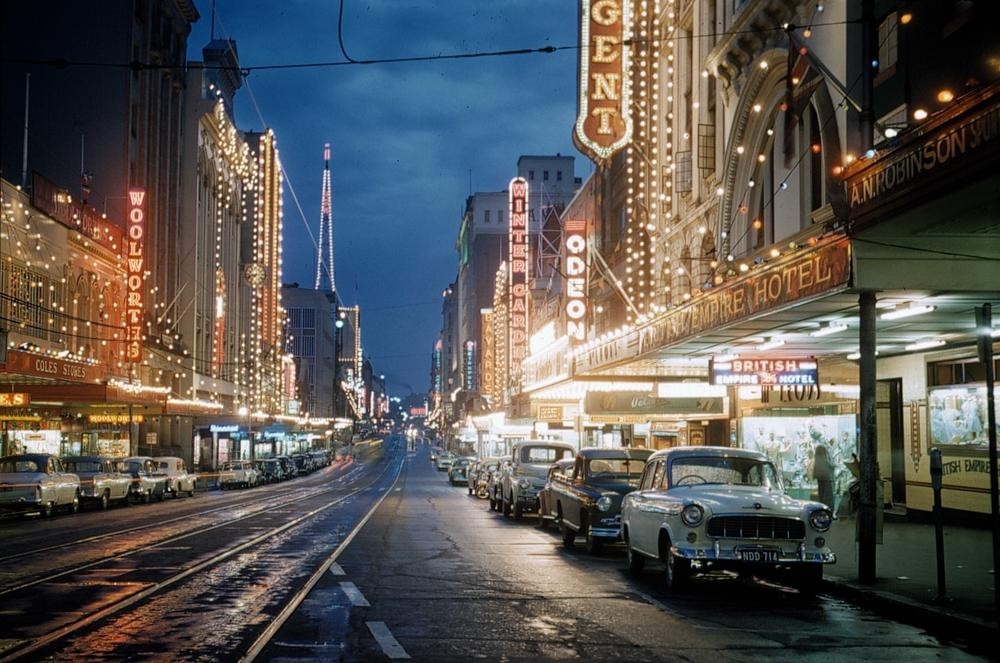 Queen Street was decorated with a display of lights for the Royal visit
The Princess had a number of official duties to perform in Brisbane including opening the R.N.A. Centenary Show, opening an extension to the Public Library of Queensland (now State Library of Queensland), visiting patients at the Repatriation Hospital in Greenslopes and a Royal Ball at City Hall.
Princess Alexandra attends a woodchopping event at the R.N.A. Exhibition
Opening the Centenial Hall extension to the Public Library of Queensland with Premier Frank Nicklin
Princess Alexandra meets patients at the Repatriation Hospital, Greenslopes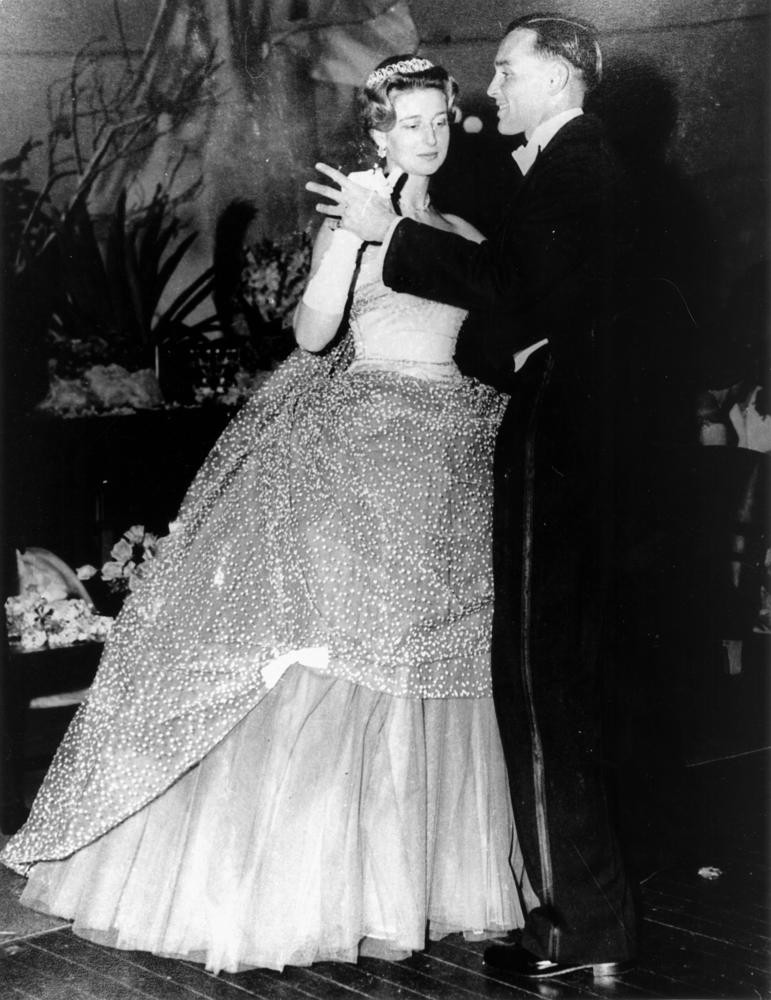 The Princess dancing with Derick Seaborn of Coorparoo at the Royal Ball
On Saturday 22 August the Brisbane River took centre stage as the Princess boarded the yacht Valiant for a Royal Progress down the river from Coronation Drive to Hamilton. Princess Alexandra later presented the "Queen's Cup" at a race meeting at Eagle Farm before departing for the homestead Risdon near Warwick where she got in some recreational horse riding before official functions at Warwick and Toowoomba to start her regional tour.
The Royal Progress on the Brisbane River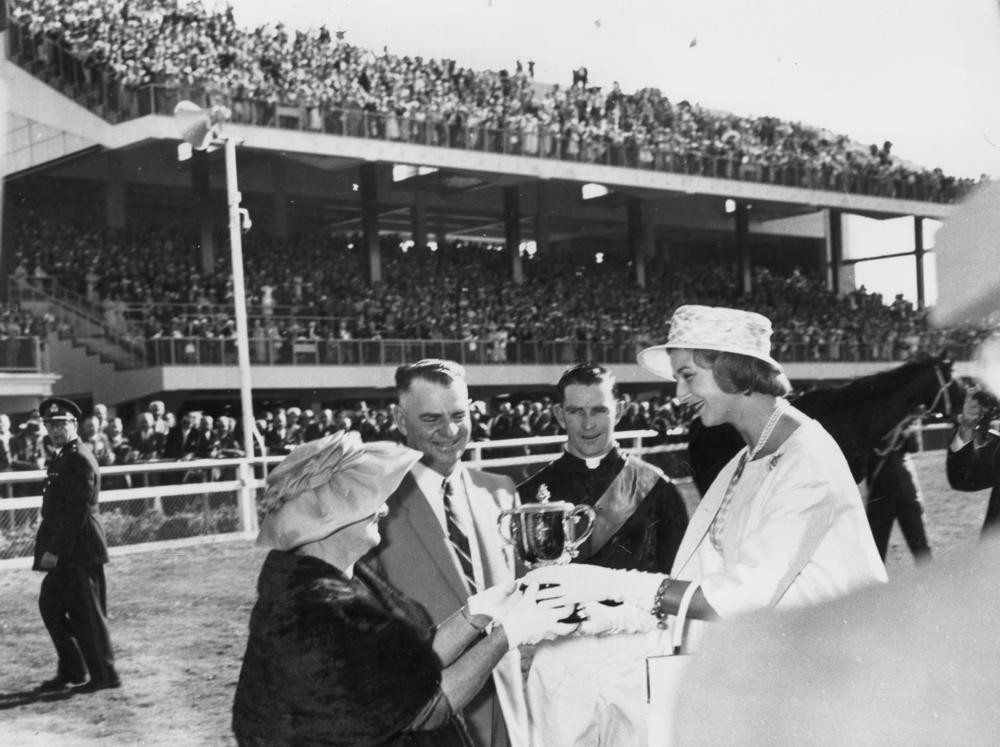 Princess Alexandra presents the Queen's Cup to Mr and Mrs Fred Best and son Noel who rode winning horse Book Link
The Princess shows her own riding style at Risdon near Warwick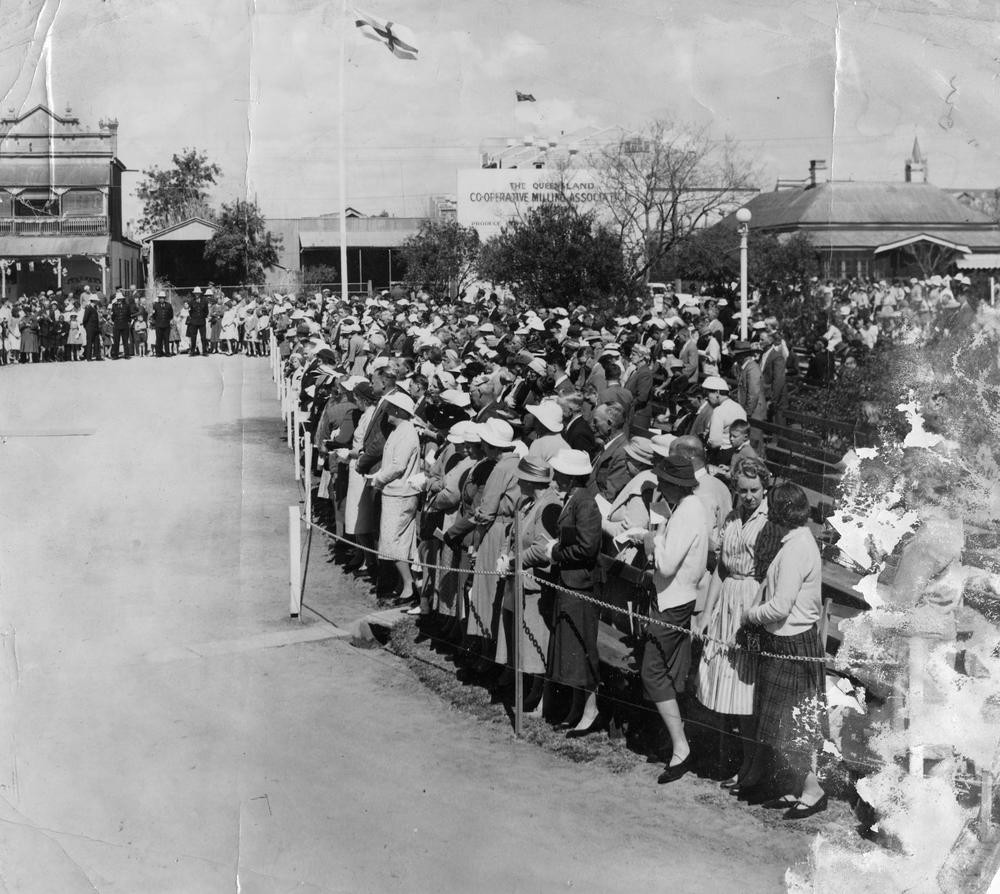 Crowds await Princess Alexandra's visit in Warwick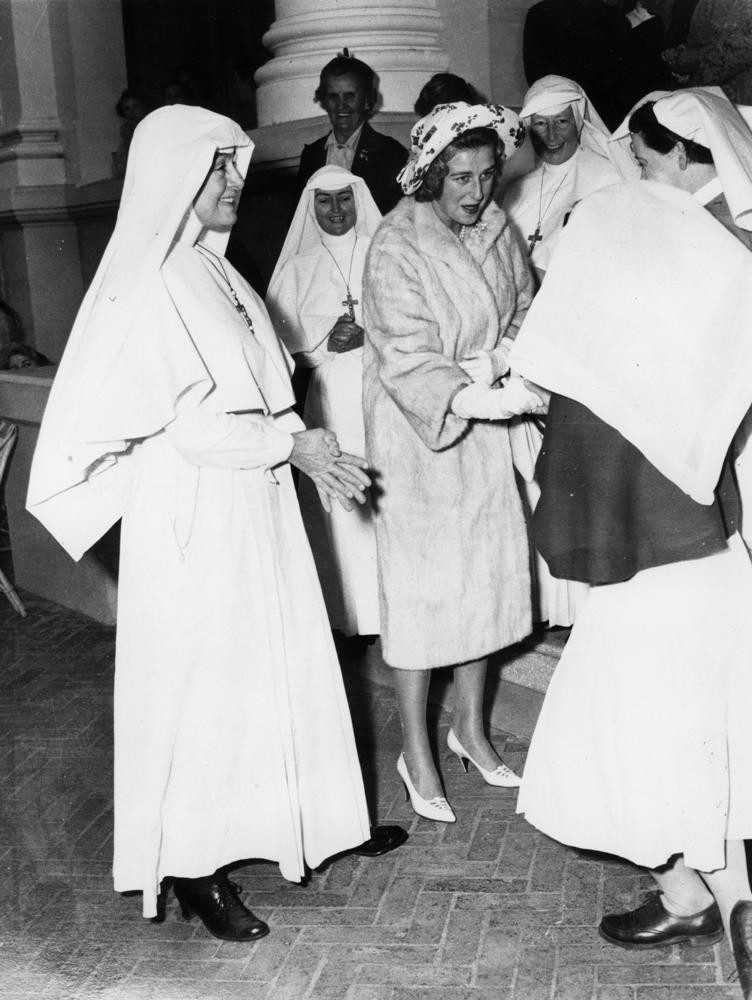 Princess Alexandra meets nursing staff at St Vincent's Hopsital, Toowoomba
From Toowoomba the Princess went on to visit Charleville, Longreach, Mt Isa, Atherton, Cairns, Townsville and Bowen before boarding HMAS Warramunga and taking a much needed short break at Lindeman Island.
Princess Alexandra at a civic reception outside the Hotel Corones, Charleville
School children greet Princess Alexandra outside Charleville Town Hall
Workers at Mount Isa Mine, perhaps hoping for a 'selfie' with the Princess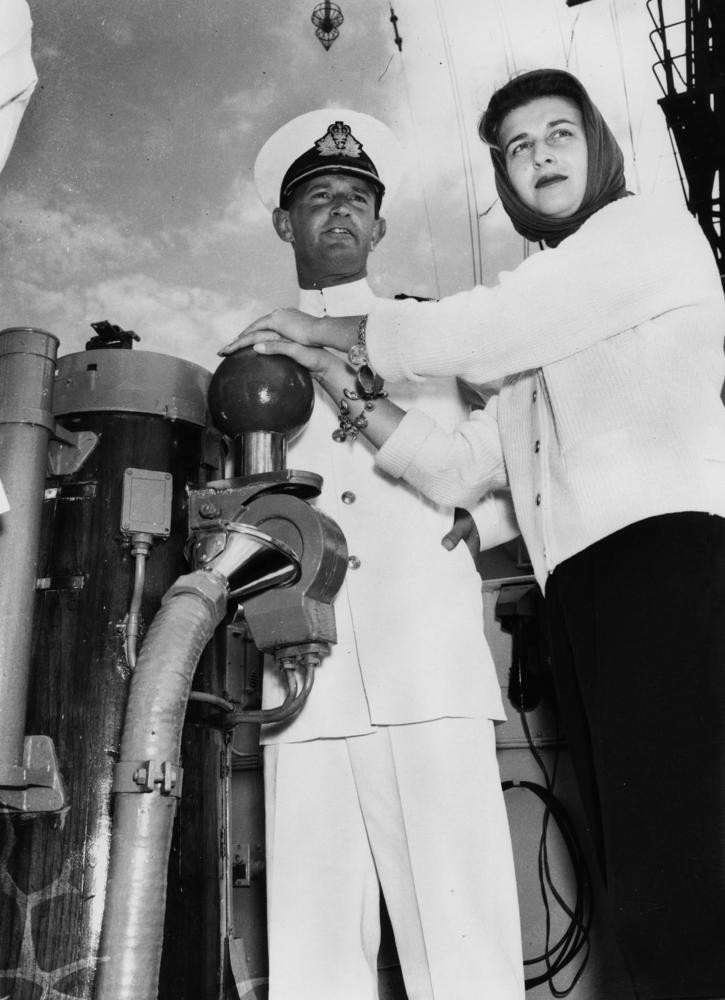 Princess Alexandra aboard HMAS Warramunga
From Lindeman Island the Princess went on to a series of Civic Luncheons, Receptions and Afternoon Teas at Rockhampton, Bundaberg, Childers, Maryborough, Gympie, Nambour, Caloundra and Redcliffe before returning to Brisbane.
Princess Alexandra accompanied by the Mayor of Rockhampton attends a Charity ball
Light rain falling during Princess Alexandra's visit to Gympie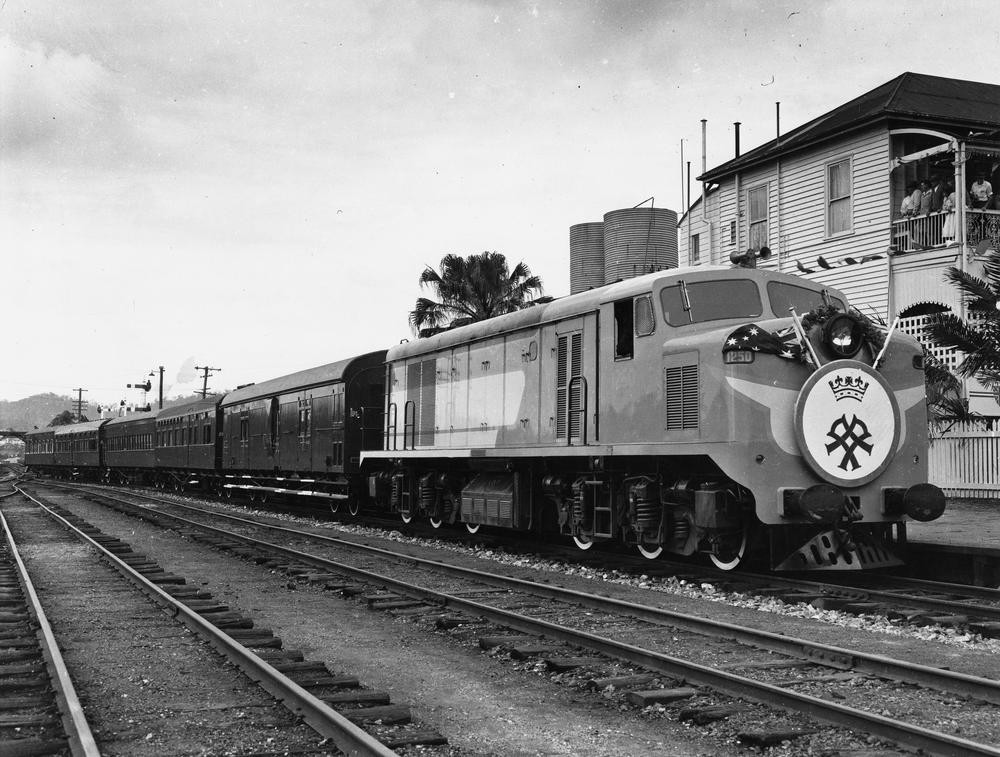 Special Royal train which carried Princess Alexandra of Kent from Gympie to Nambour
Details of the royal visit have been taken from the Working programme of The visit to Queensland of Her Royal Highness Princess Alexandra of Kent published in three volumes. In commemoration of this royal visit the Princess Alexandra Hospital was named in 1960. The Alexandra Waltz was composed for the royal visit by Russ Tyson and Clyde Collins and sung for the Princess by teenage country singer Gay Kahler (who later changed her name to Gay Kayler).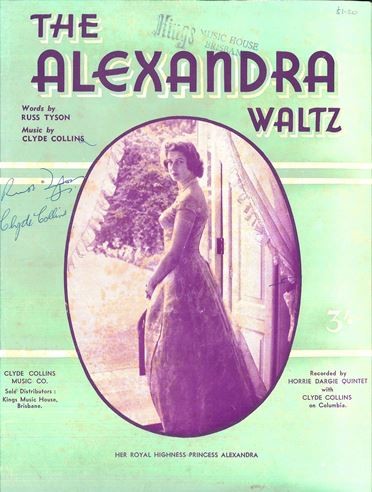 The Alexandra waltz words by Russ Tyson ; music by Clyde Collins
Comments
Your email address will not be published.
We welcome relevant, respectful comments.