Prince goes clubbing in Brisbane, 1992
By JOL Admin | 22 April 2016
In early April 1992 (24 years before his death), acclaimed American pop idol, Prince began the Australian leg of his Diamonds and Pearls tour in Brisbane with two concerts at the Brisbane Entertainment Centre on the 13th and 14th. It was his first tour of Australia. Tickets for his first and initially only concert sold out within a matter of hours.
Prince travelled in a private jet from Tokyo to Coolangatta with rumours circulating that Prince was staying in the $1,430 a night Beaufort Suite at the Heritage Hotel (now the Stamford Plaza). These rumours were denied by a spokesperson for the hotel, stating that Prince was not their guest.

Headline from the Courier-Mail, April 13, 1992
The night before his first concert around 300 patrons at the Lexington Queen nightclub were stunned when Prince and an entourage of six personal security turn up at around 2am. The singer arrived in a white stretched limousine which was parked behind the club.
"He sat alone in a leather chair near the dance floor, and did not drink or dance during the visit." reported the Courier-Mail.
The Lexington Queen's manager, Frank Avdyl, was thrilled to have the pop star at his club. "He was very well dressed, all in white. He's an exceptional man - so cool - and nothing disturbs him. Patrons were asked not to get closer than 12 feet...", said Avdyl.
Word soon spread of that Prince was at the Lexington Queen, which saw patronage at the club quickly rise. It was also reported that Prince dropped by Transformers nightclub as well.
Headline from the Courier-Mail, April 14, 1992
The Courier Mail's Noel Mengel attended Prince's opening night performance at the Brisbane Entertainment Centre and was very impressed - "I don't think I've ever seen a better show, heard better music, and I've seen thousands of them." The concert included a number of Prince's classic hits including Purple Rain, 1999, Cream, Diamonds and Pearls, Kiss and Let's Go Crazy.
Tony Horner from Rave magazine also attended and was bowled over by the concert as he described his experience while watching Prince's performance. "...I'm no longer interested in observing and being critical. I've thrown away my notebook I'm on my feet it's all degenerated into rhythm and screaming...I'm stunned and breathless."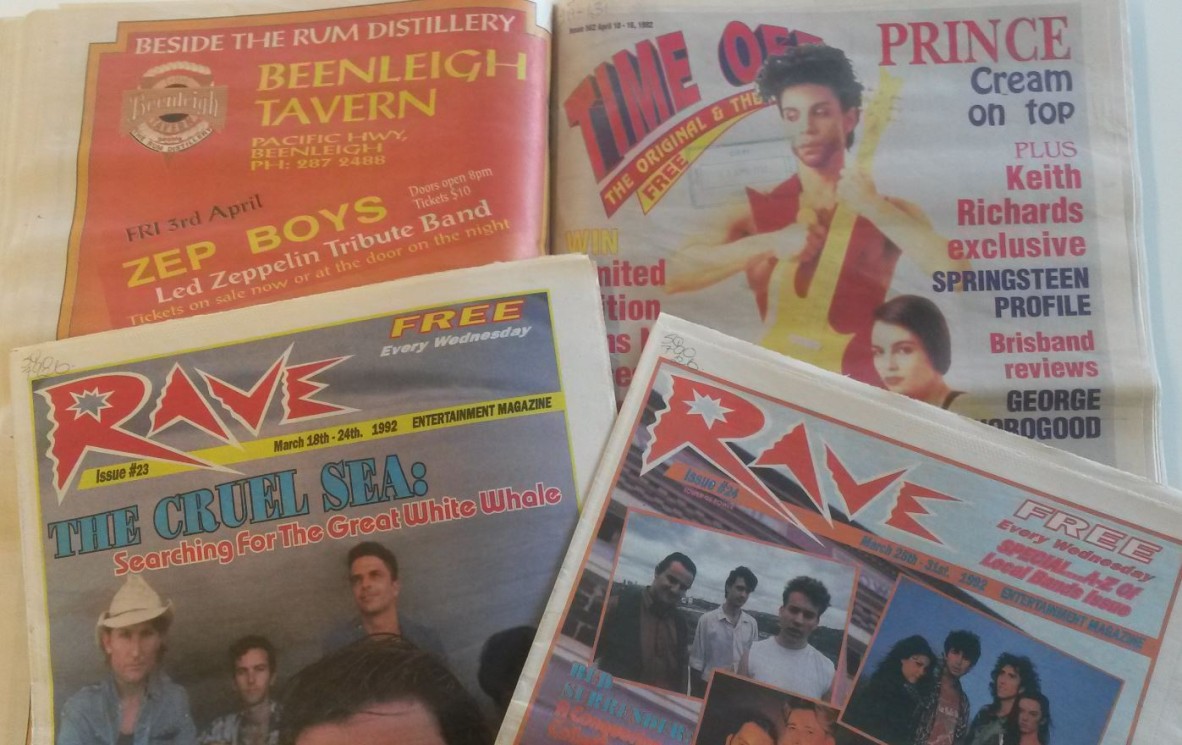 A sample of SLQ's collection of Rave and Time Off magazines from 1992
Comments
Your email address will not be published.
We welcome relevant, respectful comments.