Preserving the history of our agricultural and show societies
By JOL Admin | 13 August 2012
Queensland agricultural shows are important events on local calendars throughout the state. People of all ages and from all walks of life, whether city or country, enjoy attending their local show. While the young (and young at heart) look forward to the fairy floss, show bags of goodies and the thrills of rides and fun of sideshow alley, other people enjoy the agricultural and industrial exhibits, entertainment or main ring features. Many in the community of course are involved as exhibitors, entrants or judges in show competitions. One thing that's for sure - there's something for everyone at the local show.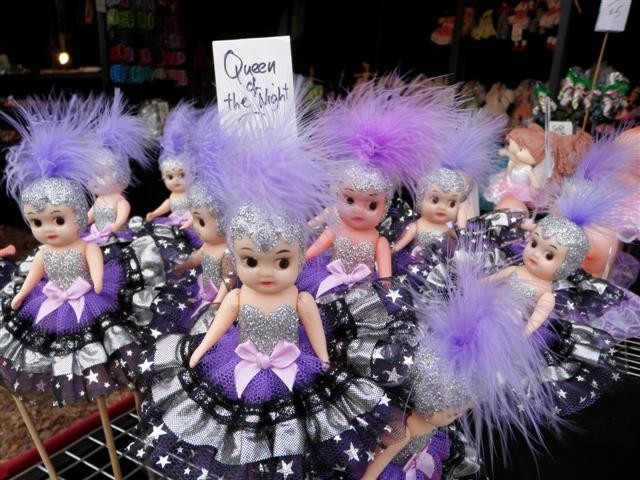 Show dolls
Many Queensland shows have long and proud histories. Now affectionately know as the 'Ekka', Brisbane's now iconic show began way back in 1876. Earlier still, Toowoomba's Royal Show is Queensland's oldest, its grand traditions having begun in 1860's.
The John Oxley Library collects printed published resources from Queensland shows such as schedules and catalogues, and we also hold some show society records. Additionally, we are now endeavouring to capture and preserve as many Queensland agricultural and show society websites as possible.
Each website forms part of a particular show society's documentary history, and can include important content such as schedules, results, show news and updates, show history and images. Some sites feature extensive image galleries. The websites collected so far have been archived in PANDORA – Australia's web archive. To date, around 40 websites of show societies from around the state have been archived – from as far north as Cairns and out to Charleville, and as south as the Gold Coast.
As time goes by, websites of course change or are updated with the new details of each year's show. Our intention is to continue to re-archive these websites and in doing so, build and preserve an important resource and digital record of the event that so many Queenslanders and communities look forward to every year – the local show.
Find the 'Queensland Agricultural and Show Societies Collection' in Australia's PANDORA web archive at http://nla.gov.au/nla.arc-c13468
If you would like to donate any show related material such as printed schedules, posters etc. or if your show society website has not yet been archived and you would like to be involved, please contact the John Oxley Library on tel. 3840 7810 or complete our online form
Comments
Your email address will not be published.
We welcome relevant, respectful comments.