Powerful storytelling at SLQ workshop
By JOL Admin | 9 July 2013
Guest blogger: Ursula Skjonnemand - Newsroom Coordinator, CitizenJ, The Edge
When Samantha Ryan approached me with the idea of a holding a three-day workshop for members of the Australian South Sea Islander community to tell their story as part of the 150 th anniversary of the first arrival I could never have imagined how powerful those stories would be and how quickly we would form bonds with the participants.
Twelve people from around Queensland came to State Library to produce a short multimedia story about what the 150th anniversary means to them. From Sonia's intensely emotional recount of her grandmother's kidnapping from a beach at the age of 16, to Jennifer's light-hearted story about the diversity of skin colour and cultures that make up her family (including her own two boys – one who's white, blonde and blue eyed while his full-blood brother is dark skinned with dark hair and dark eyes), the stories were powerful, diverse and heartfelt.
The participants didn't shy away from taking a political stance either. Nasuven called on Australian South Sea Islanders to stand up and be counted, while Joe's message was that it's time for a government apology for the exploitation and slavery of their ancestors during the late 19th and early 20th century.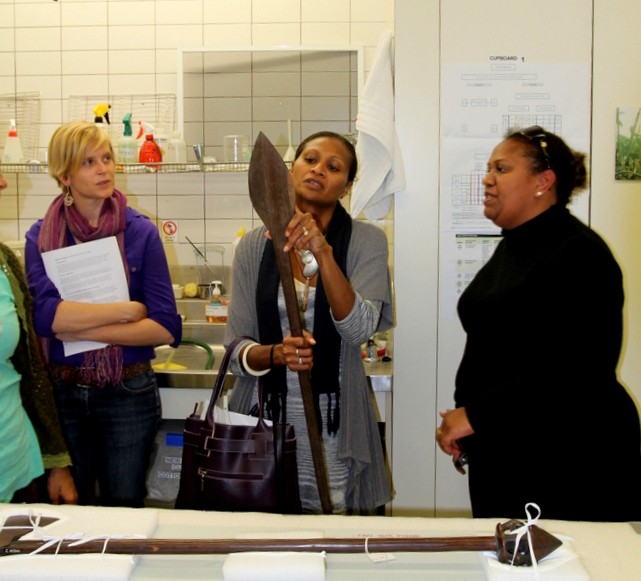 A few short hours was never going to be enough time looking through the collections at John Oxley Library and Queensland Museum so many participants are already planning their return. In the meantime the materials held at the John Oxley Library have helped illustrate the stories and contextualise the participants' heritage.
Sponsored by The Edge, we enjoyed complementing the stories with JOL and Queensland Museum heritage materials and getting the reward of hearing first hand accounts of powerful storytelling. We'll publish the stories in the coming weeks so keep a look out.
Comments
Your email address will not be published.
We welcome relevant, respectful comments.