Play the Ball Exhibition opens 7 July – a story of strength and courage
By JOL Admin | 1 July 2014
Guest Blogger: Mark Newman with digital contributions by C. Cottle
During a four-year period in the early 1960s, boxers in a small country town in Queensland held nine Australian boxing titles. Out of a team of ten boxers representing Australia at the Empire (later Commonwealth) Games, three came from this town. One of these went on to win a gold medal at these games.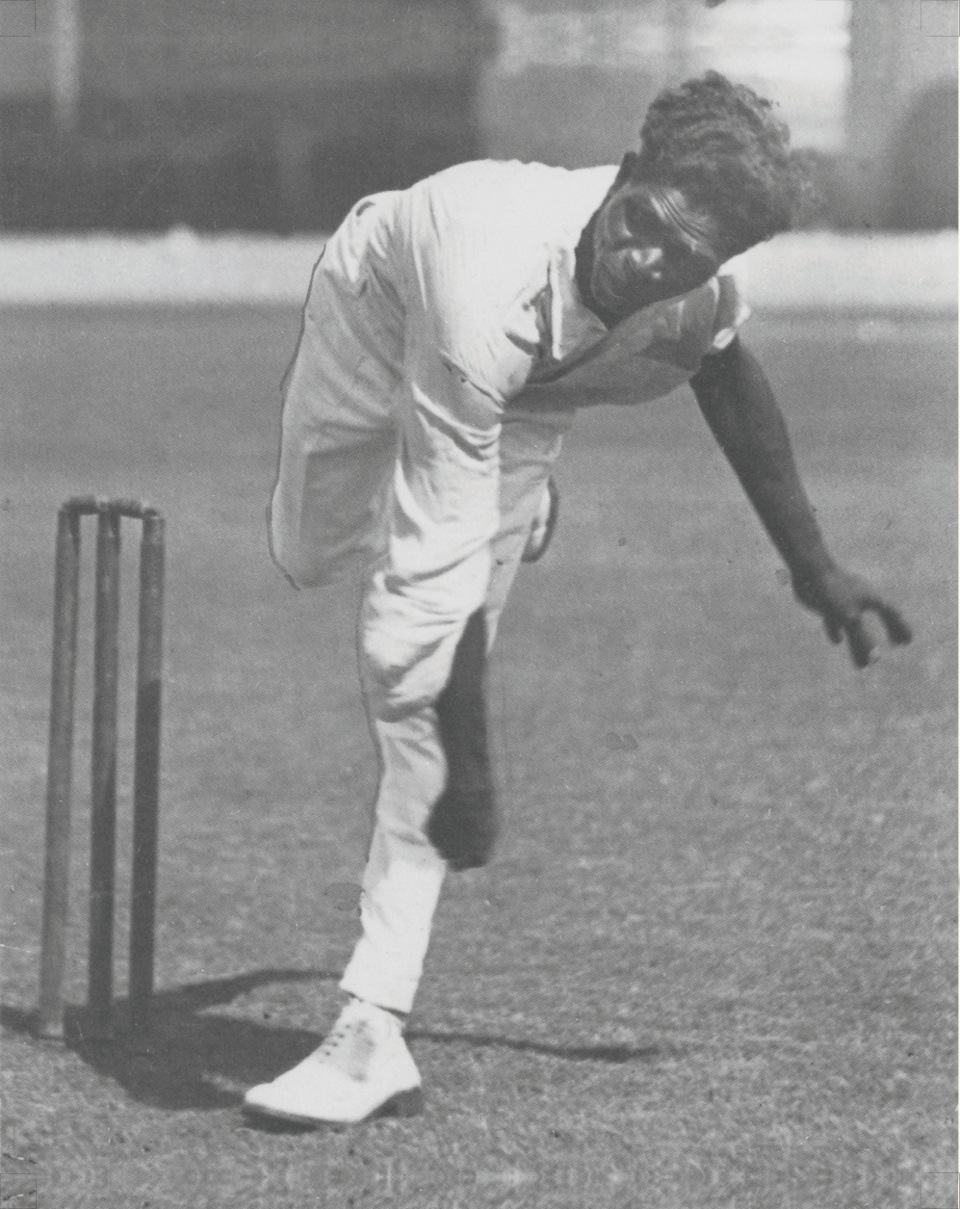 Eddie Gilbert in action bowling, John Oxley Library, State Library of Queensland, Negative Number 121078
Cherbourg – previously known as Barambah – a town in the South Burnett region about three hours north of Brisbane, had under 2000 residents in the 1960s and has not many more today. It was and is renowned throughout the region as a nursery of prodigious sporting talents in many sports, ranging from boxing to cricket and rugby league.
Today, Cherbourg looks back on its sporting history with the opening on 7 July of an exhibition called "Play the Ball". The exhibition, installed in the Boys' Dormitory building in the Ration Shed Precinct in Cherbourg, recalls the achievements of its sportsmen and women in the years since it was brought into existence as an Aboriginal reserve under the Aboriginal Protection Act in 1904.
The exhibition honours the town's sporting heroes who have represented the region, the state and the country as well as the many unsung heroes – the boys and girls, men and women who play for love of their game, their team, their community.
Sport does not exist in a vacuum; it is subject to the same social and cultural pressures extant in the wider society and in the South Burnett there have always been plenty of those. Cherbourg is at the "frontier" of Indigenous and non-Indigenous communities in the South Burnett. Many white people in the area had little idea of the lives being lived "under the Act" by the blackfellas against whom they were bowling or kicking or running.
That a great cricketer like Eddie Gilbert, or a great rugby league player like Frank Fisher or a great boxer like Jeffrey Dynevor could emerge, despite the obstacles thrown up in their way, is a story of strength and courage. "Play the Ball" celebrates this spirit in photographs and texts, videos and artefacts drawn from State Library of Queensland and libraries and museums from around the country. It aims to encourage reflection, discussion and reconciliation.
Curated by Cherbourg Elders, sportspeople and specialists, the Ration Shed Museum is proud to present this exhibition, welcoming those who are interested in sports, in the recent history of Aboriginal culture and in our community. For more information on the Ration Shed Museum in Cherbourg and the Play the Ball exhibition, please visit the website: www.rationshed.com.au or telephone 07 4169 5753
Comments
Your email address will not be published.
We welcome relevant, respectful comments.