Peter Charuk: Siganto Foundation Fellow 2016/17
By Christene Drewe | 27 April 2017
Peter Charuk has joined the select group of Siganto Foundation Fellows to have the opportunity to create a new artists' book based on SLQ collections. His long held interest in documenting landscape will be challenged as he seeks to discover evidence in the collections of the rapidly changing landscape in Queensland. Peter's research is well under way as he reflects on his progress in the first of his blog stories.
Today is the 7th of April 2017 and it is the first day in two weeks when it hasn't rained. This may not seem eventful in the wider scheme of things but it marks a point of transition from a week ago when Cyclone Debbie hit the coast of Queensland. This 'extreme' weather event has affected thousands of people from Proserpine in Queensland through to Rockhampton and beyond. The cyclone was downgraded a few days later but re-emerged onto to the coast to bombard Murwillumbah (my current home town) and Lismore, two coastal towns that live on large river systems, with deluges of rain causing wide spread damage and some loss of life. I am not going to speak in depth about the flooding and its affects on these two towns but I wish to ground my research in this event and its wider ramifications. The remnants of Debbie are now causing havoc in the Bay of Islands in New Zealand. Cyclones do not respect boundaries; there are no borders where they travel.
I was granted the 2016/17 Siganto Foundation Artists' Books Creative Fellowship just after Christmas of 2016. The intention of the Fellowship was to research original material in the SLQ archives to generate an artists' book for the Australian Library of Art Collection. The title of my project is "Collateral Atmospherics: Evidence"; this is a play on the term "collateral damage" a widely used term that the media uses in this era of "post-truth" journalism. As an artist I have been working with ideas of landscape, the environment and its intersection of the natural world since the 1970s, at the time of the "first" petrol crisis in Australia. Cyclone Debbie was entirely unexpected but her coming seems to support my artistic intentions for this research.
The idea for collateral atmospherics has been in the forefront of my thinking for the past few years. Its artistic manifestation became a number of videos and installations exhibited and screened in art galleries and film festivals throughout Australia. My artistic interest is in looking at what ephemeral atmospherics are, how they occur and how they will affect our lives; now and in the future.
For this project a striking photograph was the first image to grab hold of my attention - "Clouds of smoke from a scrub fire in the Murgon district ca. 1920" Photographer Unknown. It seemed to encapsulate what I wanted to say.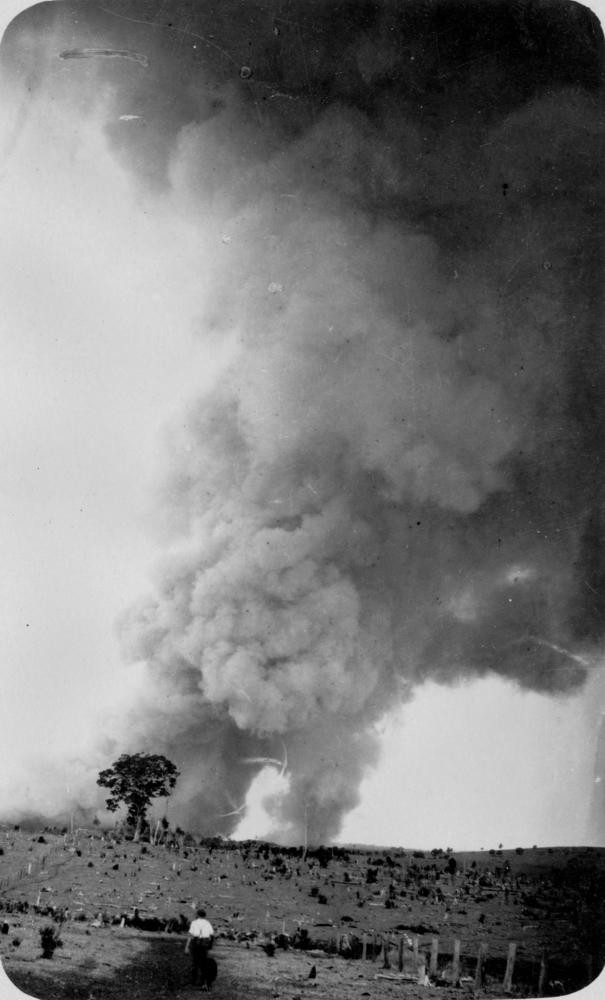 Negative number: 193787
I began the process by combing the archives of the John Oxley Library, feeding a long list of relevant parameters into the SLQ search engine. It was possible to negotiate the archive from the safety of my desktop thanks to the amazing digital archive that is available at your fingers, courtesy of the fantastic behind-the-scenes personnel at SLQ. I have sifted through several thousand images, choosing only those that visually grab my attention and that support my overarching idea. These images have been sorted and organised into digital folders relevant to the categories input into the search engine: extreme weather events, rainfall, storms, cane fires, bush fires, floods, clouds, industrial pollution, cyclones, dust storms, natural disasters and so on.
There is a myriad of images both historic and contemporary but I have decided to focus mainly on the historical. It has become an overwhelming task to decide which images to keep and which to discard. That is where I am at this point in time.
Firefighting in the Goovigen district, Queensland, 1952 Negative number: 123993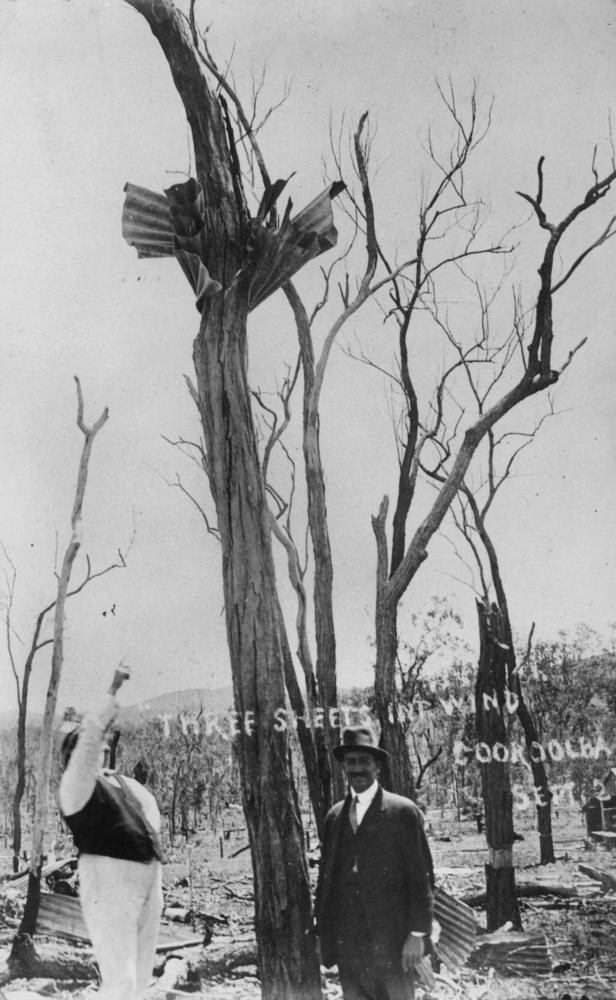 Corrugated iron caught in a tree after a cyclone in Cooroora, ca. 1918 Negative number: 135765
Corrugated iron caught in a tree after a cyclone in Cooroora, ca. 1918 Negative number: 135765
Concurrent with these image searches I have done some travelling which has led to some ideas of how to structure the book and its images. One presented itself fairly early in the process, that of the "watermark", the ephemeral markings made by water on structures: bridges, rocks, walls, etc. Coincidentally on a trip to Bundaberg I happened on a poster called Watermark which was used to advertise a local music festival. This became a major indicator for where the book may go in its layout and format. Presently I am working on dummy pages for the book with the watermark in mind and deciding how to put images together in a sequence, to discover how they read page after page.
Watermark image:Peter E. Charuk 2017
Notebook page: Peter E. Charuk 2017
Notebook page: Peter E. Charuk 2017
In one of the first sessions at SLQ I looked and held the works of the previous Siganto Foundation Artists' Books Creative Fellows to see where they travelled and how they achieved their destination. The Creative Fellow books were by Jan Davis, Clyde McGill, Julie Barratt, Ana Paula Estrada and Marion Crawford – a wonderful series of books showcasing an extremely diverse approach to what entails an artists' book. It was also inspiring to attend a lecture by Dr Helen Douglas on her art practice and see examples of her books within which there are diverse ranges of ideas and bookbinding methods.
Being away from the artist book scene for some years I took advantage of the Fellowship to travel to Melbourne for the 2017 Book Fair at the National Gallery of Victoria. Here I was able to cram my brain and handle hundreds of examples of artists' books in one day. Feeling the types of paper, negotiating the binding, discovering how the images were sequenced and so on. The opportunity also allowed me to meet a number of publishers to discuss the process of publishing a book: costs, paper stock, layout and other relevant considerations. Momento Pro is a Sydney based on demand printer and I spent a very fruitful time with them discussing all of these issues. I came away with many ideas and a head full of questions about my own book. These questions are ongoing and hopefully will resolve themselves when the book is complete.
I have spent several sessions working directly in the Fellowship lounge at SLQ allowing me closer access to historical imagery and data in the archives. The speed at which these can be accessed is truly astonishing. I have been playing and will continue to play with all of the images so far discovered. The questions of how to complete the book will occupy me for the rest of the fellowship. The play will inform the art.
My last session at SLQ gave me an opportunity to research and document an original historic weather diary from Afton Downs Station which is in central Queensland. This diary seems to have become the final piece of the puzzle for the book. It is a very active diary recording daily rain entries from 1894 to 1954. They are written in a delicate Copperplate reminiscent of the times. The hand is unsigned. Because the diary covers such a wide period it aligns with several extreme weather events such as cyclones and devastating floods that have affected Queensland during the period I am investigating. The diary is extremely delicate and has had several lives which the binding attests to. I intend to use some of these visual elements in final realisation of the book. The second half of my Fellowship will be working on these structural elements for the book's completion.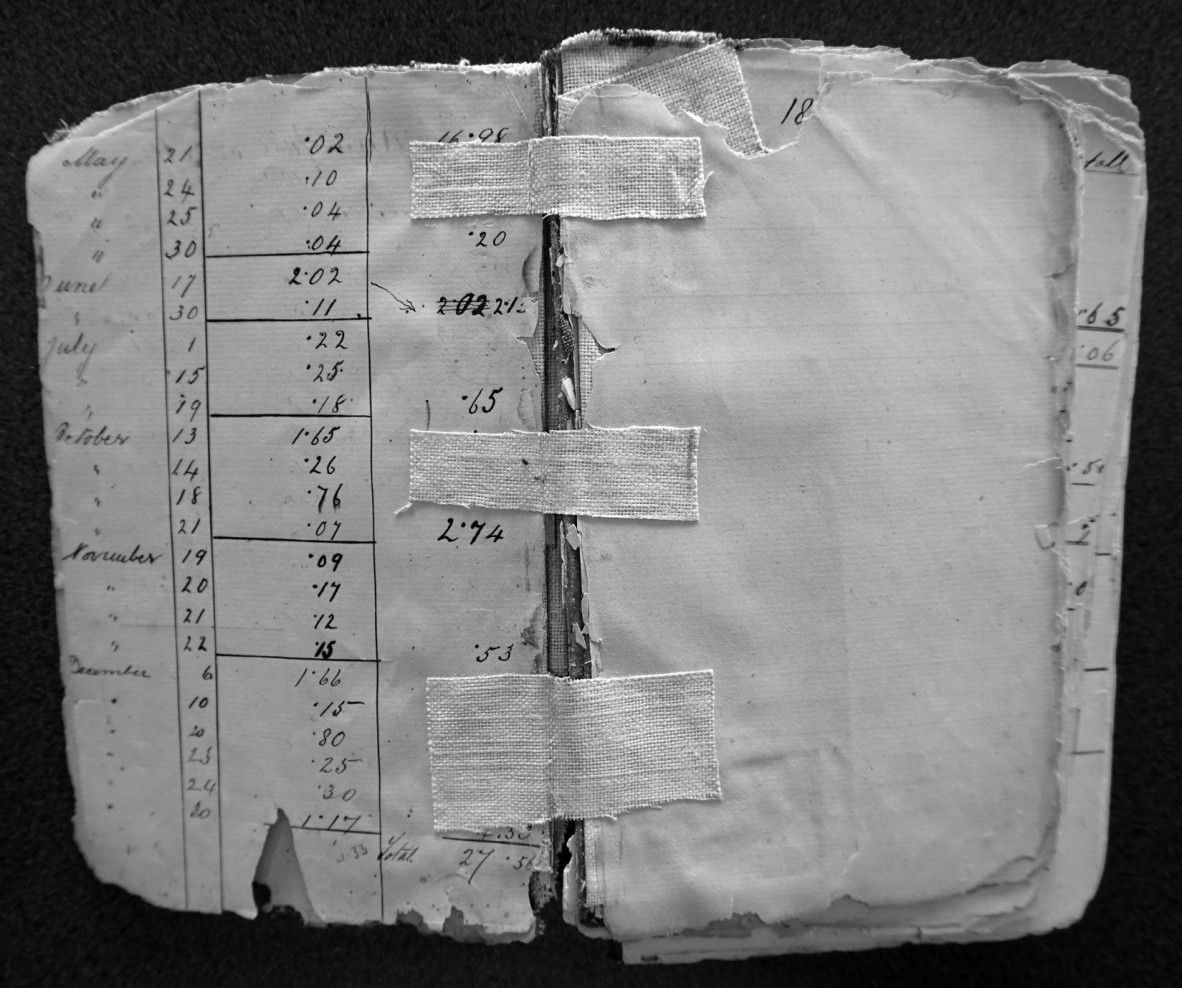 Weather Diary - R 575 Afton Downs Station Records
Weather Diary - R 575 Afton Downs Station Records
At this point in the Fellowship I would like to acknowledge and thank Mary Kajewski, the librarians and custodians of SLQ, and in particular, the John Oxley Library. I would like to single out the wonderful Christene Drewe for high praise as she continues to go out of her way to assist me with my queries and help in any way that is asked of her.
Peter Charuk
April 2017
Comments
Your email address will not be published.
We welcome relevant, respectful comments.