Paula Stafford, Henry Talbot and Spike Milligan
By JOL Admin | 25 November 2014
Guest bloggers: Nadia Buick and Madeleine King from The Fashion Archives
Paula Stafford—the Gold Coast fashion designer responsible for introducing the bikini to our beaches in the mid 20th century, and putting Queensland fashion on a global stage—was an impressive record keeper, with seemingly every new business venture, every new ad campaign, and every new swimsuit documented extensively. It's a wonderful collection, but the scale is overwhelming! As we tackle box after box of archival documents and photos, we wonder if we'll ever get closer to making a new discovery. Such was our state of mind when we pulled out the fifth box of photos for the day. We'd seen so many of the images before—some we'd sifted through previously, some the library have already digitized and catalogued online, and others were doubles. We'd already given up hope as we flicked through the final photo album in the last box of the day. Page after page returned what we'd seen before. Until of course, we flipped to the very last page, and turned over a photograph that had been slipped in loose. Just at a glance we could spot it wasn't quite like the others. It didn't feature the shop, or the Gold Coast locations that set the scene of the other Paula Stafford fashion shoots we'd encountered. No, this was quite different: a clean white studio environment. The models didn't look like the bronzed girl-next-door types and rugged hairy-chested brutes Stafford seemed to favour for her shoots. They looked somehow more urbane, a pale London look. And actually, the male model didn't look like a model at all. He looked like… Spike Milligan.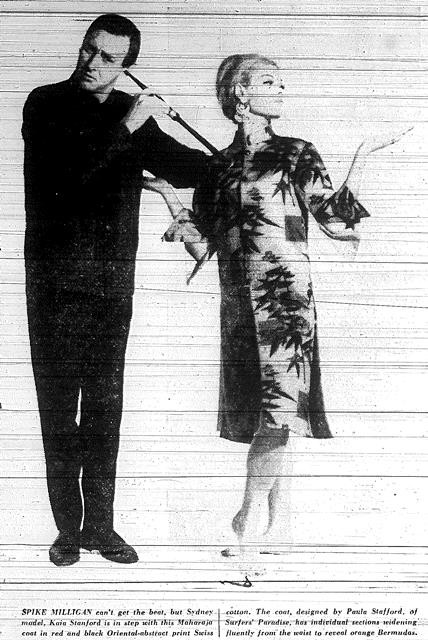 Photograph of Spike Milligan and model from Courier Mail
It's a cliché of research that new discoveries are made once all hope is lost, the pursuit goes cold and then some unassuming scrap of evidence appears at the 11th hour. It's just that it's a cliché that rings true more often than not. Therefore, it's a cliché that tortures researchers into sustaining a seemingly fruitless mission.
But back to the photograph: we flip it over for more clues. A hand-written caption reads, 'Spike Milligan 'Goons!' fame with model wearing Paula Stafford outfit (reversible)'. A printed stamp on the back reads, 'Helmut Newton & Henry Talbot Photographers. 578 Bourke Street'.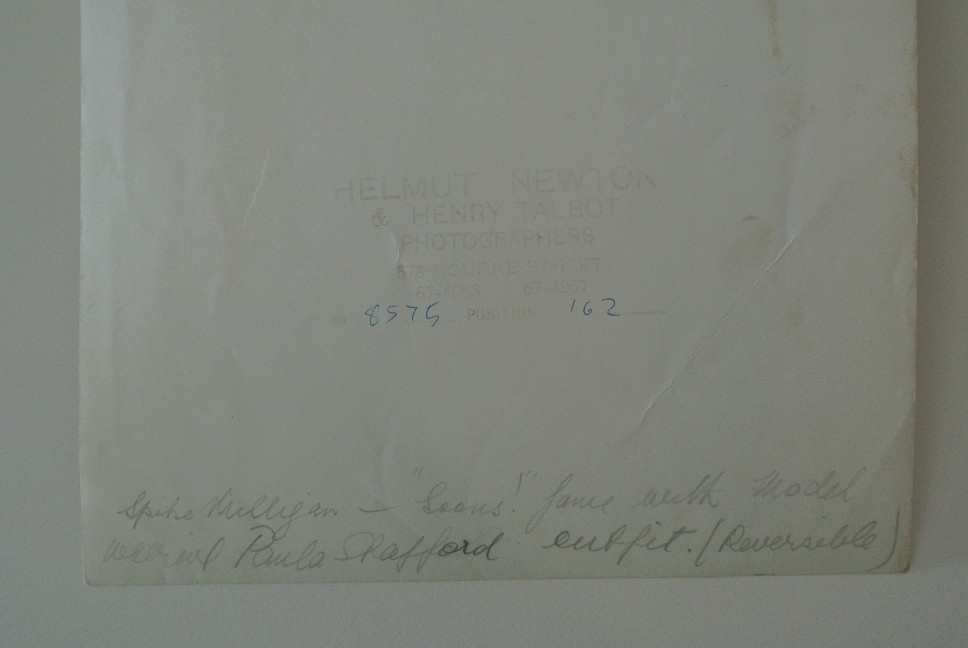 Spike Milligan and model reverse, John Oxley Library, State Library of Queensland
An international photography studio, an international comedy star, and Paula Stafford. What lead to this strange constellation in Australia at this time?
We know that the German born photographers Helmut Newton and Henry Talbot had immigrated to Melbourne during World War II. They were sustained here by fashion publishing based predominately in Sydney. Their time in Australia was hugely influential. They produced a vast amount of photographs, and were not always credited, making it sometimes difficult to identify their work.
A quick search on Trove led us to discover that Spike Milligan was in Australia for a number of months in 1962, filming a comedy series for the ABC. But what was he doing in a fashion shoot?
We started looking for other shoots by Newton or Talbot, using Australian fashion, or models, or even featuring Spike Milligan. We knew Helmut Newton had left Australia for Paris in 1961, but his partner Henry Talbot continued to use the studio name. The photo was undated, but based on the styling and our knowledge of Paula Stafford's work from this time, it looked like the early 1960s. We began searching for more Henry Talbot fashion photographs, and discovered some in the Powerhouse Museum collection for a campaign called 'Everglaze' (the product name of an American engineered cotton used by fashion designers all over the world). We located other photos from this campaign held by photographic dealers, featuring the same model, Kaia Stanford, seen in our photo with Spike Milligan. These credit the photograph as 'Henry Talbot for Everglaze, 1962'.
Armed now with a date and a few keywords, we went looking for coverage in local newspapers. The Paula Stafford collection contains hundreds of newspaper clippings, so we figured it was likely she had kept a memento of this shoot with a significant photographer and an international comedy star. After a lot of digging, we discovered a partial clipping from The Courier Mail in 1962, featuring the photoshoot with Kaia Stanford and Spike Milligan. Unfortunately it was torn, but with access to the library's microfilm collection, we were able to find the full-page feature.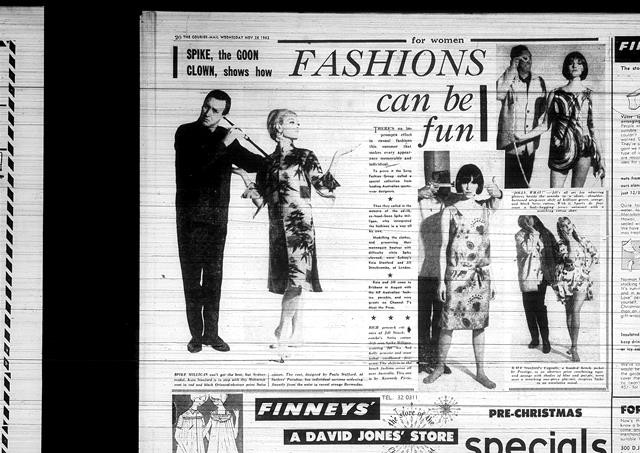 Courier Mail November 28 1962 page 20
Under the headline, "Spike the Goon Clown Shows How Fashions Can be Fun" (November 28, 1962), the piece features a collection of 'leading Australian sportswear designers', namely Paula Stafford, Kenneth Pirrie, Prestige, and Sports du Jour. The real focus of the piece, however, is the models that were in town for a major event on the Australian fashion calendar: the 'All-Australian Fashion Parade'.
This was no ordinary fashion parade. It was an extraordinarily ambitious charity event presented by the Australian Women's Weekly and the Myer Emporium featuring only the work of Australian designers. It toured from Sydney to Brisbane, Melbourne and Adelaide. It ran for two months over the 4 capitals, and in each city offered a staggering two parades a day over a week or two, some with multiple evening parades. In Brisbane, it was held at upscale hotel, Lennon's, with considerable fanfare.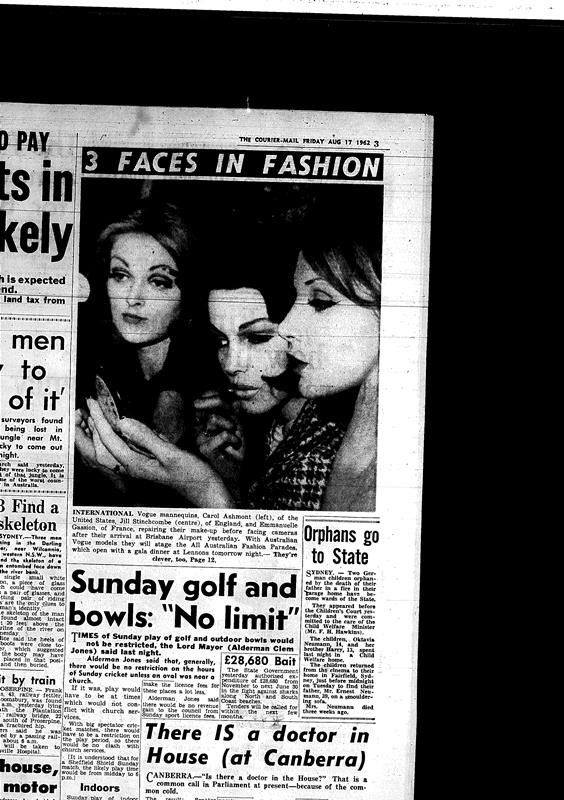 Along with Kaia Stanford, the Courier Mail spread features London model Jill Stinchcombe as a second foil to Spike Milligan's comic antics. With her exciting mod hair-cut and 'It Girl' aura, Stinchcombe was a high-profile international addition to the All-Australian Parade line-up. The visiting models were followed intently by Australian press, with regular appearances in advertising campaigns and interviews for newspapers, magazines and television in the months surrounding the event. Everyone wanted to know what they ate, what they cooked, what make-up products they favoured, and what they did in their spare time.
Courier Mail 20 August 1962 page 14
There's no mention of Everglaze in the Courier Mail piece—they're referred to mysteriously as a 'Swiss Fashion Group'—but it's not unusual for fashion shoots to become separated from their original commercial purpose in the media, especially when celebrity subjects provide adequate newsworthiness.
Stafford's garment is given prominence in the piece. It's a coat featuring a geometric bamboo design—Everglaze cotton, of course—and a mandarin collar to complete the 'oriental' look. It's cut at the front and sides from the hem to the waist to reveal a pair of orange Bermuda shorts beneath. The open sleeve cuff shows off an unmistakable trademark of Paula Stafford designs: it's reversible, to be worn with the bold print or turned inside-out for a plainer look.
Paula Stafford's position as an international trailblazer has been well established, but images like these remind us just how successful she was. This shoot demonstrates that in her second decade of trade, she was able to maintain an edgy, risqué image when the youthfulness and change of 1960s fashion saw many other designers of her generation left behind.
More on Paula Stafford at The Fashion Archives
Comments
Your email address will not be published.
We welcome relevant, respectful comments.