Panorama of Medical and Nursing Staff at Yungaba, Kangaroo Point Military Hospital
By JOL Admin | 29 April 2015
Last year, State Library of Queensland received a donation from the grandson of one of the fresh faced young nurses in this panorama. Molly Jones, 19 at the time, was nursing at the Kangaroo Point Military Hospital (6th Aust. General Hospital) when the image was taken. This hospital began operating on the 19th July 1915 and was closed by the 28th June 1919 after the whole staff and most of the patients were relocated to the Military Hospital at Enoggera.
The building in the background is Yungaba, the Queensland Immigration Reception Centre, which was built in 1887.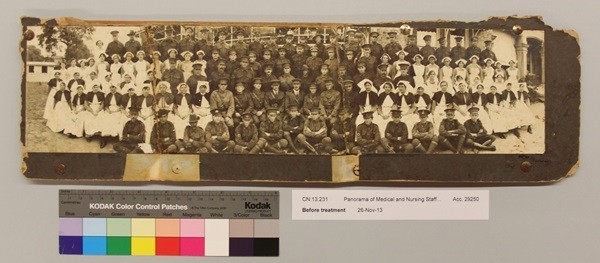 This panorama photograph came to Collection Preservation for a full conservation treatment.
When it arrived, the photograph was torn into three parts and attached to a timber plank with push-pins. Sticky tape and masking tape were adhered along the tears, and it had surface grime and fly specks across the surface. The joins were misaligned and all of these non-original materials (the timber, metal pins and tape) would have caused further damage to the object over time.
To stabilise and preserve the photograph the components were dismantled, the sticky tape and adhesive were removed, and the brittle and broken backing was pared away. The photograph was surface cleaned and areas of damaged emulsion were consolidated under magnification with a fine brush and 3% gelatin solution. The three sections were pieced back together and mended with strips of Japanese tissue and wheat starch paste. Some minor losses along these tears were filled with a toned paper. And, finally, the work was humidified, pressed to flatten and placed in a Mylar sleeve for long-term storage.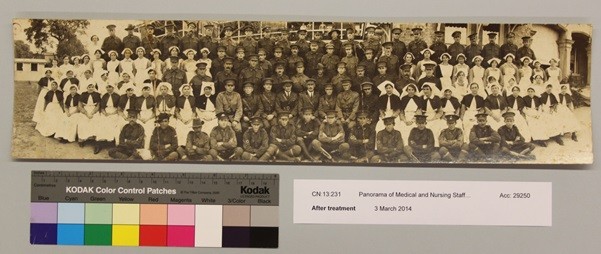 Now the panorama is in a stable condition and has been digitised. All of the extraneous components have been removed and the photograph will be preserved for years to come. State Library's conservators have done a marvellous job in saving this important photograph for the future.
Patricia Parr - Retrospective Collecting Coordinator, State Library of Queensland
Comments
Your email address will not be published.
We welcome relevant, respectful comments.