Paniyiri, Memory and the John Oxley Library Discovery Day
By JOL Admin | 17 May 2012
Festivals like this weekend's Greek Paniyiri remind us of the diverse communities and experiences that make up the state of Queensland. What began some 36 years ago by a migrant community in an effort to recreate a sense of their home in a land foreign to their experience has grown into a rich cultural festival shared and enjoyed by the wider Queensland community.
Crowds being entertained by the Hellenic Dancers at the Greek Paniyiri in Brisbane 2009
If you are interested in knowing more about its history, view the "Greek Paniyiri Festival of Brisbane" digital story. It is one of eight stories reflecting the contribution of the Greek community to Queensland. See "Journey from Yassou to G'day digital stories", John Oxley Library, State Library of Queensland.
http://www.youtube.com/watch?v=pkapx4Q0WWw&feature=plcp
The Greek Paniyiri in Brisbane is an example of how the experience imbued in the memory of a group has now become part of the collective memory of Queensland. Within that collective memory is everyone's story, as our personal interaction and engagement adds to the unfolding narrative of Paniyiri. The experience, for example, of the tent embassy in these last few days; as difficult and contested as it has been, has now become an important part of this history. How we come to view it and learn from it will also inform and augment this understanding.
A welcome to Country and Smoking Ceremony was performed to open the Greek Paniyiri in Brisbane 2009
The collective memory of our community is often represented by our cultural institutions. This, of course includes our libraries. The John Oxley Library, within the State Library of Queensland, is responsible for collecting, managing and providing access to materials that document Queensland's history, development and cultural life including the regional, political, economic and social history of Queensland and its near neighbours – Queensland's collective memory.
The migrant experience, like that of the Greeks in Queensland, is indelible to this history and memory and is; therefore, important to capture and reflect in our collections. Moreover, the sharing of these diverse cultural resources, whether historical or contemporary, enhances our knowledge and understanding of ourselves as individuals and as a people and encourages our lifelong learning.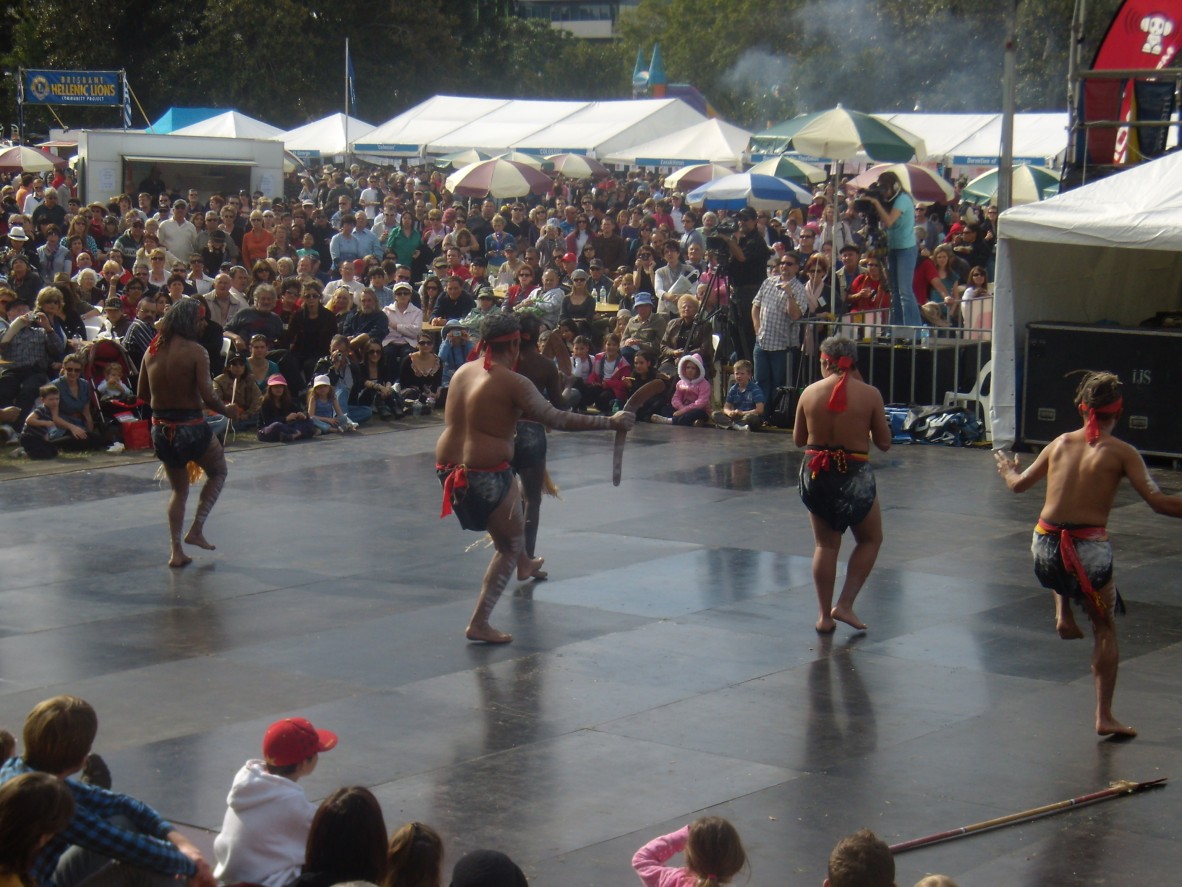 The ceremony was followed by Aboriginal dancers at the Greek Paniyiri in Brisbane 2009
So what does the library have by way of migrant collections and how can you find out? Well, this year's John Oxley Library Discovery Day on Saturday 2 June, has a focus on the collections of our diverse migrant communities which will be brought to life through a wonderful community engagement process.
As the John Oxley Library Discover Day is centred on the notion of Discovery, we have asked community members from various multicultural groups to assist us in sharing with the wider Queensland community the John Oxley Library's collections distinctive to their group.
The Hellenic Dancers perform with the Aboriginal Dancers at Greek Paniyiri in Brisbane 2009
To this end, and with reference to our collections, five communities have been selected, namely the: Germans, Italians, Russians, Greeks and South Sea Islanders (we note the ASSIs are not a migrant group; however they are a distinct cultural group with a unique history in Queensland). The distinctive John Oxley Library collection for each of these groups will be on display in the level 4 Reading Room, and throughout the course of the day an invited community member will talk about their identified collection. We can't wait to share this with you!
The focus on migrant communities has two significant impacts for the John Oxley Library. Firstly it allows us to showcase and share a unique collection of materials with the public. Secondly, the process aids us in identifying what we don't have in our collections and directs us in continuing to work with various communities and groups, to ensure our collections go further in representing the breadth and depth of multicultural Queensland.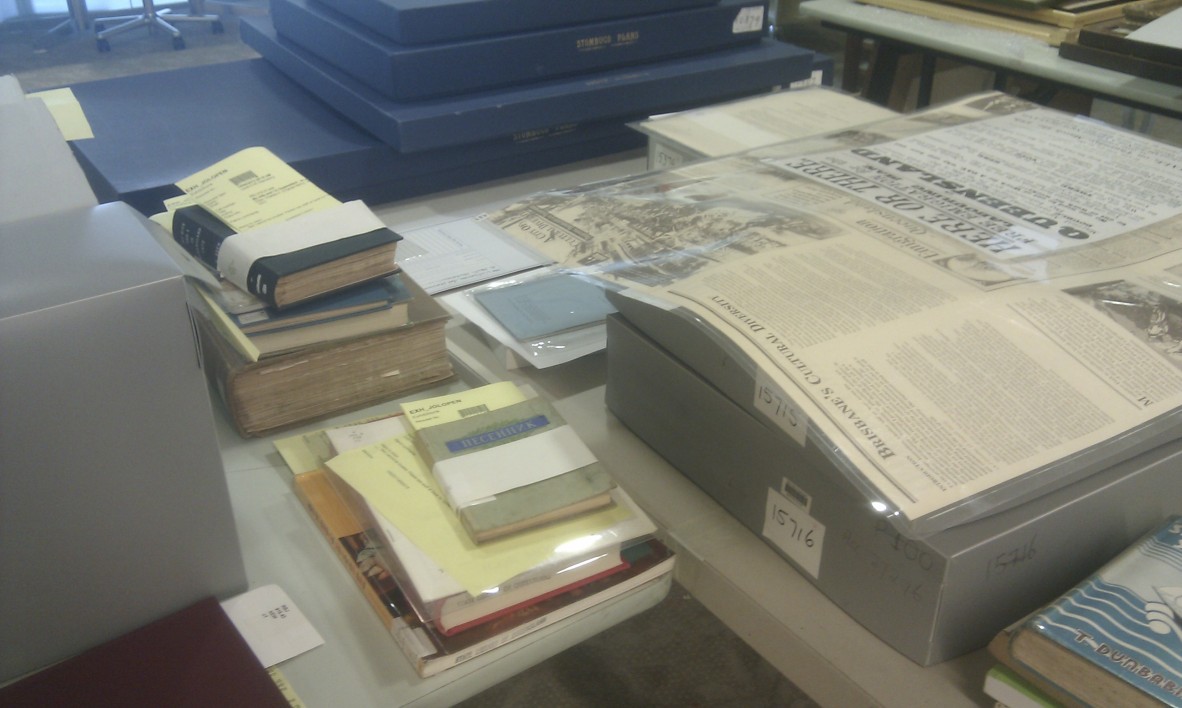 Materials for the JOL Open Day to be brought to life by our community representatives.
For this purpose and more generally, we will have a donation station on the day in the Knowledge Walk on the ground floor where you can ask our knowledgeable staff about what we collect including original materials, or discuss with them potential donations. (Original materials refers to anything unpublished, whether textual, pictorial or artefact. This may include: old family letters and photographs, records of an association, club or business, or historical Queensland paintings). We look forward to hearing from you!
This is just a taste of what you can experience at this year's exciting John Oxley Library Discovery Day. There will be so much on offer and further and more comprehensive details will be coming soon. In the meantime, make sure you visit the Greek Paniyiri in Brisbane this weekend for some memory making of your own and a plate (or two) of honey puffs. I'll be at the Colossus of Rhodes stall (yes shameless plug). Yassou Queensland!
Zenovia Pappas - Contemporary Collecting Coordinator, State Library of Queensland
Comments
Your email address will not be published.
We welcome relevant, respectful comments.