Out of the Port lecture "Cyclone Mahina"
By JOL Admin | 21 October 2011
On Wednesday 19 October our monthly Out of the Port lecture by author and broadcaster Ian Townsend focused on Cyclone Mahina. On 4 March 1899 this category 5 cyclone caused one of Australia's worst natural disasters killing over 400 people and destroying the pearling fleet berthed at Bathurst Bay. The ensuing storm surge swept inland for 5 kilmetres.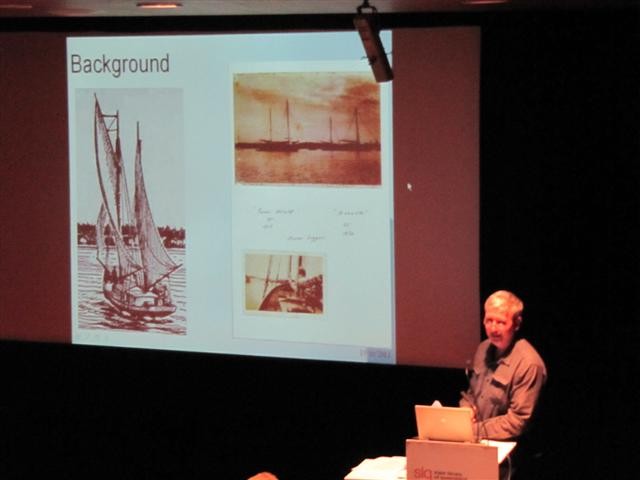 Author Ian Townsend. Out of the Port 19 Oct 2011.
Thanks to Ian for a fascinating presentation delivered in a year in which Queensland, and indeed many other areas around Australia and the rest of the world, have again experienced the devastation of natural disasters in the form of floods, cyclones, earthquakes and tsunamis.
Ian's book The Devil's Eye: a novel was published on 2008. In 2005 he was our John Oxley Library Fellow with much of the research undertaken during his fellowship culminating in this publication.
Join us next month for our last Out of the Port lunchtime lecture for 2011. Brian Rough and Jack Ford will present Tripping over Concrete Slabs: documenting Queensland's wartime heritage.
See you at the State Library on 6 November at 12.30, auditorium 2, level 2.
Simon Farley
Manager, Arts Portfolio - State Library of Queensland
Comments
Your email address will not be published.
We welcome relevant, respectful comments.