Out of the Port - Boggo Road Gaol
By JOL Admin | 19 November 2010
On Wednesday 17 November, in the last Out of the Port lunchtime lecture for 2010, architect Rob Riddel explored the history and future potential of the Boggo Road Gaol site. This site contains one of the landmark groups of buildings which defined 'Victorian' Brisbane and, like Melbourne's Pentridge, or Sydney's Long Bay, was the State's principle place of incarceration for many years. In 1913 Ernest Austin was the last person to be hanged at the Gaol. Forty one others had preceded him including one woman, Ellen Thompson who was executed in 1887 for the murder of her husband.
Rob points out the escape route taken by the notorious Sliim Halliday.
Boggo Road became infamous for the rioting, hunger strikes, and roof top protests of its inmates during the 1980's before it's closure in 1989. Since 1992 the No. 2 Division has been home to the Boggo Road Gaol Museum, which featured displays of prison-related artefacts. Througout the 1990s ex-officers conducted guided tours of the site, and from 2003 the museum and tours were operated by the Boggo Road Gaol Historical Society, a non-profit incorporated association of volunteers.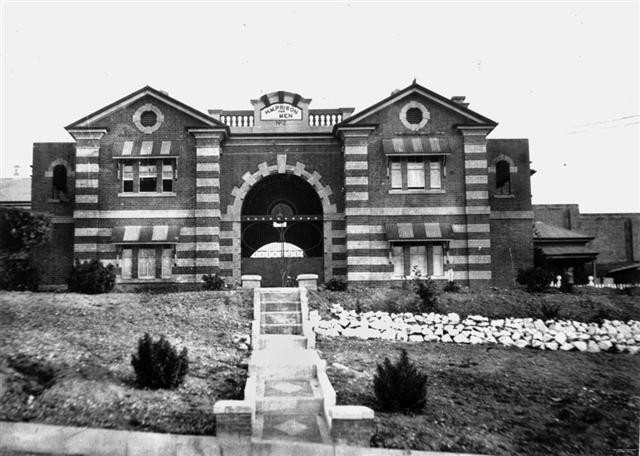 Entrance to Boggo Road Gaol, ca. 1936. Image number 62056.
Redevelopment of the surrounding site began in 2006, leading to the temporary closure of the Boggo Road Gaol historical site. The No. 2 Division prison buildings, first opened in 1903 as the State Prison for Women, will be preserved according to their heritage listing. The redevelopment will be called the Boggo Road Urban Village.
Out of the Port talks will resume on February 16, 2011 when John Oxley Library Fellow Jeff Rickertt will speak about the research he has been doing as part of his Fellowship on the life of Ernest Lane.
The Out of the Port series, a collaboration between the State Library of Queensland, John Oxley Library, and the Department of Environmental and Resources Management's Cultural Heritage Unit, has been very popular in 2010 highlighting new research into Queensland history and heritage.
Thanks to all who have attended or presented this year. We look forward to seeing you all in 2011.
Comments
Your email address will not be published.
We welcome relevant, respectful comments.