Out of the Closet and Into the Museum - Out of the Port lecture
By JOL Admin | 16 June 2011
This month's Out of the Port lunchtime lecture Out of the Closet and Into the Museum was about the Museum of Brisbane's first ever lesbian, gay. bisexual and transgender history exhibition Prejudice and Pride which was presented in partnership with State Library of Queensland, Queensland Association for Healthy Communities, and the Museum of Brisbane.
The exhibition was developed to coincide with the 20 year anniversary of the decriminalisation of homosexuality in Queensland and explored the lives of LGBT people in Brisbane over the last 150 years. The exhibition curator and today's presenter Carol Johnman Low, discussed Brisbane's history making exhibition and reflected on its success with some of the people from the community.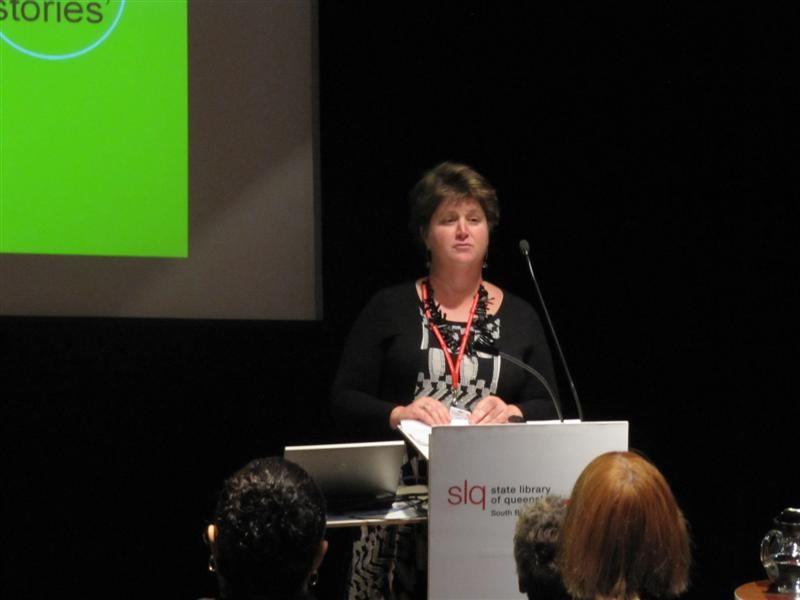 Louise Denoon, Executive Manager, Heritage Collections, introduces the Prejudice and Pride lecture and presenter and welcomes the audience.
Carol Johnman Low, co-curator at Museum of Brisbane's exhibition Prejudice and Pride and Out of the Port presenter.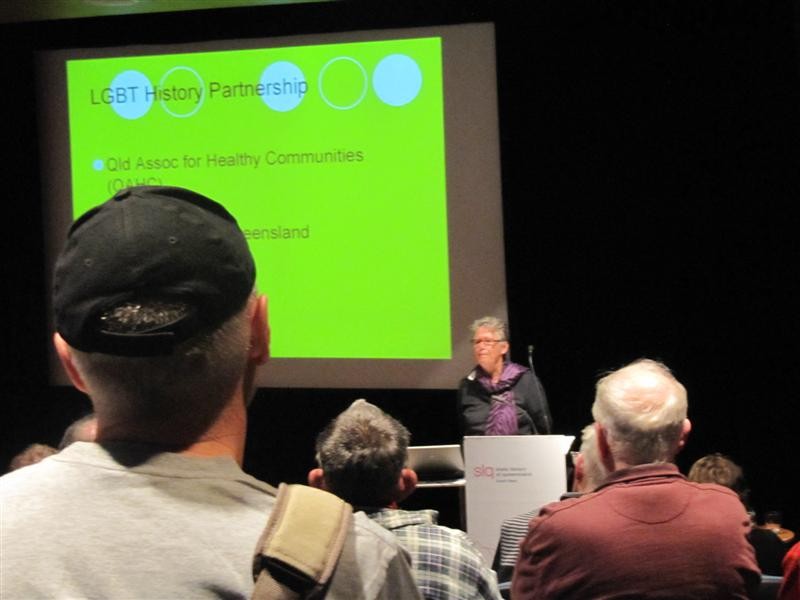 Audience enjoys the Out of the Port lecture on Prejudice and Pride.
Prejudice and Pride ran for 5 months in 2010, although it was several years in the making and relied on generous contributions of memorabilia, stories and photographs from the community. By the time the exhibition was ready, Museum of Brisbane was overwhelmed with donations of material relating to gay lesbian and transgender life in Brisbane. The exhibition candidly captured a history of personal and political oppression and homophobia, a time of epic struggle for acceptance and equality for Brisbane's community members.
Organisers were pleased with the solid base of archival material generated for the exhibition and in the research phase which has been deposited with the State Library of Queensland to be made available for future critical study and research. Members of the audience shared their experiences and reflections on the exhibition.
State Library's John Oxley Library and the Department of Environmental Resources Management partner to present the monthly Out of the Port series of talks promoting new research on Queensland. Sessions are recorded and made available through the State Library's website.
Join us on 20 July for the next Out of the Port lecture presented by 2010 John Oxley Library Fellow Dr Jeff Rickertt for his talk Ernie Lane: the making of a Queensland Rebel, about one of the firebrands of the early Queensland Labour movement. The talks are held every third Wednesday of the month in slq Auditorium 2. No bookings required.
Karen Hind - John Oxley Library
Comments
Your email address will not be published.
We welcome relevant, respectful comments.