Ormiston Railway Station Estate, 1889 (Map of the Week)
By JOL Admin | 3 April 2017
State Library of Queensland has an extensive collection of historical maps of Queensland, some of which have been digitised and can be viewed online.
Ormiston Railway Station Estate, 1889. John Oxley Library, State Library of Queensland
This real estate map from 1889 advertises 100 allotments of land for sale at the Ormiston Railway Station Estate. The allotments were situated along Cowley Street, Raby Esplanade, Cleveland Terrace, George Street and an unnamed road (now Gordon Street).
Prior to the sale extensive publicity was published in Brisbane newspapers.
"100 of the grandest villa sites on the shore of Moreton Bay, with frontages to the esplanade leading along the shores of Raby Bay, directly in front of the primary school, within a popgun shot of the Ormiston Railway Station." (The Telegraph, December 6, 1889)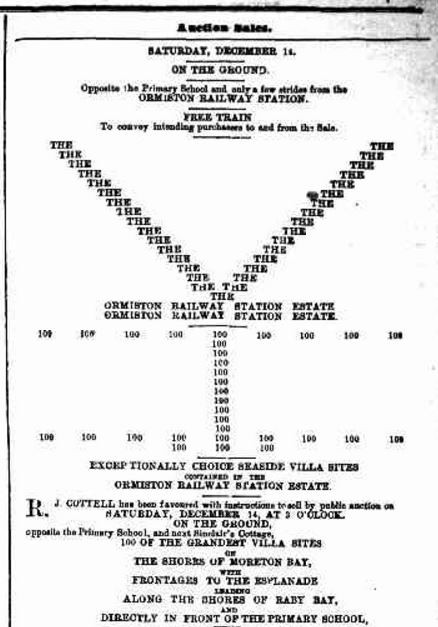 Advertisement, The Telegraph, December 11, 1889
A public auction was held at the site on the afternoon on December 14, 1889.
A higher resolution image of this map can be viewed through our One Search catalogue.
Prints of this map are also available through the Library Shop.
You can browse a compendium of our previous maps of the week on our blog.
Myles Sinnamon – Project Coordinator, State Library of Queensland
Comments
Your email address will not be published.
We welcome relevant, respectful comments.