Opening of the Trocadero Dansant (1923)
By Myles Sinnamon - Project Coordinator, State Library of Queensland | 15 May 2015
Billo Smiths Dance Band at the Trocadero, Brisbane 1927
The evening of 31 May 1923 saw Brisbane's dancers kick up their heels in delight at the opening of the newest high-class dance palace, Trocadero Dansant, in Melbourne Street, South Brisbane.
Prior to the opening, a full page advertisement in Queensland Society Magazine (pictured) promised an unforgettable experience – "There will be no fatigue after an evening's dancing at the Trocadero; the resiliency of the spring floor, unrivalled in the Commonwealth, adds tenfold to the pleasure of dancing". For those with two left feet, the advertisement also promotes morning dancing lessons with Bella Perman, a premiere exhibition ballroom dancer.
Advertisement for the Trocadero Dansant opening on 31 May 1923
Opening night was a spectacular event with an estimated 2000 people attending, dancers and gawkers alike. The Brisbane Courier described the experience that awaited dancers out on the floor – "From the novel and artistic cloud and foliage overhead effect in the dance hall dozens of violet and blue electric lights gleamed... A central mechanical device of prismatic glasses, which hung from the middle of the hall, reflected the colour and movement of the dancers below". For those needing a rest from the dance floor, the ballroom offered 52 vine-clad alcoves to rest and socialise, complete with mission oak furniture. Over 300 palms were positioned along window boxes and passages, completing the tropical effect.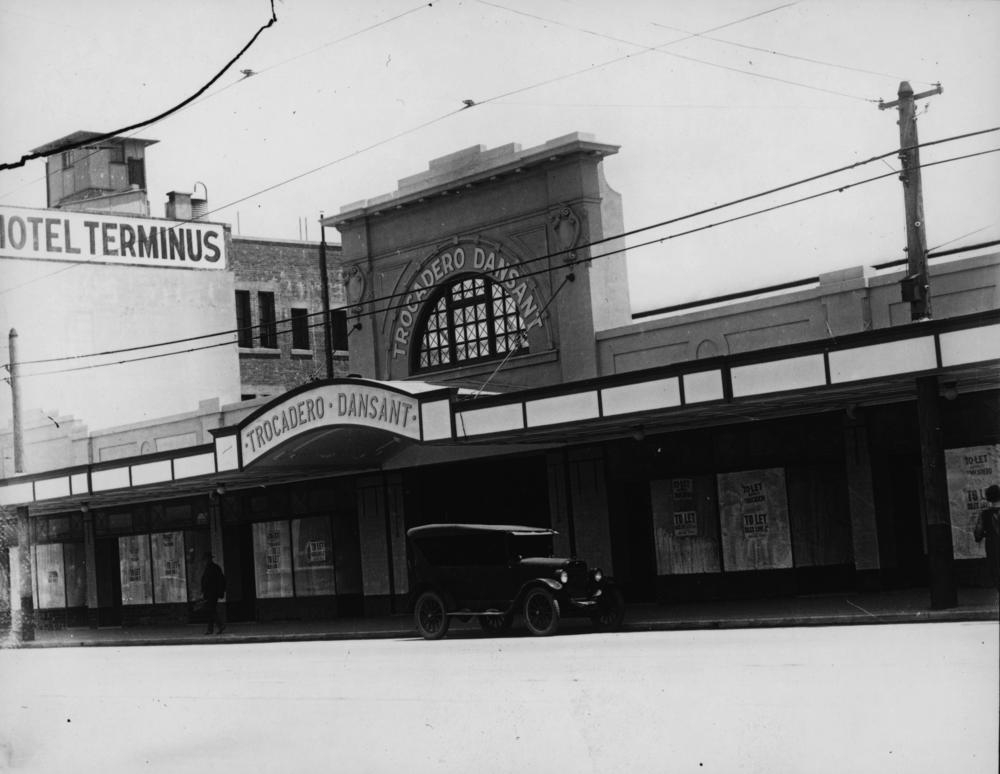 Exterior view of the Trocadero Dansant in Melbourne Street South Brisbane ca. 1934
Guest of honour, Governor Sir Matthew Nathan, was received by the Mayor and Mayoress of South Brisbane, Alderman and Mrs A Faulkner, and Mr M L Joseph, managing director of the Trocadero, and his wife. After watching an exhibition performance by Bella Perman, His Excellency and a large party of invited guests were entertained in the upstairs supper room.
All proceeds from the opening night were donated to the Children's Hospital Appeal Fund.
Myles Sinnamon - Project Coordinator, State Library of Queensland
Comments
Your email address will not be published.
We welcome relevant, respectful comments.