Online resources for Queensland history
By JOL Admin | 6 September 2012
There is a wealth of scholarly information about Queensland's history in online journals. Many of these are available only to subscribers and not available through search engines on the web. Queenslanders have access to these articles through the State Library of Queensland's subscriptions to a large number of online databases.
From July 2012, these articles have been made easier to find by incorporating them into One Searchopen_in_new, the library catalogue. For the first time, anyone can search for and find articles alongside material from the State Library's collections. Anyone can access all these articles at State Library and Library members can access many of them from home or at Queensland public libraries. You can become a member of the State Library of Queensland by applying for an SLQ eservices card.
One article that sparked my attention discussed the beginning of mapping in Queensland. It is titled Mapping a new colony: the geographical construction of Queensland 1860 – 1880, by Peter Griggs. This article first appeared in the journal The Globe, No. 56, 2004: pp. 25-40.
The abstract below outlines a fascinating study of the challenges and ingenuity of early cartographers and surveyors in Queensland.
"Queensland formally separated from New South Wales in December 1859. The new colonial government had jurisdiction over approximately 1.72 million square kilometres, or 22.5 per cent of the Australian landmass. Official responsibility for producing maps of the new colony (except hydrographic charts) between 1860 and 1880 rested with the Survey Branch of the Queensland Department of Lands. Other motivated individuals and firms, mostly surveyors, book publishers and specialist map and atlas publishers, also produced maps of the new colony. The first part of this paper will examine who produced maps during this period under review. This discussion will outline some of the challenges faced by those making maps in an era when lithographers still used limestone stones. The subjects mapped and the types of maps produced in Queensland between 1860 and 1880 will be considered in the second part of the paper. Despite enormous difficulties, including a lack of equipment and limited numbers of lithographers and surveyors, a wide array of maps was produced in Queensland between 1860 and 1880. Subjects mapped included the entire colony, major towns, railway routes, electoral and pastoral districts and the evolving cadastre."
There are also a large number of freely available online resources for those interested in Queensland history. One excellent resource is the newspapers that State Library has contributed to the Australian newspaper digitisation project. These are available through the National Library's Trove discovery service. One example is The Brisbane Courier (1864-1933).
Finally, the digitsed collections of the John Oxley Library provide online access to an extensive range of historic photographs, maps, manuscipts, sheet music, books and journals. Browse this selection of illustrated covers of The Queenslander newspaper for a fascinating portrayal of Queensland's social history in the early twentieth century.
Another stunning example comes from the digitised collection of early maps is a map of the colony of New South Wales from 1794 titled, A new and accurate map of New South Wales : with Norfolk and Lord Howe's Islands, Port Jackson from actual surveys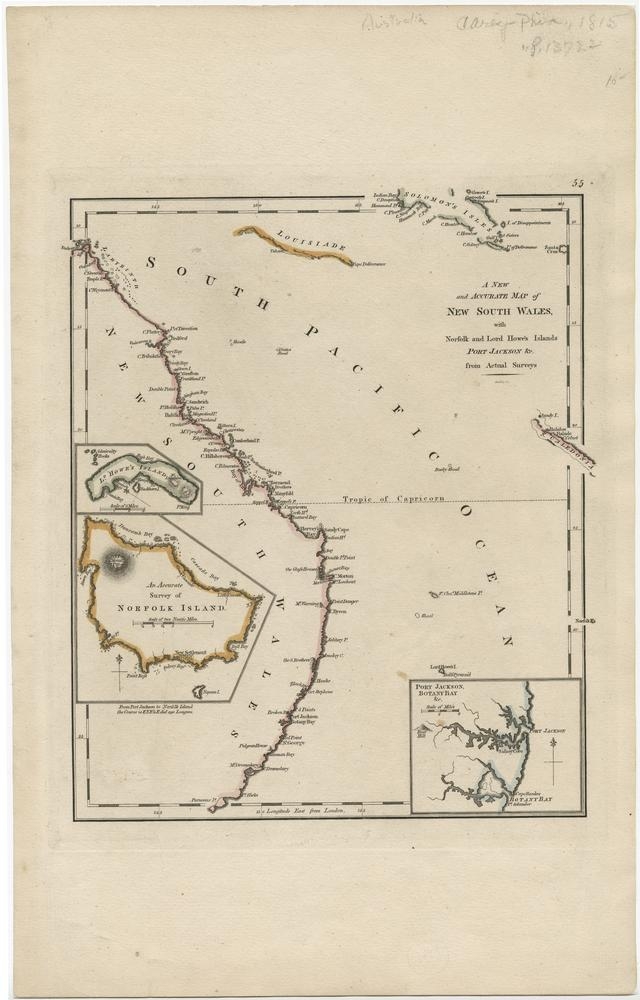 A new and accurate map of New South Wales : with Norfolk and Lord Howe's Islands, Port Jackson from actual surveys. State Library of Queensland
Comments
Your email address will not be published.
We welcome relevant, respectful comments.