The New Shorncliffe Pier
By JOL Admin | 26 April 2016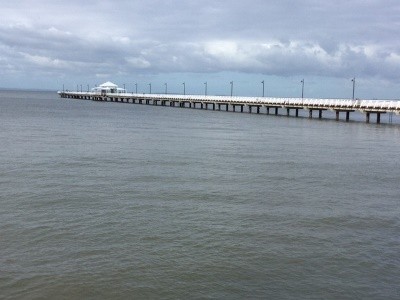 The New Shorncliffe Pier
March 25, 2016 saw the re-opening of the new Shorncliffe Pier, formally known as the Sandgate Pier. It was originally designed by architect F.D.G. Stanley and built by the Sandgate Pier Company in 1882.
The pier is well known and used throughout the local community and is popular with residents and visitors to Brisbane. It is an iconic part of the Bramble Bay foreshore and holds great historic significance in the Brisbane City Council region. The original pier survived for 130 years, before it was closed to the public in March 2012. The old structure was removed and the new construction commenced in 2014.
The renewed pier design includes:
a concrete and steel substructure
timber joists, decking, handrails and rotunda
a larger rotunda
a larger hammerhead at the end
a lower platform at the end of the pier.
four fish cleaning stations
four water fountains
20 light poles
six safety ladders
four benches
fourteen seats
two picnic tables and a flag pole for yacht races.
The New Shorncliffe Pier
Information, photographs and local histories can be found in the John Oxley Libraries collections, held at State Library and they can be accessed onsite between 10:00 - 5:00 daily. Some images are available online through our Onesearch catalogue.
For more information about the Shorncliffe Pier renewal project go to the Brisbane City Council web site here.
Photographs courtesy of Janette Garrad.
Janette Garrad - Senior Published Content Technician, State Library of Queensland.
Comments
Your email address will not be published.
We welcome relevant, respectful comments.