New Acquisition: Paul Zammit Benemerenti Medal
By JOL Admin | 19 February 2013
The John Oxley Library has been fortunate to receive a donation of a medal awarded to Paul Zammit by the Catholic Church in recognition of his services to the church and the Catholic community in North Queensland.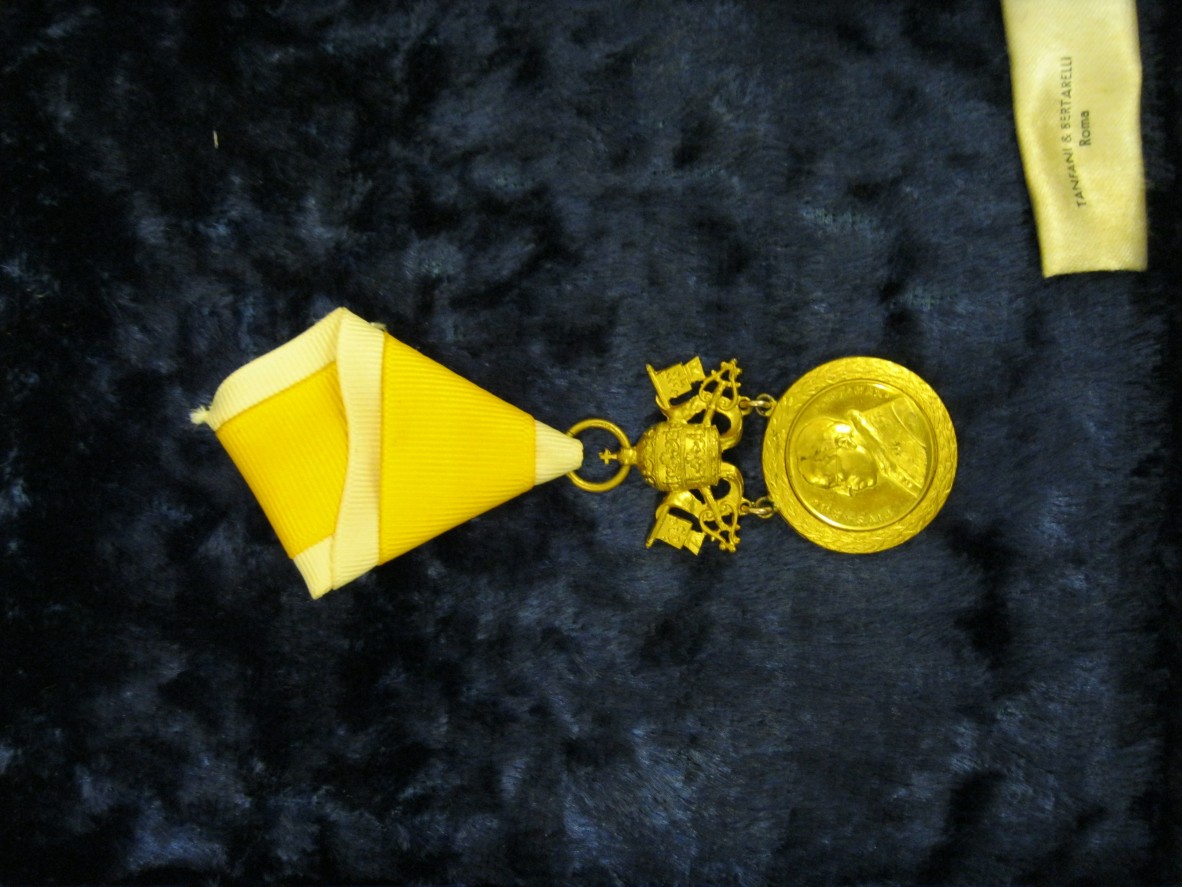 Paul Zammit Benemerenti Medal
The Benemerenti medal was first awarded by Pope Pius VI (1775-1799) in recognition of military merit. In 1925 the Catholic Church broadened the scope of the medal to serve as a mark of recognition for services to the church in both a civil and military capacity. Paul Zammit, a Maltese pioneer of North Queensland, was awarded the medal by Pope Pius XII in January 1948 for building the Church of St. Paul amidst the canefields of Bartle Frere. Zammit was the first person in Queensland to be awarded the Benemerenti Medal for distinguished service.
Bememerenti medal certificate presented to Paul Zammit
The story of Paul Zammit is a remarkable one. He was born in Malta in about 1888 and immigrated to Australia in 1912 where he worked in the Chillagoe mines and later in the canefields of North Queensland. He eventually settled in Mooliba, near Bartle Frere, around 1919. By December 1913 his wife, Paulina, with their first child had joined him in Queensland and over the following twenty years the couple had nine more children, all of whom were talented musicians.
Paul Zammit became one of the most successful sugar farmers in North Queensland and prospered financially with numerous property investments. He used his growing prosperity to support many migrants from Italy and Malta and his deep faith led to him funding the construction of the Catholic Church of St. Paul in the canefields of Bartle Frere. The little concrete church was opened on 31 August 1947. Below is an extract from an article appearing in the Cairns Post, 6 September 1947, p.9:
"In his address, Most Rev. Dr. Heavey congratulated the people on their good fortune in acquiring such a really beautiful church. Supporting His Lordship the Bishop, the Parish Priest (Fr O'Byrne) stressed some unusual features of the opening. The church was being opened completely free of debt. This was due to the extraordinary generosity and piety of one man - Mr Paul Zammit of Bartle Frere. Mr Zammit was one of the pioneers of the Bartle Frere district. He had roughed it there in the early days. Privation and hardship had been his lot, and as was only fitting he now shared the general prosperity of this very rich and beautiful area. " He has now", continued Fr. O'Byrne, "given us a token of his love for Bartle Frere and for his Church in this beautiful concrete building which we are opening today. The concrete bricks, by the way, used in the construction of the walls, were made here in Bartle Frere at Mr. Zammit's farm. What can be said of such a man? Perhaps one could best express oneself by saying that, not unlike his beloved Malta, while small in stature, he is big in heart."
Paul Zammit died in 1959 after contributing so much to the business and community life of North Queensland. The Church of St. Paul was unfortunately destroyed by Cyclone Winifred in 1986 and the Benemerenti Medal was transferred to St. Rita's Catholic Church in Babinda where it was on display for many years before being donated to the State Library of Queensland by the descendants of Paul Zammit.
The beautiful medal, housed in a velvet lined box, may be viewed at the John Oxley Library, Acc: 28911, Box 16917 O/S A3.
Lynn Meyers - Original Materials Librarian, State Library of Queensland
Comments
Your email address will not be published.
We welcome relevant, respectful comments.