New Acquisition: Noel Preston Papers 1976-2001
By JOL Admin | 4 January 2013
The John Oxley Library recently received an important and fascinating collection of personal papers and scrapbooks from Dr. Noel Preston; ethicist, academic, social justice campaigner and retired Uniting Church minister. For more than fifty years Dr. Preston has led social justice movements in Queensland including The Concerned Christians, Citizens Against Corruption and People for Nuclear Disarmament.
The collection includes two cutting books compiled by Dr. Preston; "Citizens Against Corruption 1988-1990" and "The Concerned Christians Story 1970s and related matters re confrontation with the Bjelke-Petersen Government" as well as photographs, newspaper and journal articles, speech notes, and records for the organization People for Nuclear Disarmament (Queensland). These records include a sound recording of the group's first big public rally held at Brisbane City Hall on 3rd November 1983. The speakers included Aboriginal poet, Kath Walker (Oodgeroo Noonuccal), Quentin Bryce from the National Women's Advisory Council, Harry Hauenschild (President of the Queensland Trades and Labour Council) and retired US Army Colonel, David Hackworth.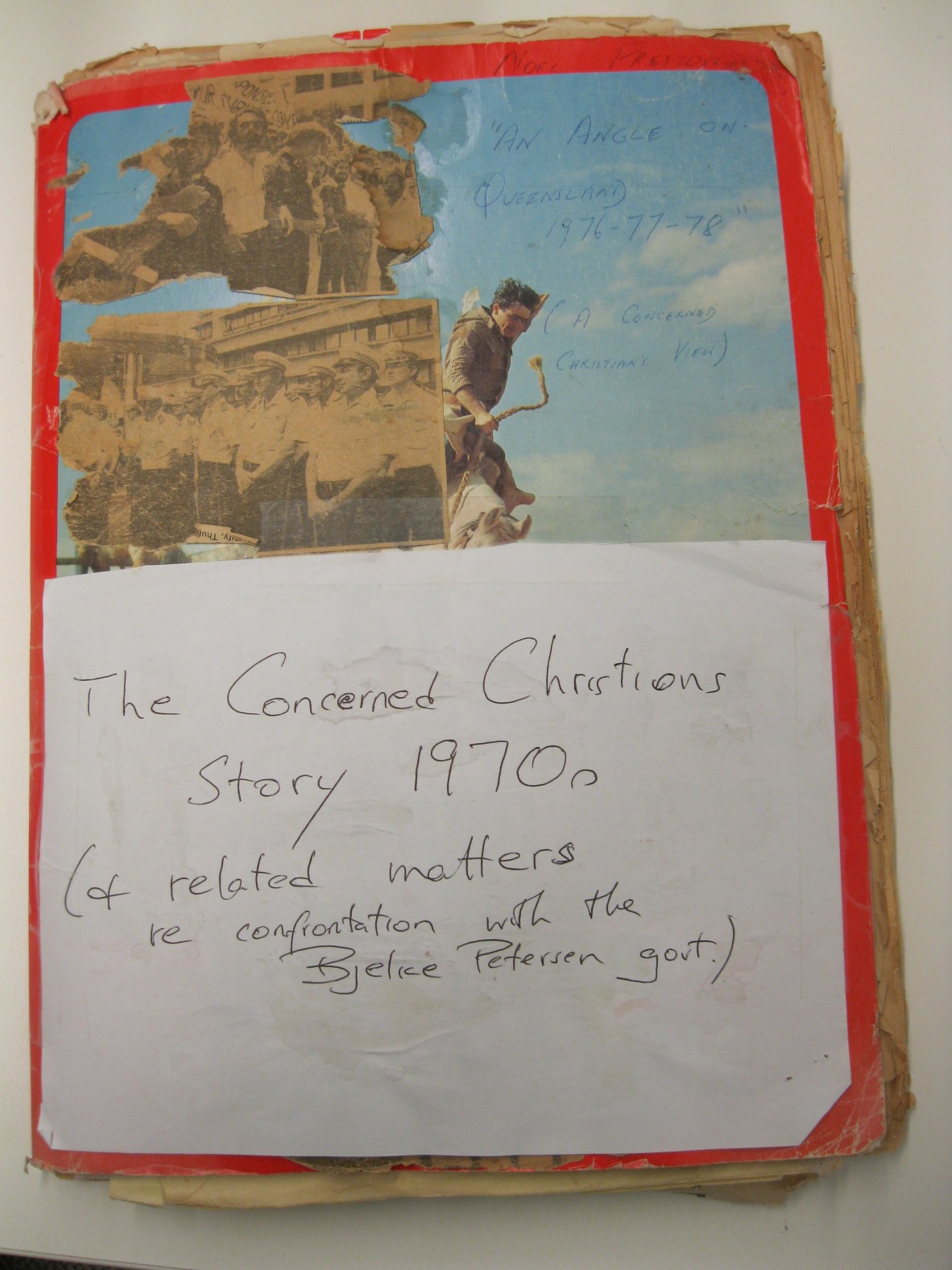 The Concerned Christians Scrapbook, 1970s
The Concerned Christians, an ecumenical social action group, was formed in 1976 by Noel Preston and Father Richard Pascoe with the support of other clergy. It became the activist spearhead of Christian protest in Queensland from the mid 1970s to the 1985 SEQEB dispute between the State Government and trade unions. Issues in which the Concerned Christians were involved included Aboriginal affairs, abuse of police powers, abuse of parliament, and civil rights targeting the laws against street marches instituted by the Bjelke-Petersen Government
Article appearing in the Concerned Christians Scrapbook
Noel Preston addressing the Palm Sunday Peace Rally at Roma Street Forum, Brisbane, 1984.
The action group, Citizens Against Corruption, was formed in December 1988 in response to the findings of the Fitzgerald Inquiry into police corruption. The inquiry led to the demise of the Bjelke-Peterson government, ending 32 years of National Party rule in Queensland and led to the jailing of three former ministers and a police commissioner. The action group was a way for ordinary citizens to show their anger and concern and to help maintain the momentum and commitment for change.
Citizens Against Corruption Scrapbook 1988-1990
Citizens Against Corruption Scrapbook
Citizens Against Corruption Scrapbook. Elaine Darling, Noel Preston, Nigel Powell (Citizen Against Corruption candiate and former undercover policeman who helped spark the Fitzgerald Inquiry) and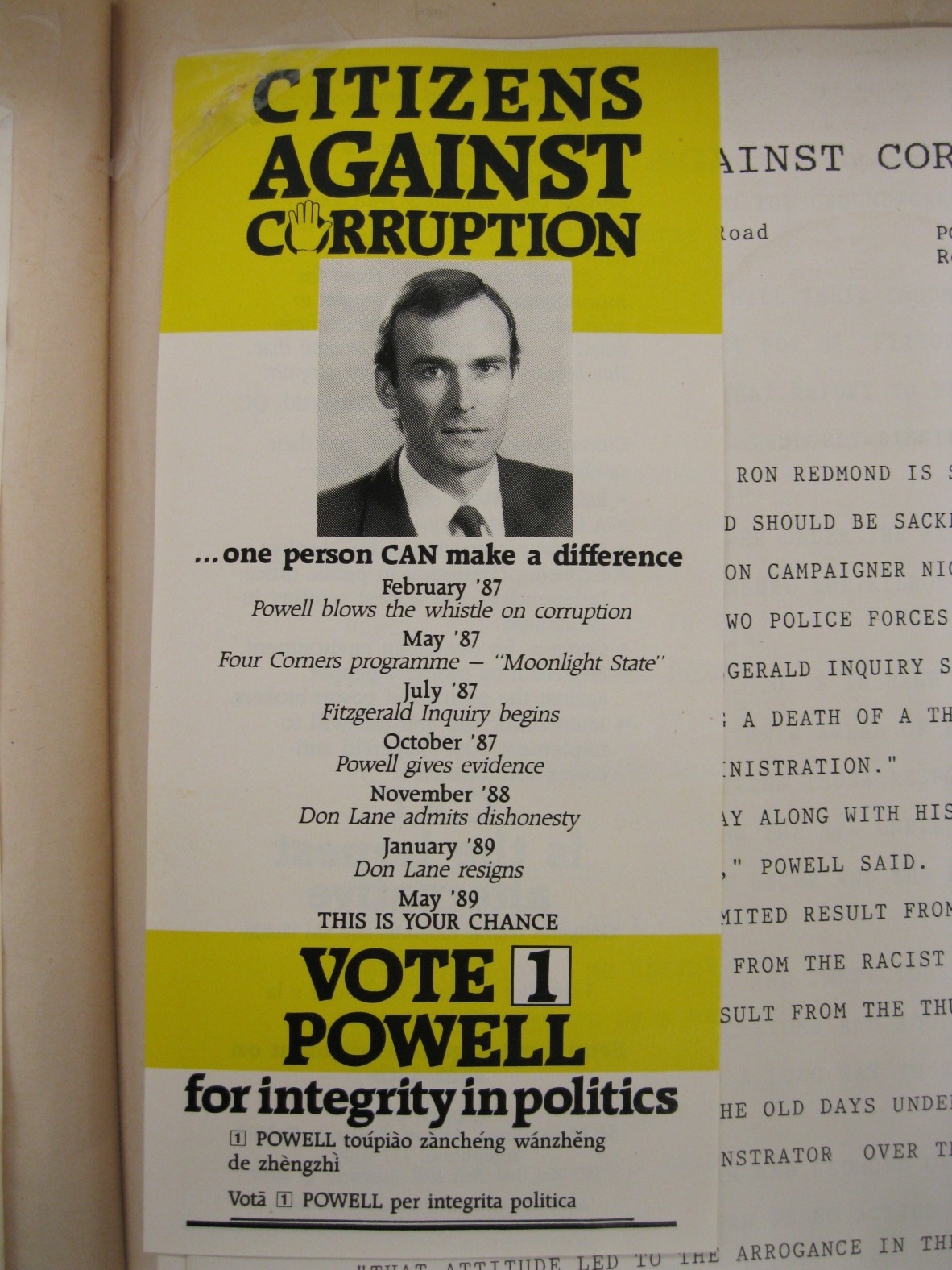 Citizens Against Corruption Scrapbook. Election flyer for Noel Powell, Citizens Against Corruption candidate for the Merthyr by-election, 1989.
Comments
Your email address will not be published.
We welcome relevant, respectful comments.