New Acquisition: Maurice George Delpratt Correspondence, A Turkish Prisoner of War
By JOL Admin | 17 August 2012
The John Oxley Library has been fortunate to receive a significant and moving collection of World War I correspondence between Sergeant Maurice George Delpratt of the 5th Light Horse Regiment and his family from Tamborine in Queensland. Delpratt was captured at Gallipoli and spent three and a half years as a prisoner of the Turks at Hadji-Kiri, near Belemedik in the Taurus Mountains. He worked on the construction of tunnels for the Baghdad Railway.
The collection comprises about 200 letters and postcards, mainly written by Maurice George Delpratt to his elder sister Nell.
Maurice was born at Tamborine, Queensland, in 1888 and was one of the first pupils to attend the Southport School. He became a teacher and housemaster at the school before he resigned in 1910 to take up pastoral pursuits in the west. At the outbreak of World War I he volunteered for the 5th Light Horse Regiment and embarked for Egypt on the 21st December 1914. His mother, Ada, died while he was on his way to Egypt.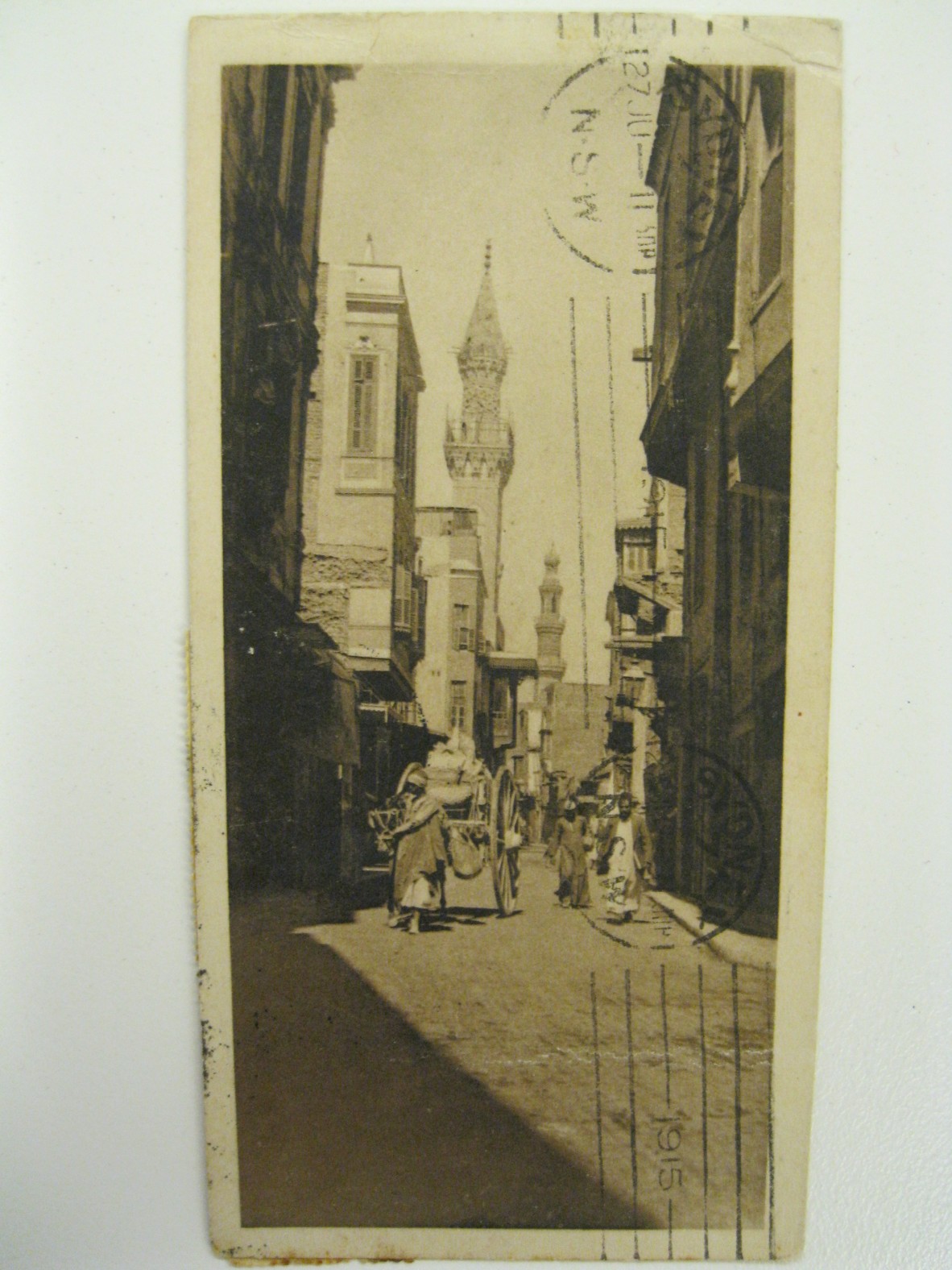 Postcard from M.G. Delpratt in Egypt to family, 20 May 1915, featuring a street view of Cairo.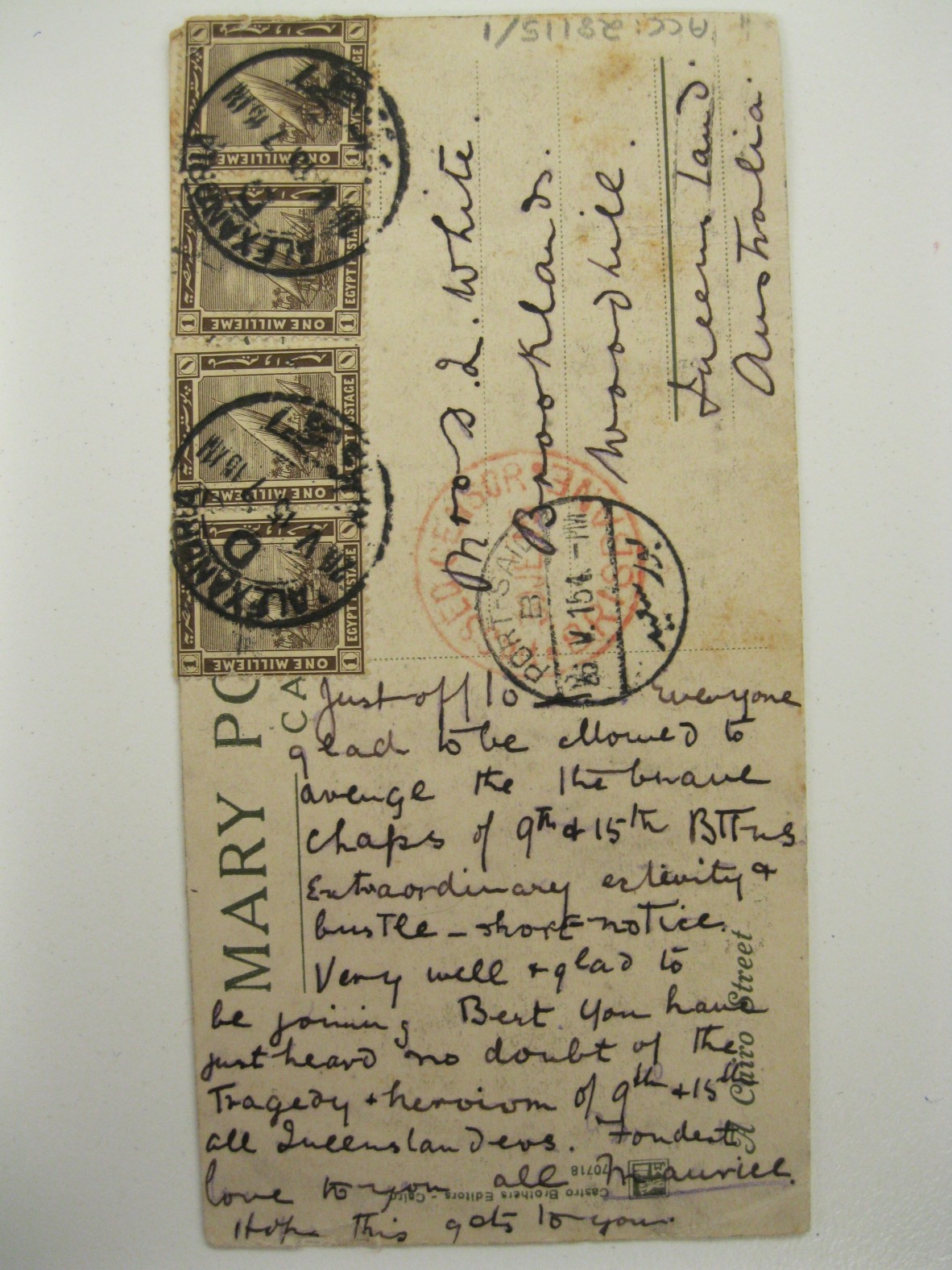 Verso of postcard, 20 May 1915. Acc: 28115/1
Delpratt fought at Gallipoli and finding himself on the wrong side of the enemy lines was taken prisoner on the 28th June 1915. He was officially listed as missing in action and the family was informed of this status in July that year. It was not until September that they received a letter from Maurice informing them of his capture. He writes "Here I am a prisoner of war, having failed in my mission and no longer able to serve my country, but in good health and looking forward to the day when the war ends and I can go home. With the Australians it is considered a disgrace to be captured. It was bad soldiering on my part to get within the enemy's advanced lines, but I know you will understand it is not lack of courage makes a man do that". (28115/7, copy of a document held by the Australian War Memorial)
Letter from Maurice's sister, Nell, to the family informing them that Maurice is missing in action, 22 July 1915 (Acc: 28115/9). Note the black border on the letter.
Maurice was released after the armistice of November 1918 and after a brief stay in England was repatriated to Australia on the 3rd July 1919. He spent six years at Tamborine and later became involved in fruit growing in Palmwoods. In 1928 he married Mary Esher Davies of Toowoomba and had three daughters. He later worked at the Warwick Post Office and died in Warwick on the 8th March 1957.
The letters are both intimate and informative, providing a detailed account of life in the camp and the hardships the prisoners faced such as malaria and other diseases. One always gets the impression, however, that he is putting a good face on things to save his family from anxiety and worry.
Letter from Maurice George Delpratt to his sister Nell, 29 September 1917. Acc: 28115/71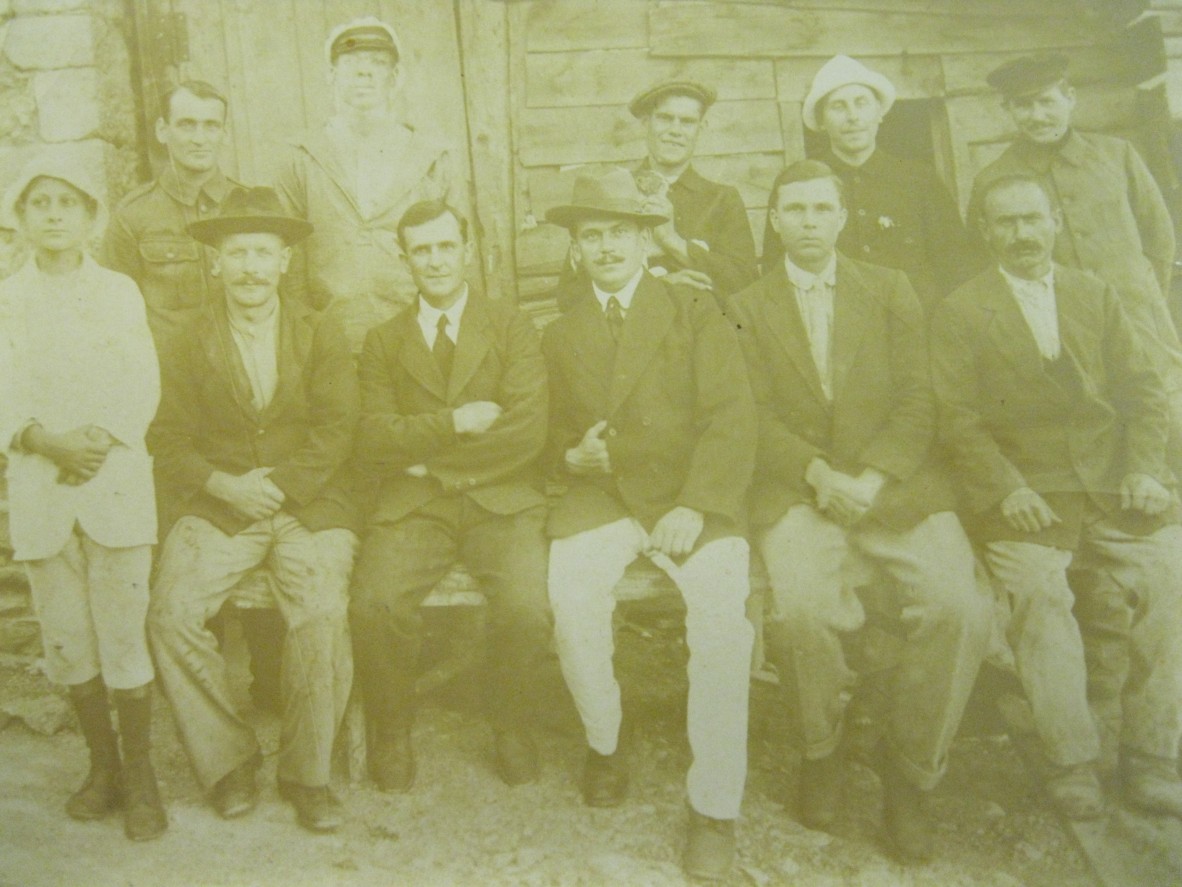 Official photograph of the prisoners. Maurice George Delpratt is seated, second from left. Received in Australia 28 February 1919. Acc: 28115/121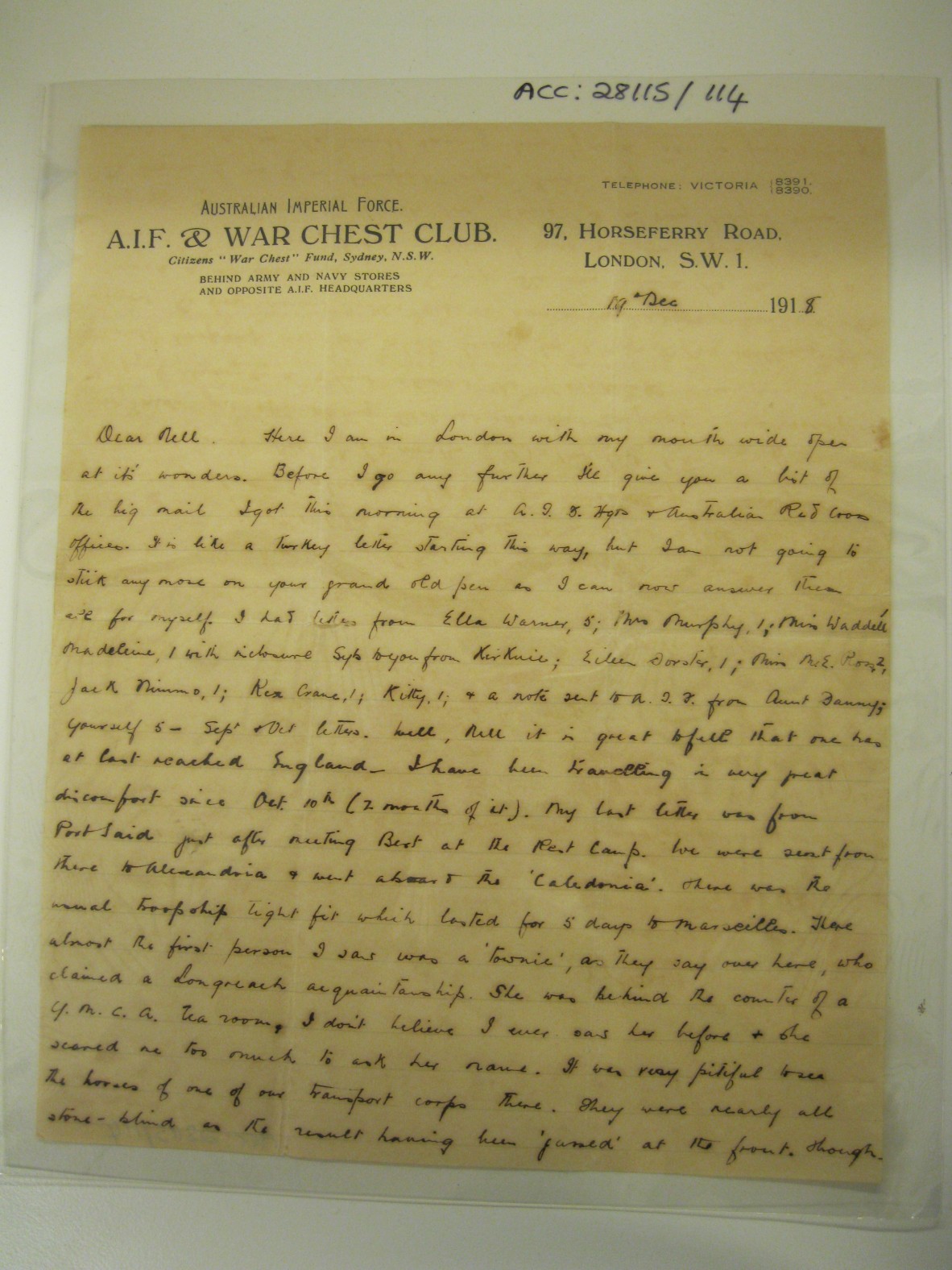 Letter from Maurice in London to his sister Nell after his release, 19 December 1918. Acc: 28115/114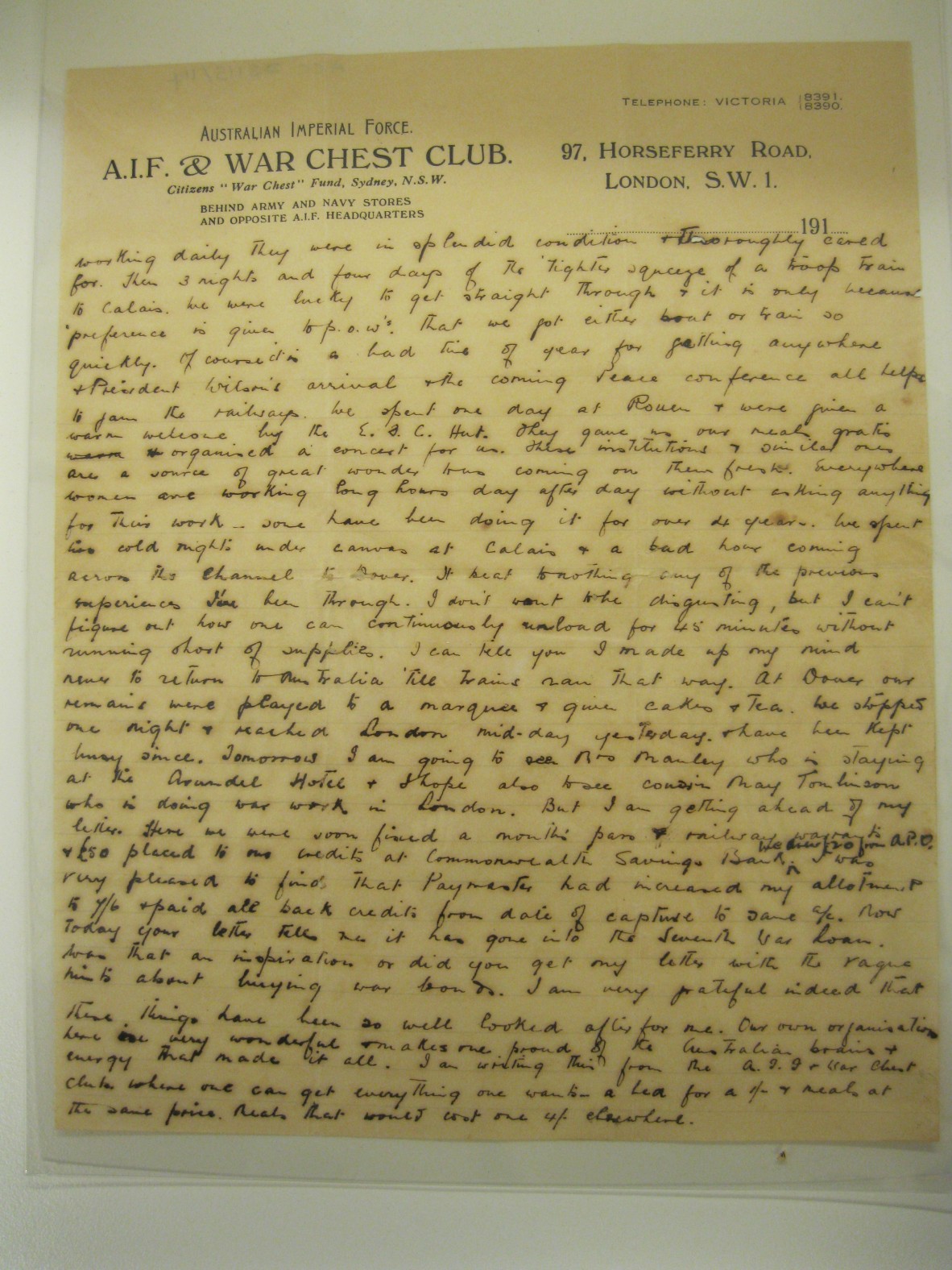 Letter from Maurice in London to Nell, 19 December 1918, page 2. Acc: 28115/114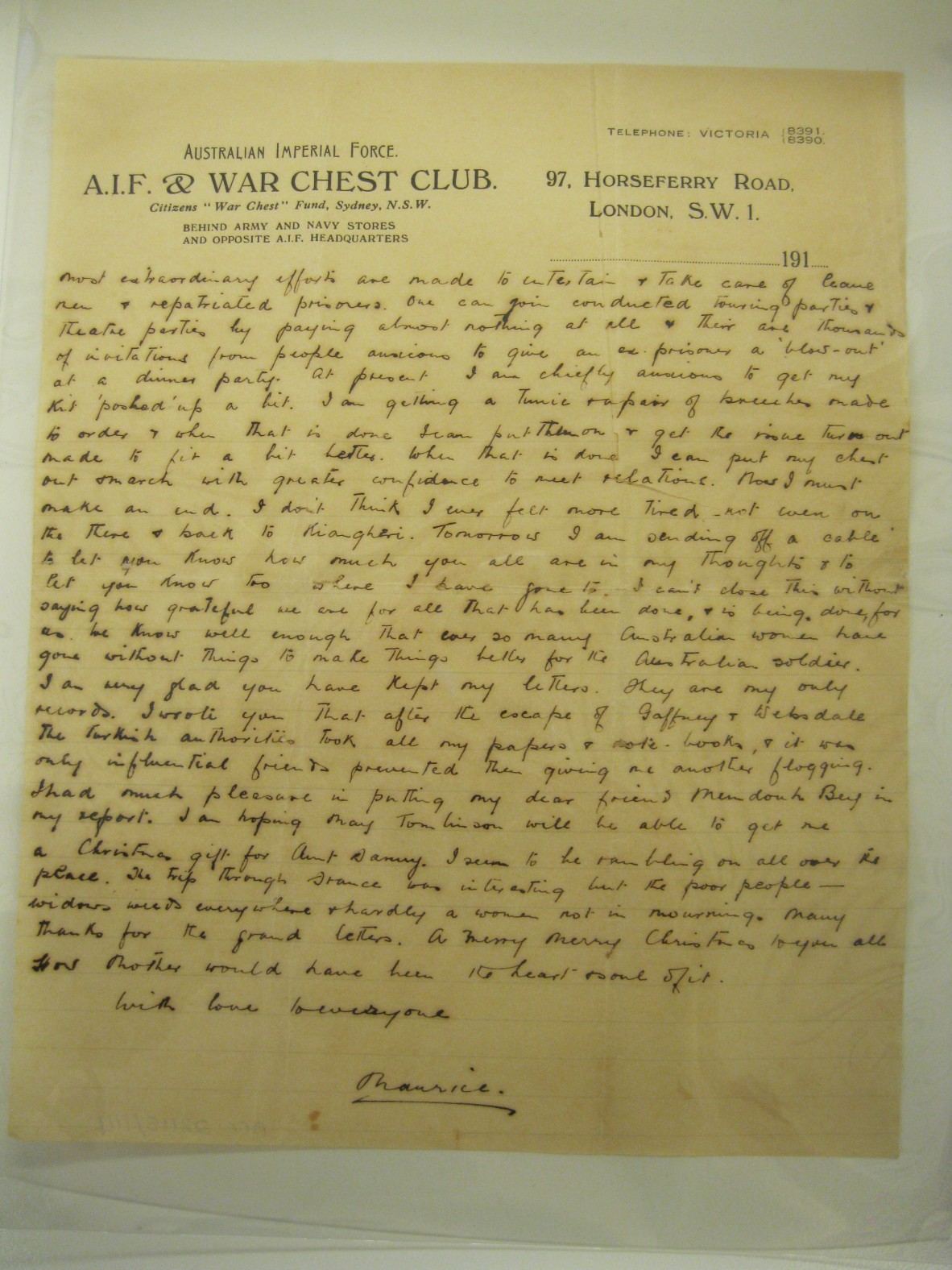 Letter from Maurice in London to Nell, 19 December 1918, page 3. Acc: 28115/114
Comments
Your email address will not be published.
We welcome relevant, respectful comments.