New acquisition - List of Motor Owners in Queensland
By JOL Admin | 9 October 2014
List of motor owners in Queensland - Front cover
As its title suggests, List of Motor Owners in Queensland contains 2 separate lists: names of registered owners of vehicles in the year 1923, by name of owner and by registration number of the vehicle. The alphabetic list includes registration number, name of person to whom the number was registered, address of owner and model of vehicle registered. The numerical list includes plate number and name of registered owner which can then be cross checked against the alphabetical list:
Numerical list
State Library is extremely grateful to the Queensland Department of Transport Library for this donation, as this slender tome makes for a powerful research tool for several communities of interest.
The motor historian, the classic car aficionado and the collector of Queensland number plates now have an authoritative source from which to quote. It can be used to find vehicle models by their registration number as well as by their registered owners. The List of Motor Owners in Queensland is also extremely useful for the family historian wanting to flesh out extra motoring details in their old family photographs. If your photograph includes a shot of the family car which was fortuitously showing its number plate (generally affixed to the rear of the vehicle) and the date was circa 1923, you can now identify the vehicle model from the number plate.
Those who know their onions when it comes to the history of motor vehicle registration in Queensland will be aware that all of the numbers that appear in the List of Motor Owners in Queensland 1923 represent what are referred to as 'Q plate numbers'. These number plates date from July 1921 when the Regulations of the Main Roads Act of 1920 came into force, requiring all motor car owners to re-register their vehicles with the newly-formed Main Roads Commission, replacing all previous plates with a new one, beginning with the letter 'Q'.
Prior to July 1921 vehicle registration was handled by the Police Traffic Department as vehicles were registered to the police district in which they were driven. These early plates started with a letter – representing district - followed by a number. The districts were as follows-:
A - Brisbane
B - Rockhampton
C - Toowoomba
D - Townsville
E - Ipswich
F - Maryborough
G - Warwick
H - Cairns
J - Bundaberg
K - Mackay
M - Clermont
N - Gympie
P - Hughenden
R – Dalby
R - Redcliffe
The List of Motor Owners in Queensland is about Q-plate numbers and their owners. Names in the List read like a Who's Who of Queensland in the early 1920s and reveal much about early car ownership in Queensland. Certainly car ownership in the early 20s was largely the preserve of the affluent professional or the business enterprise. Indeed, we see represented by the first 6 plates a hotelier, 3 doctors (one of whom was also a politician), an engineer and a manufacturer.
Q1 numberplate image courtesy http://www.numberplates.com.au/plates/qld/q1/
The very first Q plate was registered to James T. McGuire, Newmarket Hotel Brisbane, and the vehicle to which it was registered was a Crossley – a British vehicle :

McGuire list extract
From McGuire's obituary ( Courier-Mail , 23 June 1949open_in_new) we glean that James Thomas McGuire was an teetotaller Irish Hotelier from Cork, who in 1923 was running the Newmarket Hotel. He would later add the Windsor to his portfolio and become a City Council Alderman. McGuire was also an original member of the Queensland Turf Club. No doubt he would have been astonished to find that the plate he acquired in 1921 would be sold 64 years later to a hairdressing entrepreneur for $100,000. Stefan (Ackerie) has kept this plate, purchased in the 1985 'great Queensland plate auction', despite all subsequent lucrative offers.
Q 2 was registered to Charles F. Marks: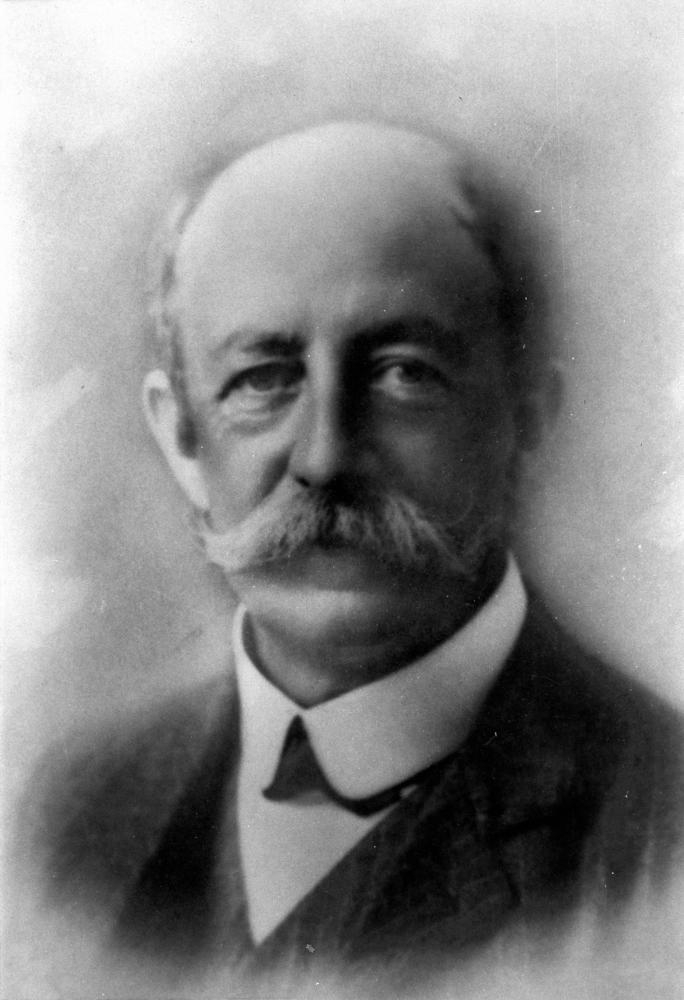 Doctor Charles Ferdinand Marks
This is the eminent surgeon and MLC whose practice was at 101 Wickham Terrace. His entry in the ADBopen_in_new also attests that he was one of the first to own a motor car in Queensland. Charles's son Alex, owner of Q3, was also a highly accomplished member of the medical establishment as well as a decorated soldier. His biography can be read at the QUT Marks Family Collections Online site. The Marks were clearly both Ford men.
Doctors are well represented in the List of Motor Owners. See for example the name Lillian Cooper on page 45:
Cooper list extract
Lillian Cooper (1861-1947) was Queensland's first registered female doctor as well as the first recorded female motorist and founding member of the RACQ . We can see that by 1923 Dr Cooper had abandoned her Oldsmobile and Humber and was driving a Renault, plate number Q 2689. Her address was listed simply as George Street, Brisbane – the location now known as the George Street Mansions where she lived and practiced.
Here is Lillian (in white) with companion Josephine Bedford in her pre-motoring days:
Lillian Cooper and Josephine Bedford
Other recognisable names include that of Sir Sydney Kidman – as you can see, all his vehicles were Fords – reliability being a stringent requirement in places like Bedouri, Thargomindah and Boulia:
Kidman list extract
Thanks to the online version's searchability, we can use The List of Motor Owners to create a retrospective census of motor vehicles for the year of 1923. For example, if we want to know how many Rolls Royces there were on the road in that year, a check for the key word 'Rolls Royce' reveals there was only one. It was registered to Arthur Youngman, the pioneer grazier of Taabinga, Kingaroy:
Rolls Royce list extract
The advertisements contained in the List of Motor Owners are also of interest. Many of the ads for vehicles include specifications. A useful index to them appears on page 236 - for cars, motor garages, companies, associations, and motoring products in Queensland:
Advertisements
The last few pages of The List of Motor Owners includes a list of the leading garages and agents for various vehicle models sold in Queensland (p231) and a list of the cars on the Queensland Market with Agent's name and address (p235).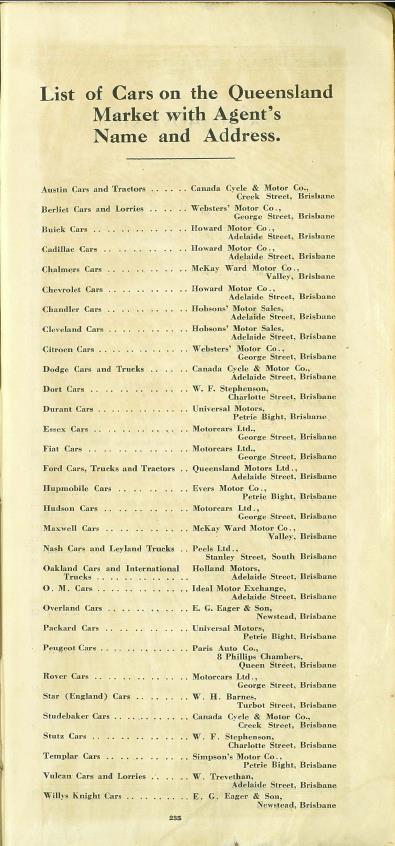 List of cars on the Queensland market
We owe the existence of the List of Motor Owners to the publishing energies of Albert Hardman-Knight (1876-1974). Hailing from Lancashire, Hardman-Knight had a varied career in Queensland as editor, journalist, author and publicist for various bodies, including the Queensland Country Party and the RACQ. Well known In Brisbane motoring circles in the 20s and 30s, he was also in demand as a speaker, giving lectures and talks on historical figures for radio, various societies and Universities . He was later to edit the Society and Home Journal in the mid -1920s and work as publicity officer for the RACQ in the 1930s.
Mr A Hardman-Wright Image source: Men Behind Campaign. Courier Mail 14 April, 1944
The List of Motor owners in Queensland is a valuable addition to John Oxley Library collection, and complements the rich collections relating to motoring in Australia held at the State Library. For those interested in number plate history, the following items held at State Library are of particular relevance:
Comments
Your email address will not be published.
We welcome relevant, respectful comments.