New Acquisition: James Maccormick Correspondence regarding the birth of World Expo 88
By JOL Admin | 1 March 2012
The John Oxley Library recently received a fascinating collection of correspondence, dating from 1976 to 1983, regarding efforts to host World Expo 88 in Brisbane. The correspondence was collected by architect, James Maccormick, who was principal architect with the Commonwealth Department of Works in Canberra from 1963 to 1970. He had first hand experience with world expos, designing the Australian pavillions at the 1967 expo in Montreal, 1970 expo in Osaka and the 1974 expo in Spokane, Washington, U.S.A. After the expo in Spokane he returned to Brisbane, where he was working as an architect with the University of Queensland, and saw the possibilities of Brisbane as a host city for a world expo. Maccormick believed that an exposition would be the ideal catalyst for the redevelopment of Kangaroo Point and met with representatives from government and business to enlist support for this idea.
The celebration of Australia's bicentenary in 1988 provided the impetus to push for an expo to be held in Brisbane in that year. Maccormick lobbied politicians, business and academic leaders, appearing on television and radio to raise public awareness of his dream to stage an expo in Brisbane. This correspondence, both inward and outward, provides a fascinating insight into the determination and hard work involved in drumming up support for the expo idea.
Eventually, in the early 1980s, Maccormick attracted the attention of the Queensland Premier, Joh Bjelke-Petersen, who was so convinced in the worth of the scheme, that he instigated a direct approach to the International Expo Authority and eventually secured the rights for Queensland to stage the World Expo in Brisbane from April to November 1988.
The site of expo 88 at South Brisbane, taken in 1983. Neg No: 61343
The South Brisbane site, later to be known as Southbank, was chosen and Expo 88 started to take shape on the 40 hectare parcel of land opposite the city's central business district. The theme of the exposition was "Leisure in the Age of Technology". The site incorporated large iconic sun sails to provide shade, with a monorail to transport visitors around the area. The fair was an unprecedented success attracting more than 18 million visitors and has been credited with transforming Brisbane from a large sleepy country town to a progressive modern city and an international tourist destination.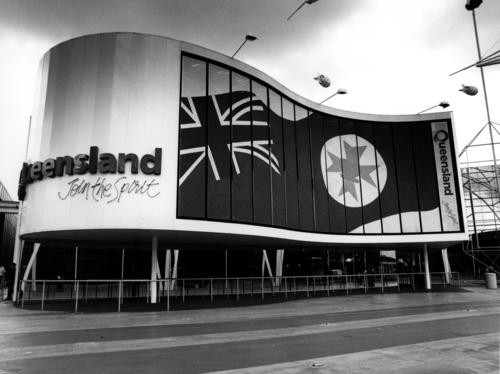 In addition to this correspondence the John Oxley Library also holds a large collection of Expo 88 photographs, newspaper clippings, publications, posters and ephemera. The James Maccormick Expo 88 Correspondence may be viewed at the John Oxley Library (Acc: 28309, Box 16430).
Lynn Meyers - Original Materials Librarian, State Library of Queensland
Comments
Your email address will not be published.
We welcome relevant, respectful comments.