New Accessions: 'Henry' Typescript
By JOL Admin | 30 April 2015
'Henry' Typescript (by Florence Cornwall)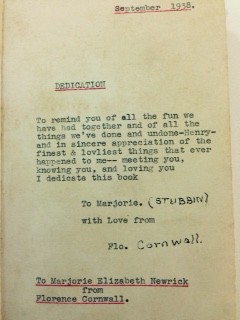 Dedicated to Marjorie
'Henry', a typescript recently acquired by the State Library's Original Content unit, is a humorous story about a Model T Ford and his two devoted owners, Marjorie Elizabeth Newrick and Florence Cornwall. Marjorie and Florence, two young Brisbane women, bought Henry in 1936 for 10 pounds: '...we instantly adored that car. Certainly it was old and rather battered, the tyres were worn and the bonnet fell off with an alarming crash at the slightest touch. We christened him "Henry" on the spot. He was too, a "T" Model Ford, surely one of the very first ever made' ('Henry', p. 1).
Ford Motor Company introduced the Model T on 1 October 1908. 'Henry' must have been made before 1915, because he didn't have electric lights: 'Half-way we stopped at a garage to get some kerosene for the tail light' ('Henry, p. 20). Until 1915, a car like Henry would have had had one taillight that burned kerosene and headlights that burned acetylene. In 1915 electric lights powered by the magneto were introduced, with the brightness of the lights depending on the speed of the car. The headlights became bright, constant and reliable with the introduction of an electrical system with a starter, a generator and a battery (Casey, pp. 101-102).
After paying 5 pounds for registration, Marjorie and Florence still had to learn how to drive, pass a driving test and get a licence. A kind friend gave Marjorie three driving lessons and she felt that she could now teach Florence: '... so one evening after work we took Henry on his very first visit out to Taringa. Driving through peak hour traffic on the strength of only three driving lessons and a learner's license is no mean feat.' After a few days, Marjorie was confident enough to sit for a driving test. This involved going to the Main Roads Board and then driving the car with a policeman as a passanger: 'When she returned Marjorie told me the secret of getting round the police force. "Talk to him" she said "talk and talk and talk, and take his attention off the road" ' ('Henry', p. 6).
Henry was a second-hand car and, although he was later 'taken to pieces, overhauled, painted, greased, polished, furnished with several new bits, and generally made perfect' ('Henry', p. 10), their first glimpse of him surprised Florence's parents: 'He was gray in colour except where the paint had fallen off, his hood was slightly askew, giving him a devil-may-care expression, his tyres were rather worn, but one was quite good, his bonnet fell off most obligingly at times, his horn refused to blow, and the steering was not all that could be desired' ('Henry', p. 7).
Florence and Marjorie had Henry for 7 months, taking trips to Burleigh Heads, Beenleigh, Coomera, Currumbin and Redcliffe.
The friends' experiences with Henry illustrate well Robert Casey's observations about owning and driving the Model T: 'The noise is constant: the engine and transmission whine, the body rattles, the top flaps, the wind blows. You are always aware of your environment: temperature, precipitation, road dust, and outdoor smells. You are also aware of every hill, every bump, every change in the road's surface' (Casey, p. 99).
Driving a car like 'Henry' in cold weather was particularly problematic until the arrival of an electric self-starter in 1919 (Casey, p. 101). The difficulty of starting Henry in cold weather influenced the friends' decision to sell him: 'After several times vainly cranking to try to stir life into his recumbent engine, we reluctantly, very reluctantly were forced to admit that the cold was too much for us and Henry' ('Henry', p. 31). Their parting from Henry was sad: 'Oh! Henry, we did hate to leave you. It was such a desolate feeling to walk away from you and to know that never again would we sit together in your cosy little cabin watching the miles roll past' ('Henry', p. 32).
Henry, 1936
Comments
Your email address will not be published.
We welcome relevant, respectful comments.