New Accessions: Annie Letitia Elmes Shipboard Diary
By JOL Admin | 21 May 2012
Accession 28403
This recent acquisition, a shipboard diary written by a female passenger on the 'Limerick', bound from England to Brisbane in 1913, found its home at the State Library of Queensland thanks to the kind descendants of the diary's writer's granddaughter.
Annie Letitia Elmes, the author of this diary, was married to Alfred Manoah Elmes. They had three children: Letty (Leticia), Flossy (Florence) and Frank (Francis).
Florence Louisa Elmes was born on 4 July 1897. When she was 19, she married George Riches Senior at Albert Street Methodist Church on 26 December 1916. They had a son, George Alfred Riches (born on 14 October 1917) and a daughter, Muriel Florence Annie Riches (born on 1 August 1919).
Annie Letitia Elmes migrated to Australia with her husband, Alfred Manoah Elmes, and their three children, Letty, Flossy and Frank.
They travelled through the Suez Canal, then the Red Sea, the Arabian Sea, past Sumatra and Timor to the Torres Strait and finally Australia, arriving in Brisbane on 13 August 1913, after eight weeks at sea.
Let's take an atlas and follow the 'Limerick' on its journey from Europe to Australia:
The voyage was uncomfortable at times, because of the weather. Here is an excerpt from the diary:
Wednesday 9th July
We are in a dreadful storm. Dad and Floss Frank swent up on deck but was ordered down about 10 oclock everything moveing about down stairs.
Letty and me had to go to bed very ill. Floss was sick before night. Poor old dad was bad looking after us.
Because the cabins was so stuffy we was locked in. Its a good job the Daddys are keeping pretty well. We were ordered down all day with the sea washing the decks all day.
it is all enamell ware and a good thing because things all were flying all over the ship could not keep them on the table and the people cant keep on their feet the stewards were having dinner.
the ship rolled one went backwards on his back the green peas were rolling all over the Place.
About a week later, Mrs Elmes was still feeling unwell: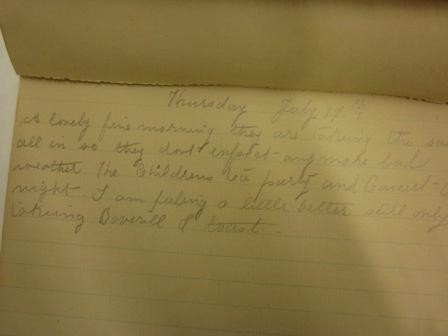 Annie Letitia Elmes Diary 1913
The 'Limerick' and the 'Palmer'
The narrative breaks off somewhat abruptly on 12 August 1913, just a day before the family's arrival in Brisbane. Mrs Elmes' last sentence informs the reader that 'everybody is in high spirits...' after 8 weeks at sea.
Discover more about Queensland's migrant heritage at the 2012 John Oxley Library Discovery Day
Veronika Farley, Librarian/Archivist
Original Content Unit, Queensland Memory
Telephone: (07) 3840 7739
qldmemory@slq.qld.gov.au
Comments
Your email address will not be published.
We welcome relevant, respectful comments.