New Accession: Patricia Ward (nee Meadows) Papers, 1942-1986
By JOL Admin | 22 May 2017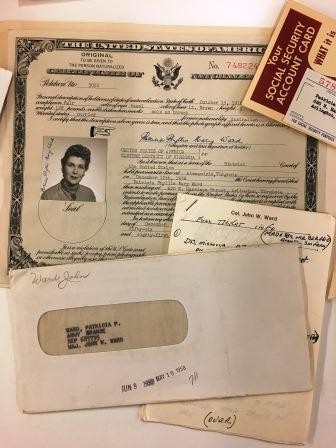 Accession 30928: Patricia Ward Papers, John Oxley Library, State Library of Queensland
Accession 30928: Patricia Ward Papers, John Oxley Library, State Library of Queensland
Patricia Phyllis Mary Ward was born at Wynnum in 1916, the youngest of the strongly Catholic family of five daughters and one son of William Sedden and Margaret Meadows.
William Sedden came to Australia from England in 1904 and took up grazing at Charleville, where he married and raised his children. In 1928, the family moved to Tweed Heads.
William went into business as a hairdresser and tobacconist at Coolangatta and Patricia attended the local convent school there. After William's death in 1938, the family moved to Brisbane. They first lived at Kedron and then at Bank Street, Newmarket.
On 16 July 1942, Patricia married US Army Air Force Lieutenant John Wesley Ward of Houston, Texas, at St Ambrose's Catholic Church at Newmarket. The ceremony was performed by the long-time parish priest, Father Brian Bolton, and the reception was held at Lennon's in George Street. Patricia stayed in Brisbane until 20 February 1946, when she and her daughter, Patricia Margaret, were among the 880 Brisbane war brides who left from Brett's Wharf at Hamilton on the Mariposa, for the USA.
Patricia and her baby arrived in San Francisco on 6 March 1946. They moved with John to Houston where they lived until 1953 and where the couple had two more daughters. John continued in the Air Force until 1969 and the family moved several times following John's postings, firstly to Mineral Wells, Texas, then St Helena, California, Arlington, Virginia, Dayton, Ohio, and finally retiring to Carlsbad in California.
Patricia returned to Australia only once, to visit family in Brisbane in 1986. The date of her death is unknown.
The collection includes: Patricia Ward's original marriage certificate and her birth certificate; letter of introduction from Reverend Father Leo Carlton, Dean and Administrator of St Stephen's Catholic Cathedral, Brisbane (dated 17 February 1946), for Patricia on her departure for the USA; Certificate of Naturalization (including a photograph of Patricia), 12 December 1956; a letter to Patricia from Sister Mary Barbara, Corinda Convent, 13 June 1965 (Sister Mary was one of Patricia's teachers at the Coolangatta Convent School); a five page letter from Jean, 1 October 1981, enclosing a cheque for Patricia's one fifth share of the proceeds of the sale of a block of shops at Charleville, which had been owned by the family since their time in Charleville.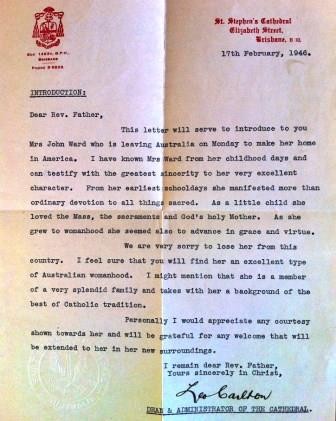 Accession 30928: Patricia Ward Papers: Letter of introduction. John Oxley Library, State Library of Queensland
Comments
Your email address will not be published.
We welcome relevant, respectful comments.