Navigating Our Business History
By JOL Admin | 26 July 2013
On June 19th, 2013, Queensland Memory presented the Navigating our Business History symposium at SLQ. QUT Business School is a significant stakeholder in this event, and are a founding partner of the Queensland Business Leaders Hall of Fame along with the Queensland Library Foundation and SLQ.
http://www.youtube.com/watch?v=1hA5b1NUsjQ
http://www.youtube.com/watch?v=Ck6UxEz3KPM
http://www.youtube.com/watch?v=iH_qFjFtsB0
http://www.youtube.com/watch?v=Io1rVFVPF68
Attending this event was a fantastic experience for me, not just as a staff member of Queensland Memory, but as a graduate of the QUT Business School. Since I graduated in 2000 the world of business has undergone massive change locally, nationally and globally, and it was really exciting to attend this wonderfully coordinated event both to celebrate the diversity of business history in Queensland and to re-visit the roots of my own business education and professional development since then. I feel a deep respect for the families and pioneers of Queensland business who weathered severe financial difficulties and uncertain political conditions to develop thriving businesses. And surmounting difficulties along with the entrepreneurial spirit is still thriving today!
From the humble beginnings of business in the State to some of the large global companies with roots stretching across the stage of global capitalism, business has been constantly evolving and navigating this incredibly diverse history. Operating a business is akin to navigating a dangerous coral reef, with treacherous turnings, sharks lurking and other ebbs and flows like the tides coming and going, the various global financial crises, the blood in the boardrooms, the deals, the hard yakka and fragmented families. All of these histories tell a story as rich and colourful as our State.
Business in Queensland has such a rich tapestry of historical relevance, from the Hills Hoist to QANTAS. We as Queenslanders can revel in the progress made by some outstanding business families and individuals, the inventions and innovations that made our lives easier as well as celebrating and occasionally reviling our business leaders.
The history of business runs parallel to the rest of Queensland's development, with business forming alliances with political parties and driving major events and agendas in the state. Some of these relationships were formed in the years of capital vs. labour and those tensions have been an ongoing issue that continues to plague business and government. We can see these tensions in play today are evidenced by the influence that business can have on government decisions, depending on the party ideology.
Navigating our Business History brings together a wealth of experience in the panel members and keynote speakers. The event was facilitated by Geraldine Doogue AO, renowned and respected Journalist, and featured presentations by Keynote speakers Murdoch University's Professor Geoffrey Bolton AO and Dr David Allison, Associate Director for Curatorial Affairs at the Smithsonian Institution's National Museum of American History.
Panellists included:
• Helen Gregory, Historian
• Ross Patane, Managing Principal, Crowe Horwath
• Sarah Lethbridge, Senior Archivist, Noel Butlin Archives centre, Australian National University, Canberra
• Ken Brooks, Manager, Brennan & Geraghty Store, Maryborough
• Louise Denoon, Executive Manager, Queensland Memory, State library of Queensland; and
• Paul Syvret, Assistant Editor, Courier Mail.
I found the speakers captivating, exploring areas of local business history that may not be known to the general population and some of which I was unaware. Capturing the stories of business growth and unique innovation side by side as the Smithsonian's National Museum of American History is currently doing with their exhibition American Enterprise, captured my imagination and is sure to spark the passion of visitors to the display in Washington DC, commencing 2015.
American Enterprise will be unique as it showcases all aspects of America's business and commercial innovation and enterprise since the 18th century, along with everyday people and how they have been affected. The unique use of objects directly linking to innovators is another unique aspect of this exhibition.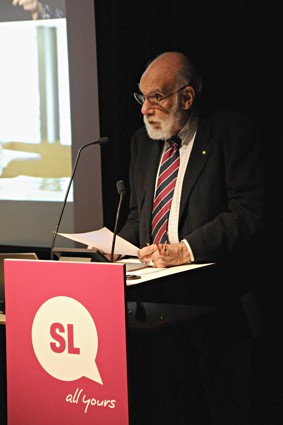 Emeritus Professor Geoffrey Bolton speaking at the Navigating Our Business History
The Queensland Business Leaders Hall of Fame has some fine Alumni, well worth recording their stories as [part of Queensland's rich business history. Companies such as Castlemaine Perkins, Golden Circle, A.P. Eagers, Thiess, QANTAS, and many more as well as families such as the McDonald family. Individuals are also honoured; visionaries such as Steve Irwin, Clem Jones, Graham Turner, Terry White and many others are honoured for their contributions to Queensland Business.
Recording Queensland's business history is a task that is not only important for researchers, but will forever provide access to a part of history and how business moulded Queensland into the manufacturing, tourism and agricultural behemoth that we came to be.
The history of business in Queensland has produced some incredible innovations and some terrible disasters, but one thing that has remained constant is the indelible imprint that business has left on Queensland, and will continue to do so. It's our task therefore to ensure that whatever comes, that historical records, display items and documents accurately provide and insight to be forever encapsulated in the Queensland memory.
Peter Lind - Aboriginal and Torres Strait Islander Collection Coordinator, State Library of Queensland
Comments
Your email address will not be published.
We welcome relevant, respectful comments.