National Sorry Day - exploring our ephemera collection
By JOL Admin | 25 May 2018
National Sorry Day has been commemorated annually since 1998 on May 26 to acknowledge and recognise members of the Stolen Generations, Aboriginal and Torres Strait Islanders who were forcibly removed from their families. This specific date is significant as it was on this day in 1997, the report Bringing them Home - Report of the National Inquiry into the Separation of Aboriginal and Torres Strait Islander Children from Their Families was tabled in the Federal Parliament.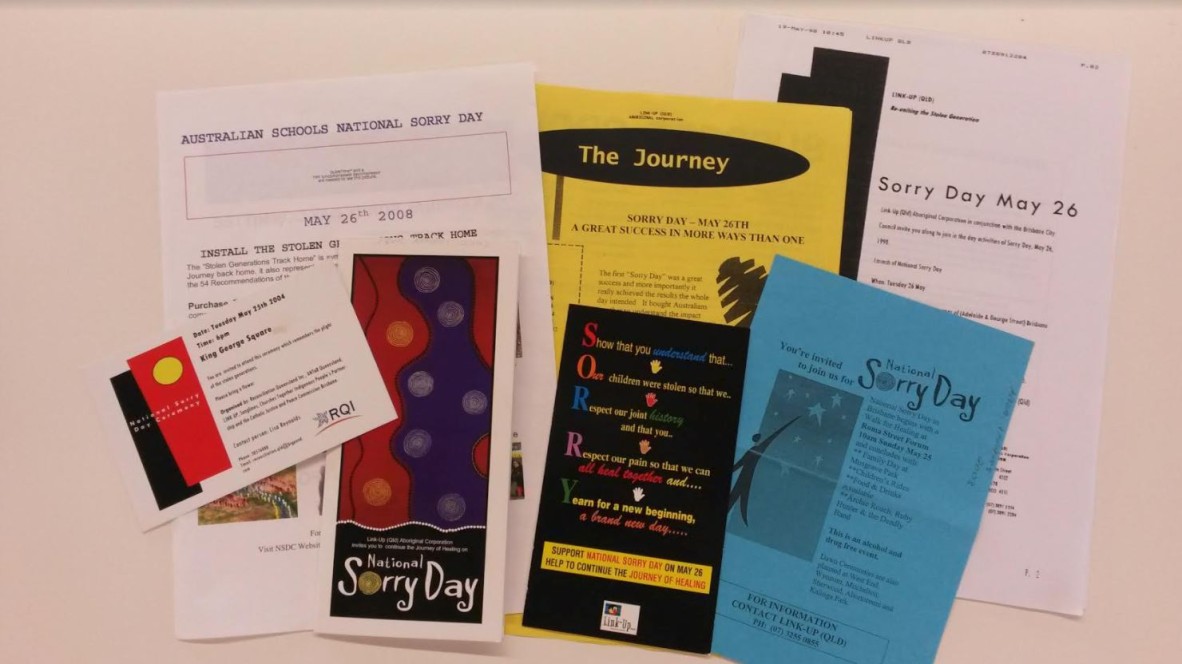 National Sorry Day ephemera. John Oxley Library, State Library of Queensland
National Sorry Day ephemera. John Oxley Library, State Library of Queensland
SLQ is fortunate to hold several items in our ephemera collection documenting National Sorry Day events. In everyday life, ephemera (such as flyers, invitations, concert programs, ticket stubs and stickers) are items we often discard, however as time passes these 'ephemeral' items can become historically significant. SLQ has a substantial collections of ephemera on a variety of topics. National Sorry Day ephemera includes a couple of stand-alone leaflets regarding the first National Sorry Day commemoration in Brisbane in 1998. The event, organised by Link-Up (Qld) Aboriginal Corporation in conjuction with the Brisbane City Council, was held at Suncorp Park (corner of Adelaide and George Streets, now the site of Brisbane Square and Reddacliff Place) in Brisbane's CBD with an evening dinner later held at the Travelodge. The small collection also includes invitations to National Sorry Day events in Brisbane in 2002, 2003, 2004, 2008 and 2018.
If you receive any invitations or information leaflets from your local community this National Sorry Day, instead of throwing them away, perhaps consider sending them to us so we can expand our ephemera collection.
Comments
Your email address will not be published.
We welcome relevant, respectful comments.