NAIDOC Week - Exploring our ephemera collection
By Myles Sinnamon - Engagement Officer, State Library of Queensland | 5 July 2018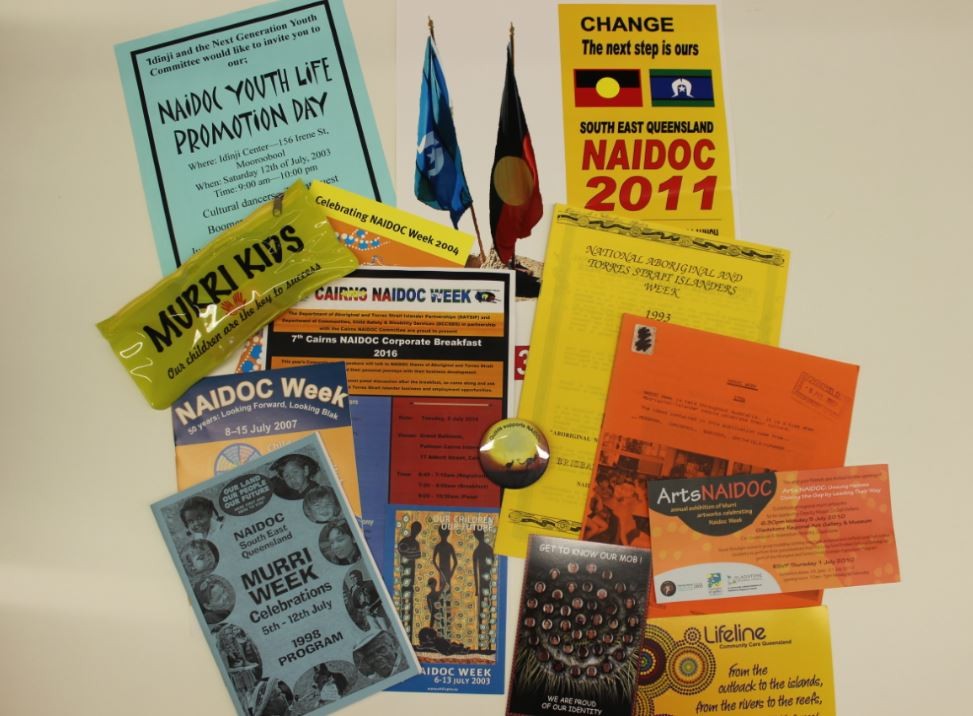 NAIDOC Week celebrations are held annually across Australia to acknowledge the history, culture and achievements of Aboriginal and Torres Strait Islander peoples. As community groups organise local events for NAIDOC Week a great deal of ephemera may be produced to promote these activities.
In everyday life, ephemera (such as flyers, invitations, concert programs, ticket stubs and stickers) are items we often discard, however as time passes these 'ephemeral' items can become historically significant and in the case of NAIDOC Week it provides a window for future historians and researchers to understand how we celebrated this important event from year to year. SLQ has a substantial collection of ephemera on a variety of topics including NAIDOC Week.
At the time of writing, State Library has collected five boxes of ephemera from NAIDOC Week events past. Digging through the boxes reveals a treasure trove of miscellaneous items including leaflets, water bottles, t-shirts, a Frisbee, tote bags, badges, hats, lanyards, key rings, novelty foam balls and more.
The majority of our NAIDOC Week ephemera collection has been diligently gathered over the years by State Library's own Tania Schafer, who is dedicated to building our Aboriginal and Torres Strait Islander collections.
If you receive any invitations, leaflets or other miscellany from your local community for NAIDOC Week, instead of throwing them away when you are finished with them, perhaps consider sending them to us so we can continue to expand our collection.
Further reading
Comments
Your email address will not be published.
We welcome relevant, respectful comments.